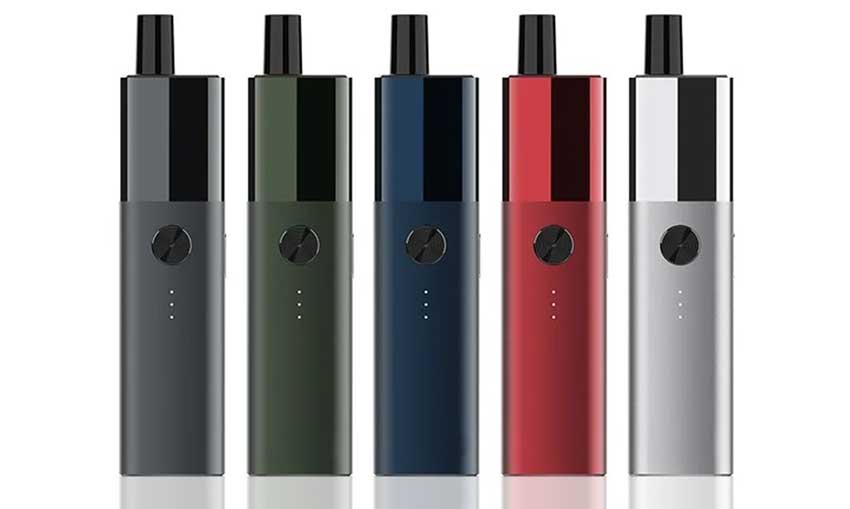 Here are cheap deals to buy the affordable Vladdin Chopin. It features portability, long battery life, an integrated 500mAh battery, an LED light, 1.5mL easily refilled pods, and 1.0ohm coils for nic salts or high nic juices.  This Pod System Kit is for sale in silver, green, burgundy, blue, and grey.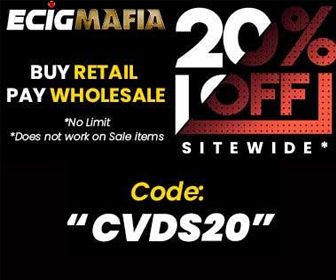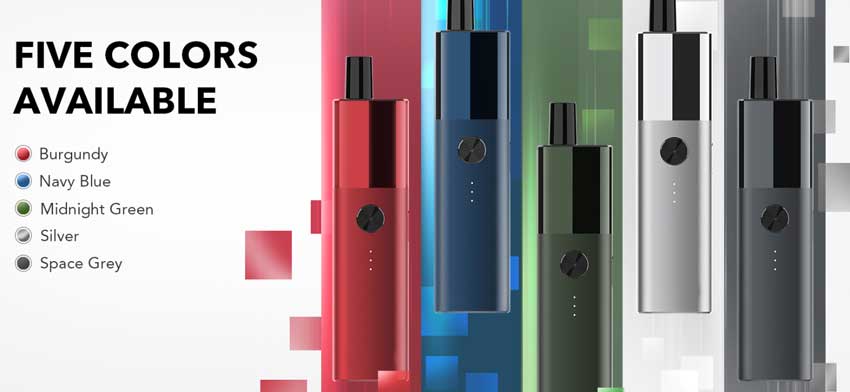 Most Affordable Pod Kit
The Chopin kit features the lightest ever design, yet it provides a premium vape experience, extended battery life, a Type-C charging system, and extreme portability. But, perhaps the most attractive aspect of the Vladdin Chopin is its affordable price as it retails for less than $20. Of course, if you visit Cheap Vaping Deals on a regular basis, the price will come in lower than that, so feel free to check out the blowout deal above.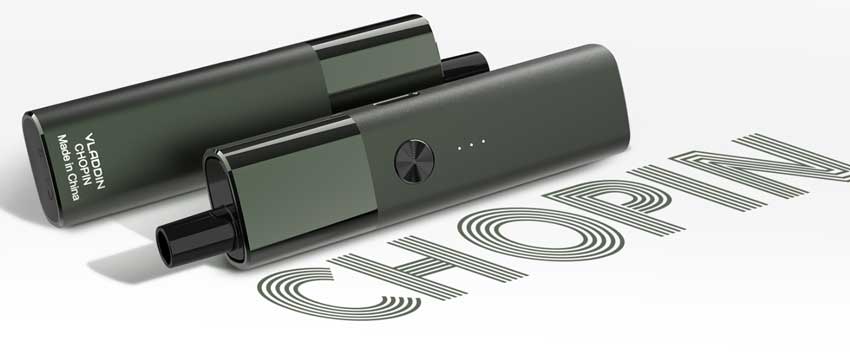 Battery LED
With an integrated 500mAh battery, monitoring its voltage is done by way of three LEDs underneath the fire button that will extinguish one-by-one as the cell drains. When all three LEDs are lit, it indicates battery voltage is above 75%, two lights above 35% and one LED indicates its time to plug the Chopin Kit into a wall outlet with the reversible Type-C charging cable in the package.  But, with low wattage output, the 500mAh battery is said to last all day long.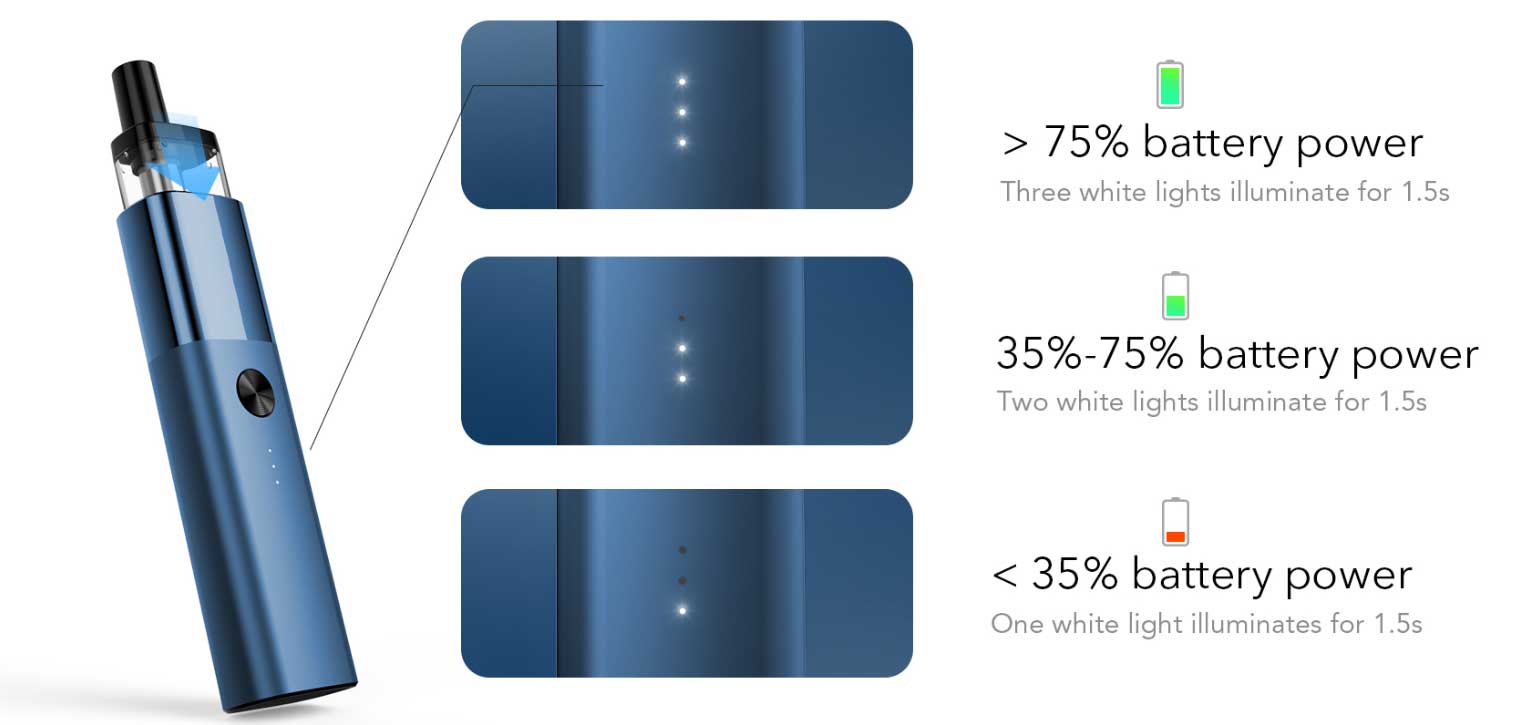 Reliable Security Protection System
The Vladdin Chopin is safe to use thanks to an integrated protection system. First, it features overtime protection which means the device will stop working if your puff lasts longer than 10 seconds. There's also short circuit protection which will prevent the unit from firing if there is a bad coil in the pod or for any other short circuit situation. Finally, low battery protection means the device will not fire. In this case, the three white lights will flash 8 times, indicating the Chopin needs to be plugged in.

Features & Specifications
Thanks to a portable design, the measurements of the Vladdin Chopin are only 21.5mm x 14.5mm x 91.7mm. Inside, there's a 500mAh battery that is recharged via a Type-C charging port on the side and three battery LED lights on the front. Each pod can store 1.5mL of e-liquid and is refilled via a bottom port which looks to be convenient.  And, the coil in each pod fires with a 1.0ohm resistance for a mouth-to-lung style vape.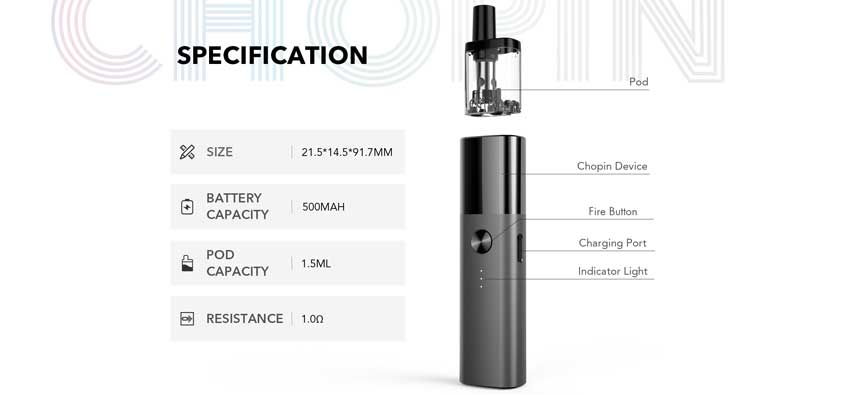 Vladdin Chopin Package
With purchase, you will get the Vladdin Chopin Mod, two Chopin pods, a Type-C charging cable, and a manual.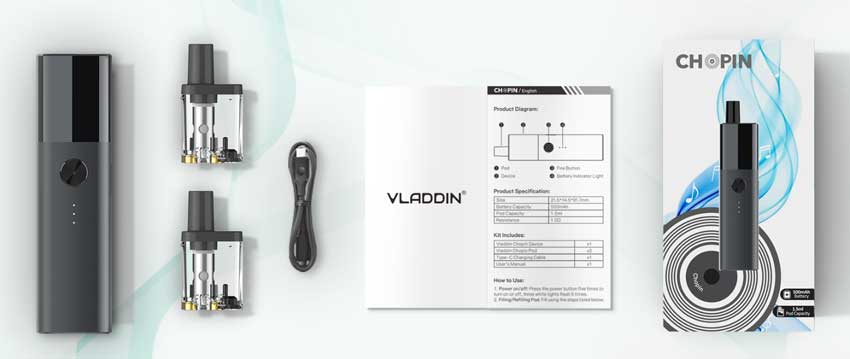 Total Views Today: 1 Total Views: 311