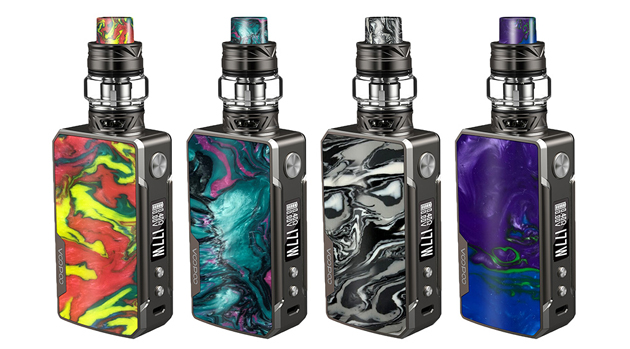 Here are cheap deals and best prices for the Voopoo Drag 2 Platinum Edition.   The mod is the exact same as the Voopoo Drag 2, except it is made with an exquisite platinum chassis.  The device also has a resin panels a display, an updated 32 bit Gene Fun Chip, two 18650 batteries, 157 watts of output, fast firing and a multitude of mode options.
Full Kit w/ Mesh Tank

 $46.70  Use coupon code CVD2019 

at checkout (exclusive 10% off sitewide except clearance)
Drag 2 Platinum Appearance
The Drag 2 is identical to the Voopoo Drag 2, but the shell is made with platinum. One one of the large sides, there is a beautiful resin panel which comes in several color including black, blue, red and purple.  The display screen on the control face shows vape data such as current power, mode, temperature, resistance, battery charge level and much more.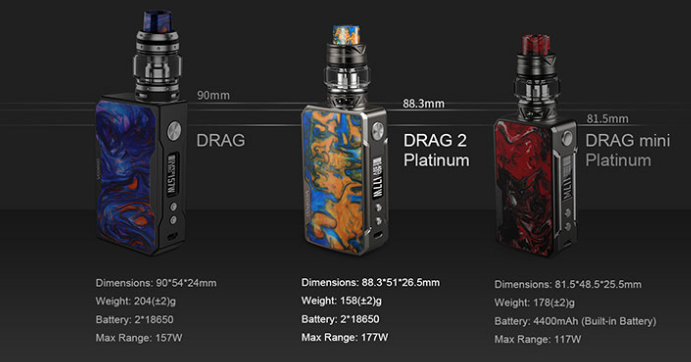 The Drag 2 Kit uses 18650 batteries that can be charged by way of a micro USB port that uses balanced charging technology for safety.  The micro USB port doubles as a firmware upgrade port and you may also connect it to your computer to change your mod's settings.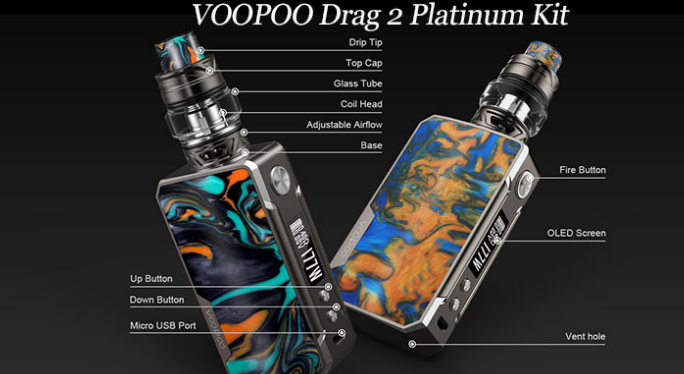 Inside the Voopoo Drag 2, you will find a 32 Bit US Gene chip board that allows for up to 157 watts of power, but power output capability may be lowered down to 130 watts if you use the device below 0.10ohm. The resistance range is 0.05ohm to 3ohm during variable wattage operation or 0.05ohm to 1.5ohm if you are using temperature control modes. Available operating modes that are built into the OS are bypass, variable wattage, variable temperature and TCR.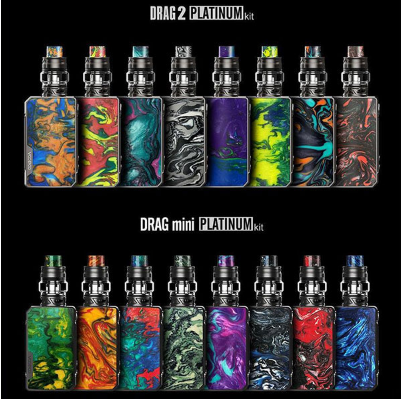 UForce T2 Tank
With the Voopoo Drag 2 Platinum Edition Kit, you will also receive get Uforce T2 Sub Ohm Tank. This 25mm diameter atomizer has an 8mL juice capacity with a sliding top cap to make refills effortless.
Inside the T2, you'll see the chimney has been shortened to ensure the best possible flavor production. And, a quick vent channel design allows for rapid heat discharge. Three precision auxiliary air inlets at the bottom produce massive vapor and they are adjustable to ensure your personal vape experience.
At the top of the tank, there's a 14mm resin widebore drip tip that comes in several vibrant colors. And, at the bottom, you will find a 24K gold plated 510 that is sure to maximum electrical conductivity.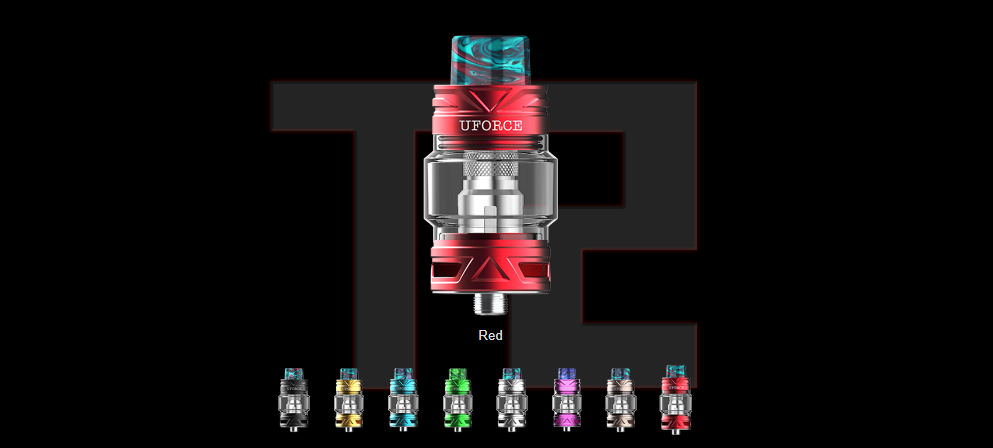 Voopoo Drag 2 Features & Specifications
Measurements: 88.3mm x 51mm x 26.5mm
Platinum chassis
Resin Panel Available In Island, Flame, Aurora, Scarlet, Fire Cloud, Puzzle, Dawn, Ink
Uses Dual High-Amp 18650 Batteries
Updated GENE FIT Chip
Power Output Range: 5-177W
Voltage Output: 0-7.5V
Resistance Range (Power): 0.05-3.0ohms
Resistance Range (TC): 0.05-1.0ohms
Temperature Control Range: 200°-600°F
Works With Ni200, Titanium, SS
TCR Mode
OLED Screen With Horizontal Menu
Magnetized Battery Panel
Safety Protections
Over-Current Protection
Overcharging Protection
Over Discharging Protection
Short Circuit Protection
High Temperature Protection
Reverse Polarity Protection
10 Seconds Overpuff Protection
Micro USB Port For Charging & Firmware Upgrades
510 Connection
Uforce T2 Tank Features & Specifications
Diamenter: 25mm (28mm at its widest point)
8mL Juice Capacity
Pyrex Glass Juice Reservoir
Fast Heat Discharge
Quick Vent Channel
Shortened Chimney For Flavor
0.2ohm N2 Dual Mesh Coil | 65W-100W
Sliding Top-Fill System
Precision Triple Auxiliary Bottom Air Slots
14mm Resin Drip Tip
Gold Plated 510
Related Products
Total Views Today: 9 Total Views: 29,295