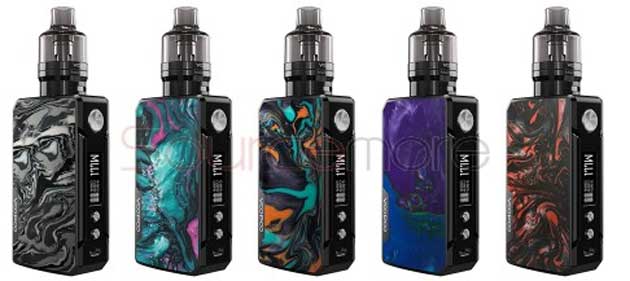 Here are cheap deals to buy the Voopoo Drag 2 Refresh Edition.  The mod in this new Kit is identical to the Voopoo Drag 2 Standard Kit, but the new setup comes with a transformable Pnp Pod Tank and is for sale in aurora, dawn, ink, puzzle, and scarlet resin finishes.
Deals
Similar Deals
Review
Drag 2 Refresh Edition Kit 
What sets apart the Drag 2 Refresh Edtion from the previous kits with the same name is that it comes with a PnP Pod Tank which is also included with the Drag X and Drag S kits by Voopoo.  The Pnp Pod Tank can easily transform between a Pod and Tank to result in the perfect vape experience and can store up to 4.5mL of vape juice for long vape times.  To summarize the transformation between a tank and pod, the 510 base is removable which turns it into a pod or you may keep it in place for use with any of the favorite mods in your collection. This makes the Voopoo Drag 2 Refresh Edition Kit quite unique.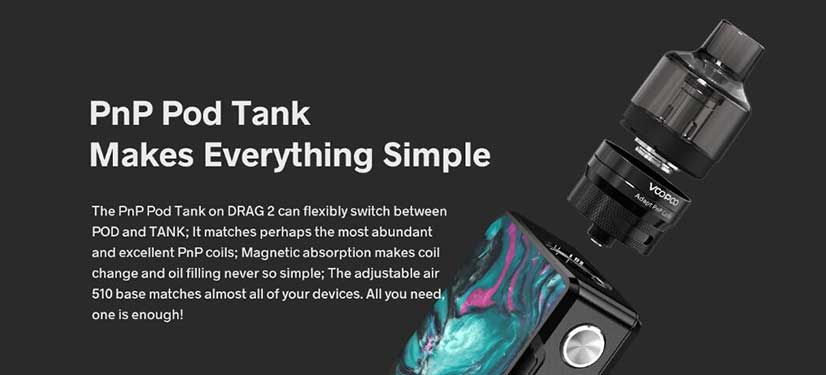 Moreover, a ton of different coils are compatible with the Voopoo Drag 2 Refresh Edition's PnP Tank, all of which are effortless to swap out. With the purchase of the kit, you will receive the PnP-VM5 0.2ohm mesh coil that works at a mid-wattage level of 40 to 60 watts and is ideal for e-liquids that have less than 10mg nicotine. Or, you may prefer the included Pnp-Vm6 with a 0.15ohm mesh heating element that is perfect from 60 to 80 watts, also with up to 10mg of nicotine vape juices.  There is a multitude of other coil options for the Drag 2 Refresh which you may see in the infographic below.  Please note that you must buy these separately.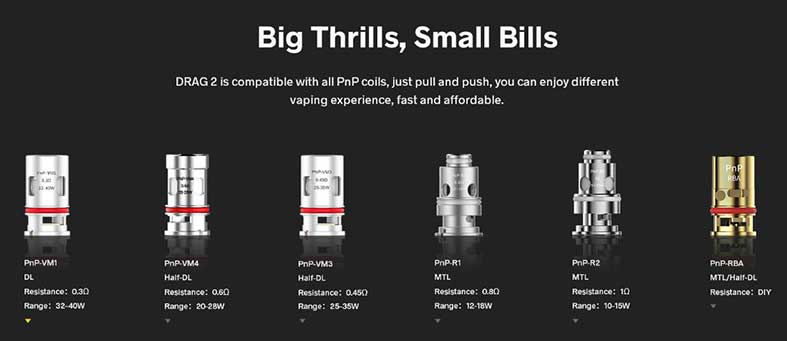 Drag 2 Refresh Edition Mod 
When you first see the Drag 2 Refresh Edition mod, you can immediately understand why it is one of the most popular items to ever be published on Cheap Vaping Deals.  This is due to an eye-catching resin panel that feature resin material and also doubles as the battery panel which stays in place thanks to magnets.  One could say that the Drag 2 Refresh Edition is a masterpiece that is ergonomic, portable, and has two chassis colors (platinum & black) with five resin finish options.

In the battery bay, you will find dual 18650 cells, rechargeable via a micro USB port on the control face, that feature balanced charging for safety reasons.  Best of all, the USB port further ensures the device stays up-to-date as it doubles as a firmware update interface.  And, the Drag 2 Refresh Edition is designed with the same Gene.Fit chipset that permits 177 watts of power, low 0.5 ohm atomizer compatibility and plenty of modes such as TCR, power, bypass modes, and several temperature control modes.  Finally, there are eight safety features into the Voopoo Drag 2 Refresh Edtion: overtime, short-circuit, overcharge, high current, over-discharge, over-temperature, and reverse battery protection.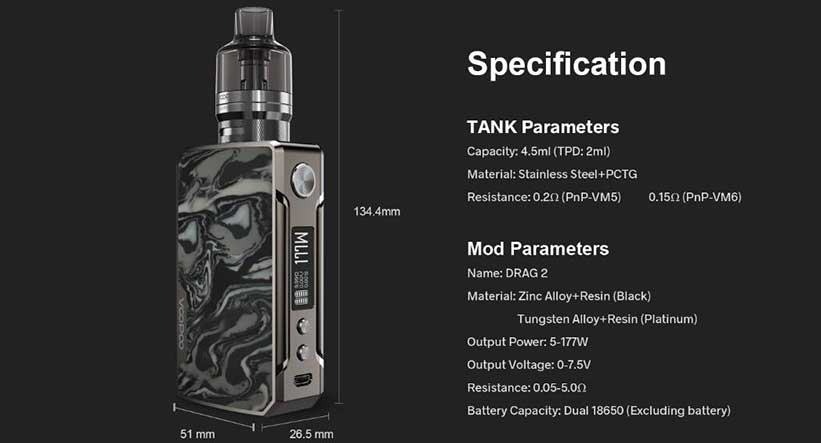 Packing List
With the purchase of the Drag 2 Refresh Edition, you will also receive a 4.5mL Pnp Pod Tank, a PnP-VM5 0.2ohm Coil, a PnP-VM6 0.15ohm Coil, a manual, a USB cable, a warranty card, and a chipset card.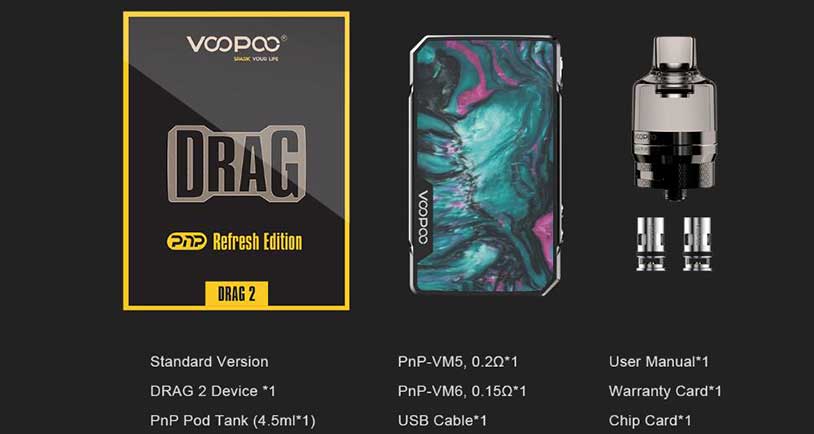 Total Views Today: 4 Total Views: 12,919