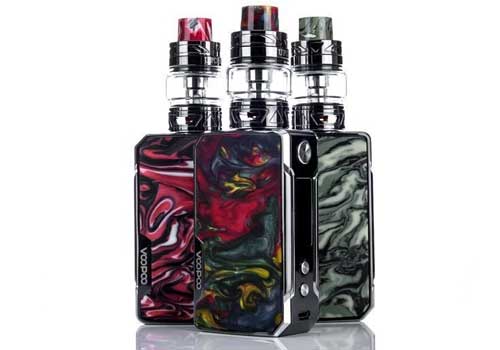 Update: The Voopoo Drag Mini Has Been Discontinued – Check  Newer
Mod/Kit Deals Here
Here are cheap deals and best prices for the Voopoo Drag Mini Mod or Kit.  This tiny mod features the latest Gene chip for accurate performance, a small form factor, a powerful integrated battery, a resin panel, 117 watts of output and a myriad of modes including curve, power, temperature, TCR and bypass.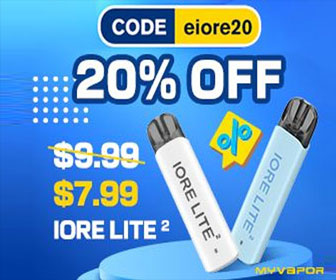 Design & Material
At the time of this writing, very little has been released in regards to the Drag Mini by Voopoo. What we do know is that it is a smaller version of the Voopoo Drag and that it is made with the same stainless steel chassis with resin panels. Available options are black resin, red resin, blue resin and green resin. On the control face, there's an easy-to-read OLED display with a horizontal orientation. At the top of the Drag Mini, you will find a 510 springloaded atomizer bezel that looks a little bigger than the one found on its predecessors. This will allow for wider atomizers on a smaller device.
Internal Battery w/ Micro USB Charging
Although not listed, we imagine the Voopoo Drag Mini runs on an integrated battery, but we have to wait to see what the capacity comes in at. The micro USB port also functions as the firmware upgrade port and can also be used to customize your favorite settings via desktop software.
Technical Information
No information is available in regards to the power output this smaller version will be capable of. But, on Instagram, Voopoo claims the device is built with an updated/new Gene chip which allows it to operate in bypass, power, curve, temperature control with standard heating elements and TCR. The minimum resistance comes in at a very low 0.05ohm in all modes. We will add more information here as soon as it becomes available.
Drag Mini Features & Specifications
Dimensions: unknown
Mini version of the Drag Mod
Chassis made from stainless steel
510 threaded connection
Resin panel available in black, red, green, blue
Integrated battery
Micro USB charging
Latest gene chip
Firmware upgrades
Operating modes: VW/ VPC/TC/TCR/BYPASS
Max power output: 117W
Operating voltage: 6.4-8.5V
Working Current: 1-40A
Output Voltage Range: 0-7.5V
Resistance Range In All Modes: 0.05ohm-3.0ohm
Temperature Range: 200-600F/100-315C
More Voopoo Deals
Total Views Today: 1 Total Views: 4,307