The Drag Nano Kit continues the amazing design of the Drag series by Voopoo. This pod system features an updated Gene Pod chipset, cold boot mode for amazing flavors, a 750mAh integrated battery, a battery LED, micro USB charging, many safety protections, 1mL juice pods with patented refill method, and 1.8ohm coils for nic salt vaping. 

Drag Nano Kit Overview
The Drag Nano's design includes a brand-new intelligent cold boot mode. This results in exquisite flavors in every puff due to balanced power output.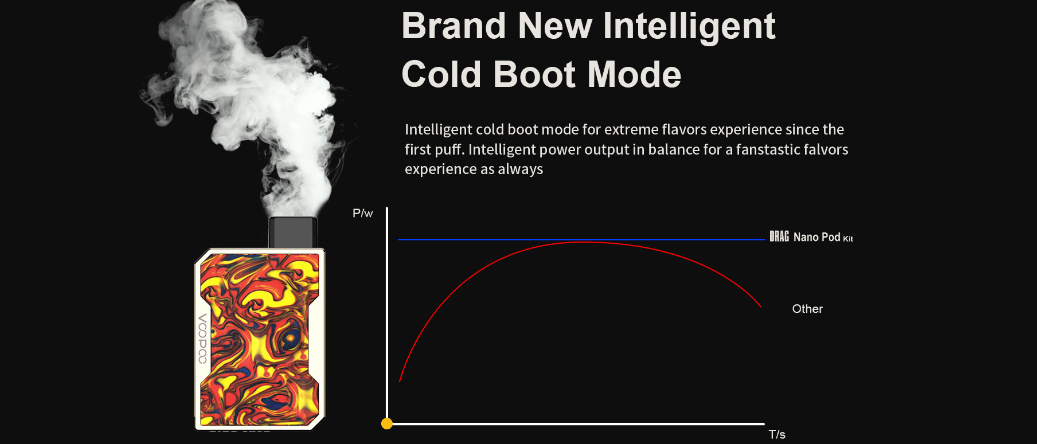 An additional way that the Drag Nano produces flavor is its Gene.Pod chipset. This chip was tested by 200 vapers, resulting in 40 different updates to the chip and incredible taste production.

A 750mAh integrated battery allows for 350 puffs without a recharge, so you may take the kit everywhere you go without worry. The cell recharges via a bottom micro USB port in about 1 hour.

A battery tricolor LED keeps track of the battery's charge level. If the light is green, it means the battery's charge is above 60%, if blue is above 20% and red means you need to plug the Drag Nano into a micro USB outlet. The device will turn off if the red light flashes ten times because the cell is too low to fire up the mod.

Five safety protections include switch timeout protection, over-discharge protection, short circuit protection, high current protection, and overcharge protection.

This AIO system works with refillable pods that can hold up to 1mL of e-liquid. The design of these cartridges' refill system is patented, and the filling process involves pulling out the pod and adding e-liquid thru a side-port. It is advised to wait at least 5 minutes before first use so the wicking material becomes saturated.
This setup is very portable, thanks to only 54.5mm x 35m x 11mm dimensions.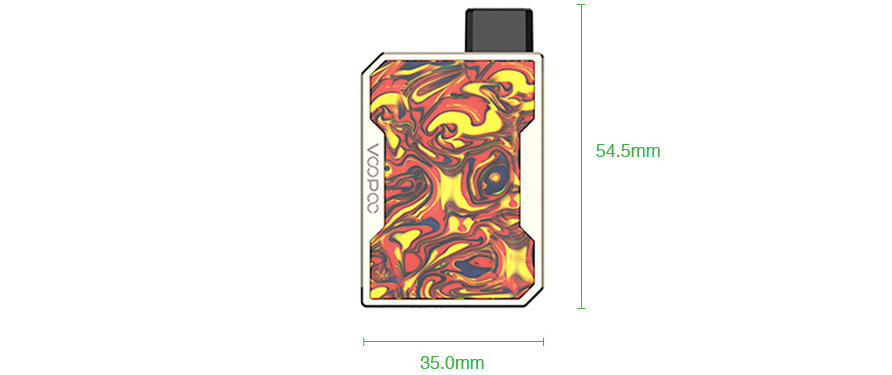 The Drag Nano Pod System features an exquisite resin panel on one of its sides. The available options are ceylon yellow, fiesta, ink, aurora, nebulas blue, klein blue and tidal resin.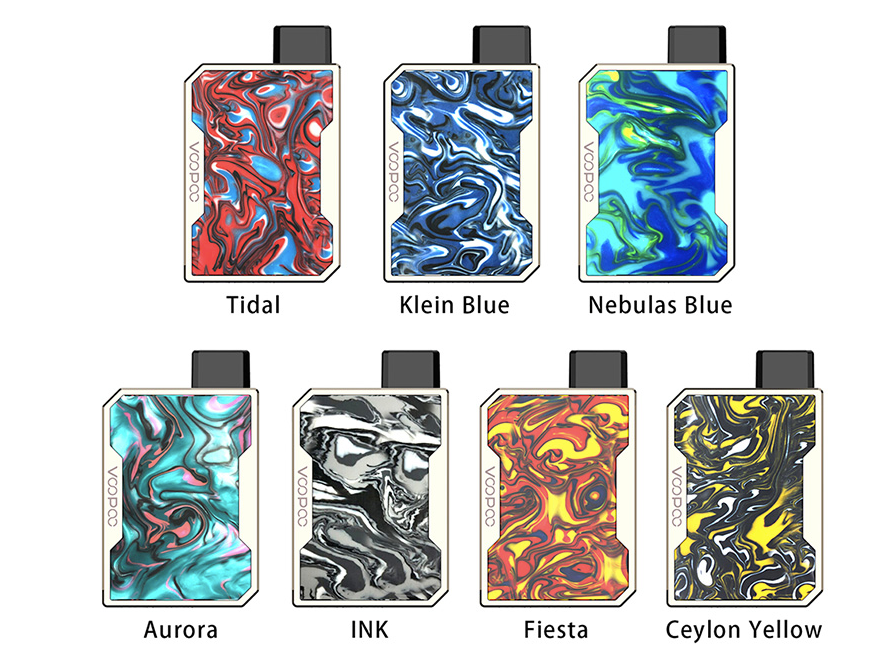 Voopoo Drag Nano Features & Specifications
Battery: 54.5mm x 35m x 11mm
Material: Zinc Alloy | Aluminium Alloy | Resin
Exquisite Resin Panel
Internal Battery Capacity: 750mAh
Tricolor Battery LED
Charging Voltage: 5V/0.5A
GENE Chip For Flavor Production
Output Voltage: 3.2V-4.2V
Resistance Range: 1.5ohm-3.0ohm
Quiescent Current: <15uA
Five Safety Protections
Pod Size: 36.3 x 15 x 7.0mm
Pod Capacity: 1.0ml
Patented refills
Coil Resistance: 1.8ohm
New 1.8ohm Coil Optimized for Nic-salts

In The Box (Standard & TPD Version)
DRAG Nano Mod
 1 x Pod-S1 (1.8ohm)
Charging Cable
Manual
Warranty
GENE CHIP Info Card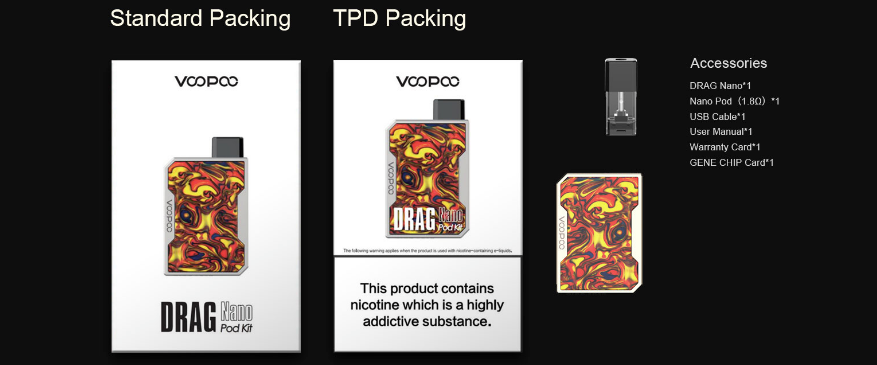 In The Box (Fans Version)
DRAG Nano Mod
 1 x Pod-S1 (1.8ohm)
Charging Cable
Manual
Warranty
GENE CHIP Info Card
Chain Necklace

Related Deals
Total Views Today: 1 Total Views: 3,370