Here are cheap deals to buy the Voopoo Drag X pod system, another device that continues the popularity of the Drag Mod, Drag 2, Drag Mini, Drag 4, and Drag Nano .   The Drag X features a 4.5mL juice capacity, easy refills, two sub-ohm coils, 80 watts of power, type-C charging, fast firing, a full-color screen with easy navigation, mesh coils, an RBA option, and a single 18650 battery (not included).  This vape kit is for sale in myriad finishes such as classic, retro, carbon fiber, mashup, galaxy, and marsala. For those who want a similar setup with an integrated battery, check out the Voopoo Drag S.
Update August 16: Voopoo released the Voopoo Drag X Pro Mod and Drag X Pro Kit with 100 watts and a 5.5mL juice capacity.
Drag X Deals
USA Deal:

$22.39

  Use coupon code 30CVD at checkout (exclusive 30% off sitewide – blowout prices & fast USA shipping – one use per account – $250 limit)
Drag X Pro Deals
USA Deal:

$25.89

  Use coupon code 30CVD at checkout (exclusive 30% off sitewide – blowout prices & fast USA shipping – one use per account – $250 limit)
Overview
Unlike many pod systems in the vape marketplace, the Drag X is a mod-style cartridge kit featuring adjustable power in the range of 5 to 80 watts, but the Professional version can reach 100 watts. Powering this amazing device is a single 18650 battery you insert from the bottom. It has a type-C USB interface for a fast recharging process—no more fumbling around with which direction to insert the included cord. Under the hood, the mod is built with a GENE.TT chipset that will instantly ignite your coils to produce massive flavorful vape clouds.  This box mod also adds incredible score ranking modes that change according to your vaping history, so you may continuously unlock a new level to see how high your ranking score can go.  It looks like a fun game to play while vaping.  Finally, there are a plethora of safety protections, such as intelligent overtime protection, short circuit protection, overcharge protection, max power protection, output over-current protection, over-discharge protection, high-temperature protection, and reverse battery protection.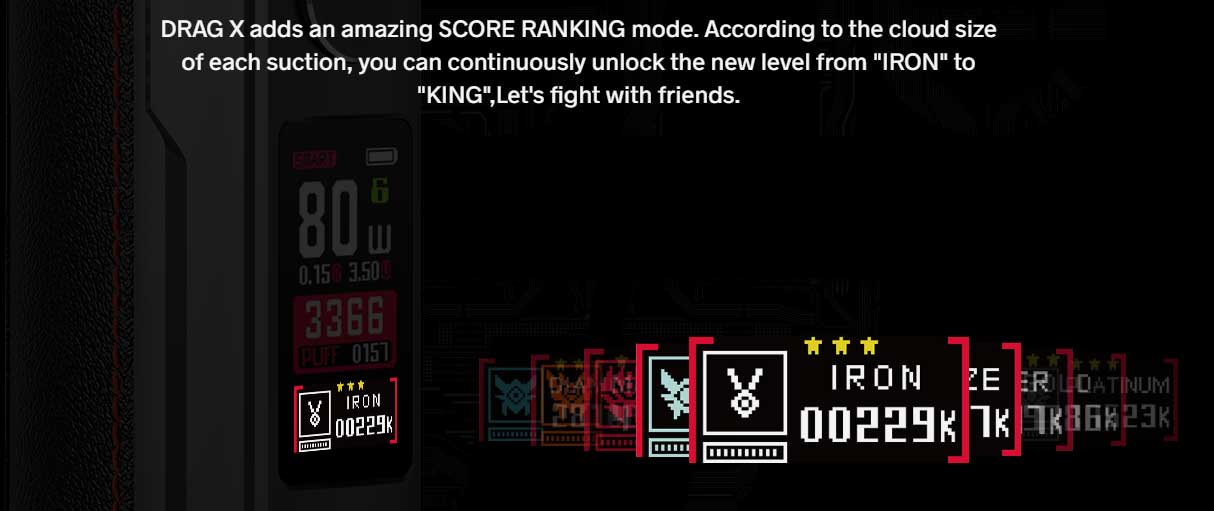 From a design perspective, the appearance looks incredible thanks to the leather grip that comes in classic, retro, chestnut, galaxy, carbon fiber, mashup, and marsala colors. And the unit features ergonomics, which means it is incredibly portable to the touch. The concept behind the theme is based on sports cars to make the quality flamboyant, sure to turn many heads.

Because the Drag X is a pod system, you may assume it is less versatile than a box mod kit with a tank. But you couldn't be more wrong. The cartridges are adaptable to various coils, including an RBA head, which can produce various vape experiences. Later, Voopoo is also expected to release 510 adapters and other new technologies to make this the most playable pod system.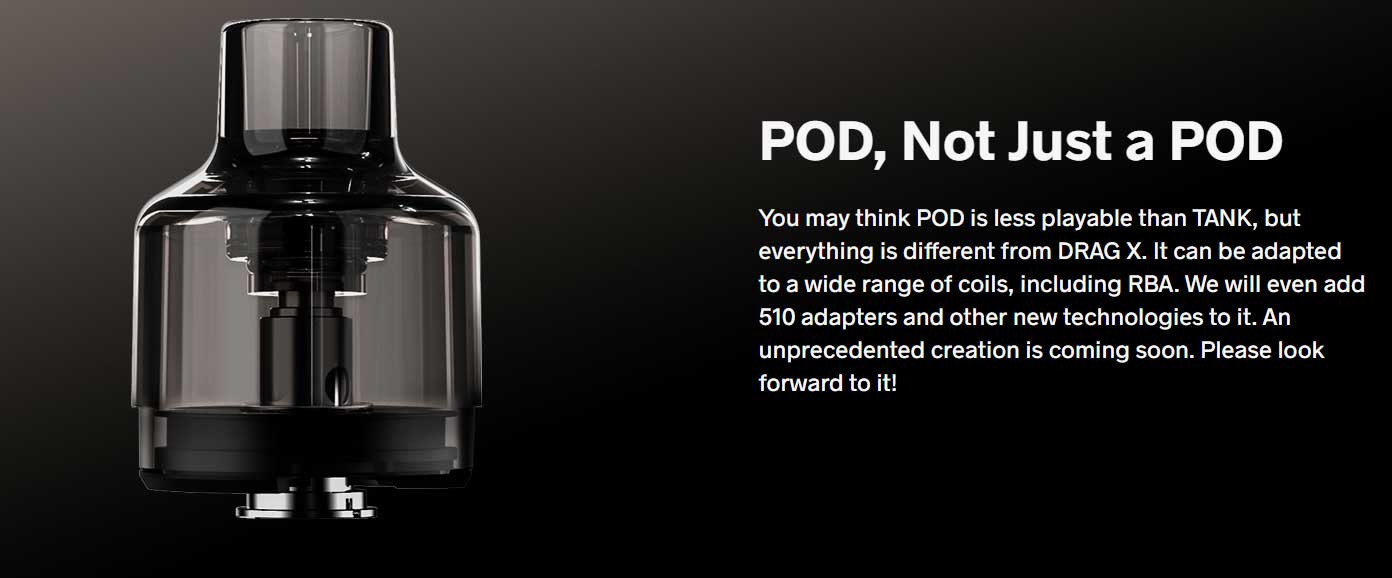 Moreover, the PCTG  pods can store a whopping 4.5mL of vape juice for fewer refills which are easy anyway, thanks to an effortless bottom-fill juice port. You will receive two sub-ohm coils with purchase: the 0.15ohm PnP-VM6 mesh coil and the 0.3ohm Pnp-VM1.

Features & Specifications
Battery: 95mm x 32.5m x 28mm
Colors: Marsala, Mashup, Carbon Fiber, Galaxy Blue, Chestnut, Retro, Classics
Material: Zinc Alloy/ Leather Mod
PCTG Pods
Utilizes a Single 18650 Battery
Type-C USB Charging
GENE.TT Chipset
Variable Wattage Mode: 5W to 80W
Eight Safety Protections
Pod Capacity: 4.5ml
Patented refills
PnP-VM1: 0.3ohm | 32W To 40W | 10mG Nic Or Less
PnP-VM6 Mesh Coil: 0.15ohm | 60W To 80W | 10mG Nic Or Less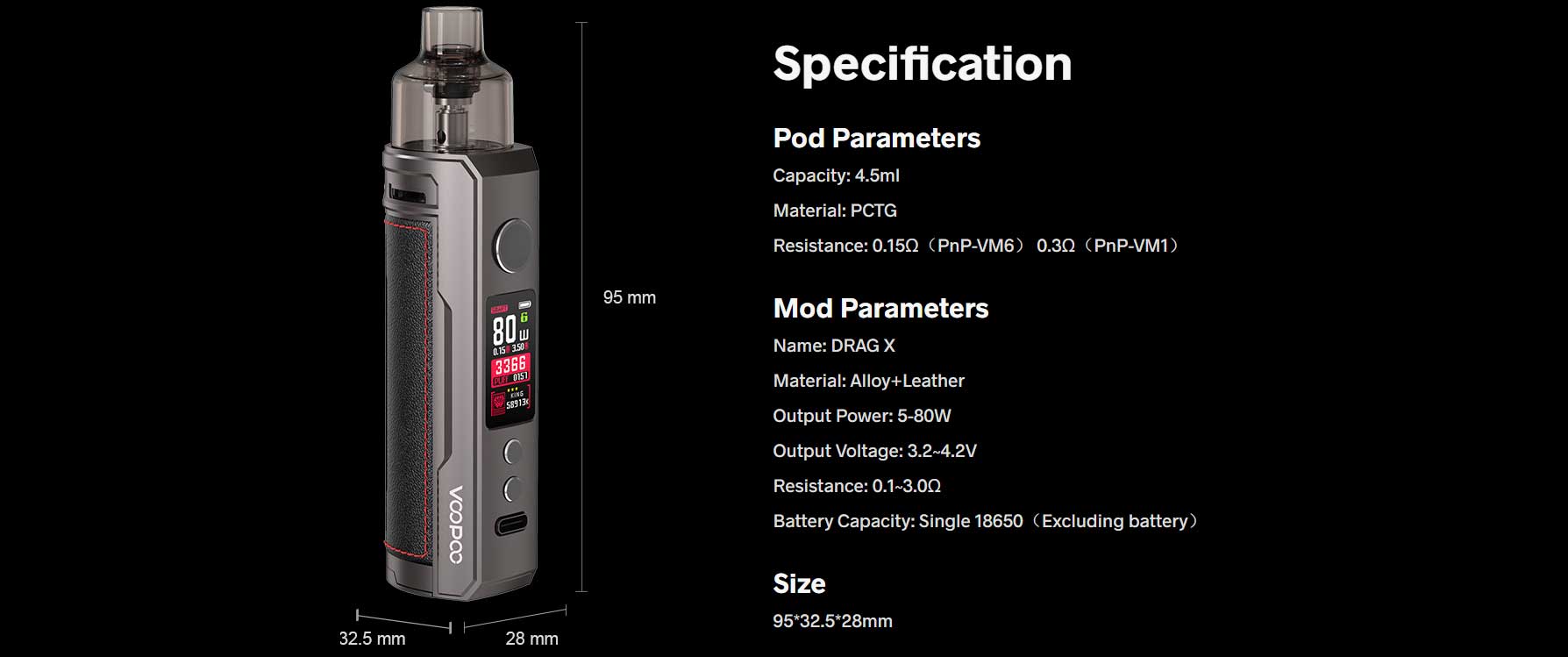 In The Box
Device
Pod
PnP-VM1 Coil
PnP-VM6 Coil
Type-C Cable
User Manual
Warranty Card
Chip Card

Similar Products
Total Views Today: 1 Total Views: 10,467