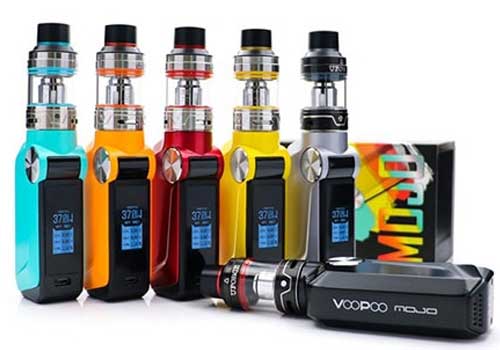 Here are cheap deals for the Voopoo Mojo 88W Box Mod or Starter Kit.
Update: Unfortunately The Voopoo Mojo Is Out Of Stock Everywhere – Check  Similar Mod & Starter Kit Deals Below
Tutorial
Overview
The Voopoo Mojo Starter Kit includes an 88-watt box mod and the Uforce Tank. This kit features bright color options, a powerful Gene chip, a modern design, a 2600mAh integrated battery, a 3.5ml juice capacity, a top fill system, and bottom adjustable airflow.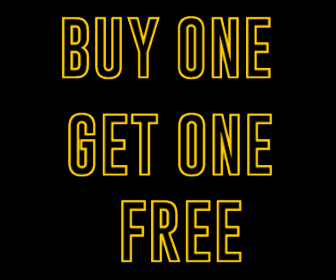 With all fire and adjustment buttons hidden, the design is minimalist. The unit is also portable and comes in beautiful color options that include black, grey, blue, yellow, orange, red, and white.  On one of the smaller sides, there's a black and white display that has vape data in a vertical manner. Indicators on the screen include current wattage/power, battery charge level, coil resistance, current voltage, and puff time. Above the screen, you will see the fire button while both large sides are made with one huge adjustment button each. As previously stated, all buttons are integrated into the mod's design so you can't really tell what they are. Powered by a 2600mAh battery, the Mojo kit should be capable of long vaping times at its maximum output.  And, the cell can be recharged via the micro USB port at the bottom of the control face that recharges the cell at a lightning-fast 2 amp current.
Built with an updated Gene Chip, the box mod should perform quite well. This chipboard is widely known as having a super fast 0.025s with stable safe operation. This device also has flexible temperature control mode options that include modes for all types of heating elements (nickel, titanium, stainless steel), including a TCR mode for custom resistance settings.  And, there should be a myriad of safety protections so you may always feel secure the mod is not harmful.
The Uforce Tank in the Mojo Starter Kit has dimensions of 24mm x 54.05mm, a tank capacity that comes in at 3.5ml, and a fill system that slides the top cap to add juice via a large port.  Airflow on this tank occurs via triple bottom air intakes that can be widely adjusted.  A V-shaped drip tip further enhances airflow and is also made with environmentally friendly materials.  For the best possible flavor output, the Uforce was made with a much short air inlet (external airflow to chamber) and outlet paths (chamber to the mouthpiece).  This fact also enhances the amount of vapor that is produced.
There are two coil options, both of which were designed to maximize vape taste. First, there's the quadruple 0.23ohm Uforce U4 that has a rating that ranges from 50 to 120 watts. Or you may opt to use the 0.4ohm Uforce U2 dual coil that works from 50 to 80 watts.
Features & Specifications
Mojo Box Mod
Made from zinc alloy
Dimensions: 38mm x 27.5mm x 82mm
Weight: 223.6g
Colors: white, red, orange, yellow, blue, grey, black
Portable minimalist design

No visible fire/adjustment buttons

OLED display with vertical menu
2600mAh internal battery

Long vaping times at maximum wattage
Micro-USB charging system
2A fast charging

510 threaded connector
Operating modes: Soft, power, TC-SS, TC-Ni, TC-Ti, TCR
Power output range: 5W to 88W
TC output range:  100℃ to 315℃ or 200℉ to 600℉
Resistance range TC:  0.05Ω to 1.0Ω
Resistance range (Power): 0.05Ω to 3.0Ω
Input voltage range: 3.2V to 4.2V
Output voltage range: 0V to 8.5V
Standby current: less than or equal to 20uA
Built-in safety protections

Overtime protection
Over-temperature protection
Over-current protection
Overcharge protection
Over-discharge protection
Short circuit protection

Firmware upgrades

Reset button in case update fails

Uforce Tank
Dimensions: 24.6mm x 43.05mm
Weight: 51.5g
Body made from 304 stainless steel
Pyrex glass tank
Juice capacity: 3.5ml
Triple air slots

Adjusted by rotating the AFC ring

Quick vent channel

Reduced 14mm air outlet distance from chamber to the top cap
Reduced 10mm air inlet distance from air slots to chamber
Better flavor and vapor
Prevent high heat

OCC coils system

Heat up fast for immediate vapor
0.4Ω Uforce U2 Dual Coil

Rated: 40W – 80W
Recommended: 55W – 65W

0.23Ω Uforce U4 Quad Coil

Rated: 50W – 120W
Recommended: 60W – 80W

Environmentally friendly drip tip with V-shape (better airflow)
Package
Mojo Box Mod
Uforce Tank
Extra Uforce U2 coil
Extra glass tube
6 extra o-rings
Micro USB cable
Gene chip card
Manual
Warranty card
Total Views Today: 1 Total Views: 780