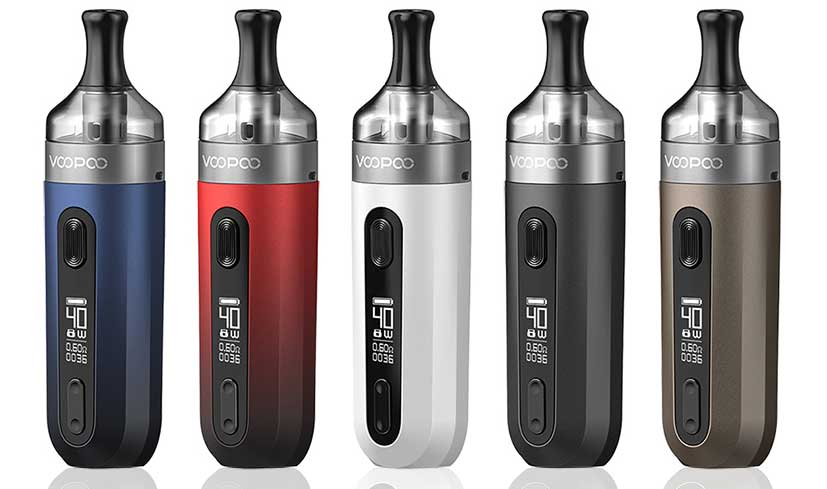 Here are cheap deals for the Voopoo V.SUIT, a 40W variable wattage pod kit. It features a 1200mAh internal battery, variable wattage operation, MTL style vaping, a 2mL juice capacity, a 0.54 inch OLED display, and a skin-like finish for ergonomics.  This kit is for sale at a low price in white, grey, black, blue, and red.
Deals
Portable, Ergonomic Design
The V.SUIT  is said to be the next generation in ergonomics thanks to its skin-like matte coating over a plastic chassis.  Moreover, the kit with the cartridge installed is extremely light and the dimensions come in at just 26mm x 100mm to make it easily transported.   On the control face, there's a 0.54″ screen with vertical menu in white font and on a black background for crystal clear viewing.  You';; see an indicator for the battery charge level, current wattage, atomizer resistance, and a puff counter on the display. And, navigation of the V.SUIT's user interface occurs with two adjustment buttons in combination with the power button.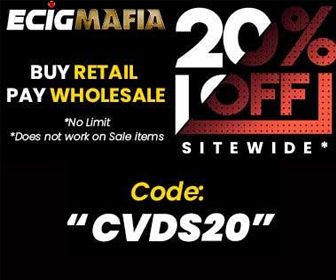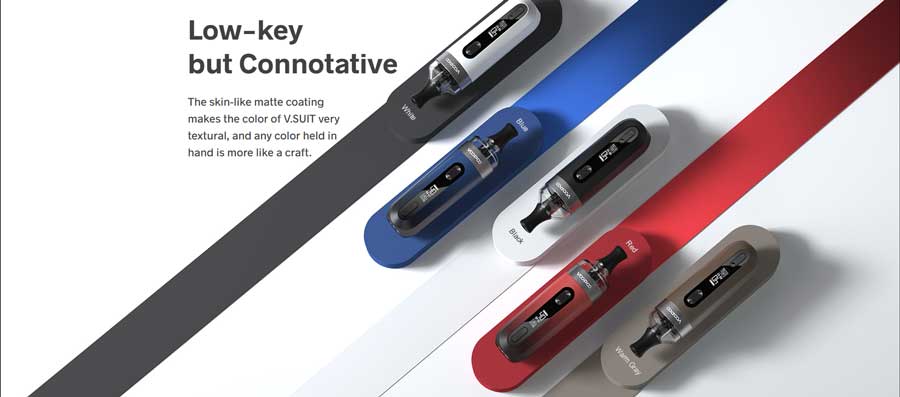 40W Gene Chipset & Powerful Internal Battery
With an updated GENE chipboard, you may adjust power in the range of 5 to 40 watts.  To ensure you may vape for extended periods on the Voopoo V.SUIT, there's a powerful 1200mAh battery, so you won't need to buy any batteries or an external charger.  But, if your batteries are almost drained, this kit features a Type-C charging port for convenience and shorter charging time.  Best of all, there are seven safety features including high current, over-discharge, over-temperature, short circuit, overtime, balanced charging and overcharge protection.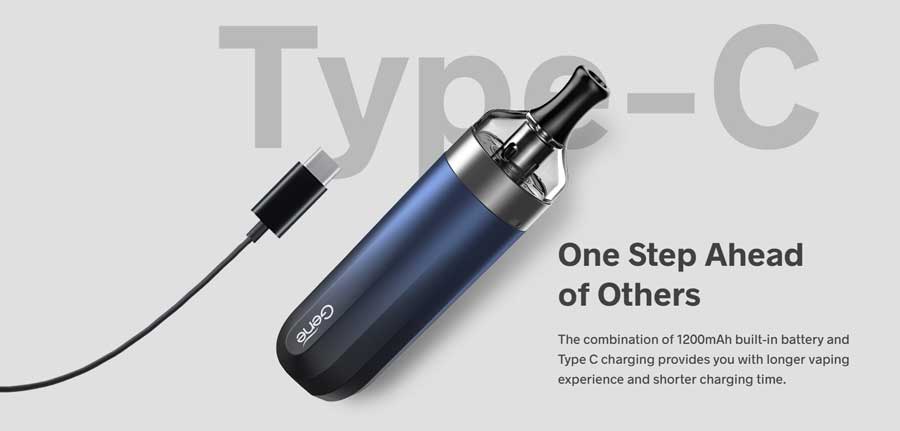 Flavor-Producing Coils
Each Voopoo V-SUIT utilizes pods from the latest PnP platform which features a bionic design and a mouth-to-lung experience.  These cartridges can store 2mL of e-liquid and feature a bottom fill system, which may not be all that convenient.  Although there are 6 different coil options that are compatible with the V-SUIT pod kit, you will only receive two: the Pnp-TR1 and Pnp-TM2, both of which are compatible with vape juices that contain less than 35mg nicotine. The TR1 is a regular 1.2ohm coil that fires from 10 to 15 watts, while the 0.8ohm TM2 has a mesh heating element that works from 12 to 18 watts.  Finally, the pods can hold up to 2mL of juice, so that will last a long time since this is a low wattage setup.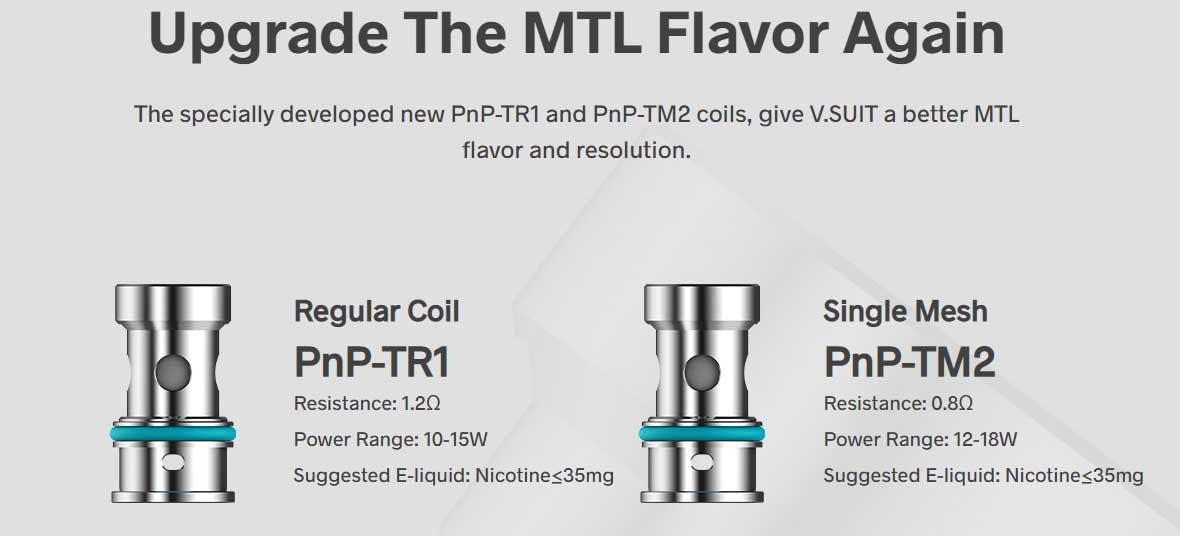 Features & Specifications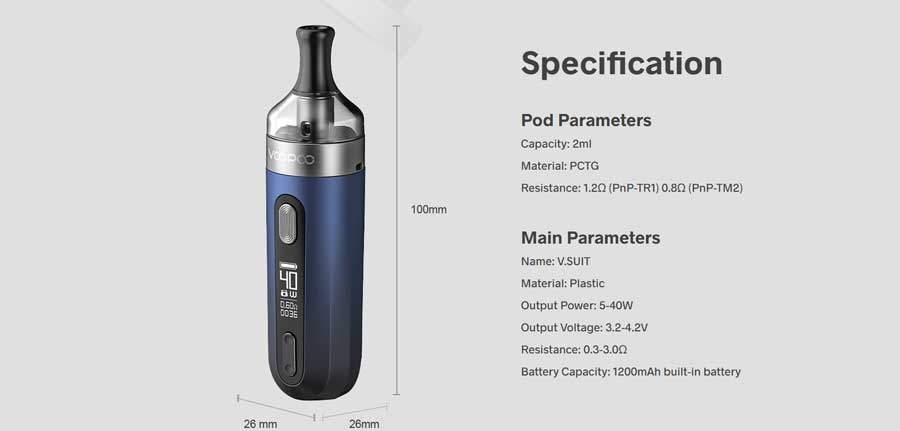 In The Box
With the purchase of this kit, you will get the Voopoo V.SUIT mod, a Pnp MTL Pod, a PnP-TR1 coil, a PnP-TM2 coil, a Type-C USB cable, and a manual.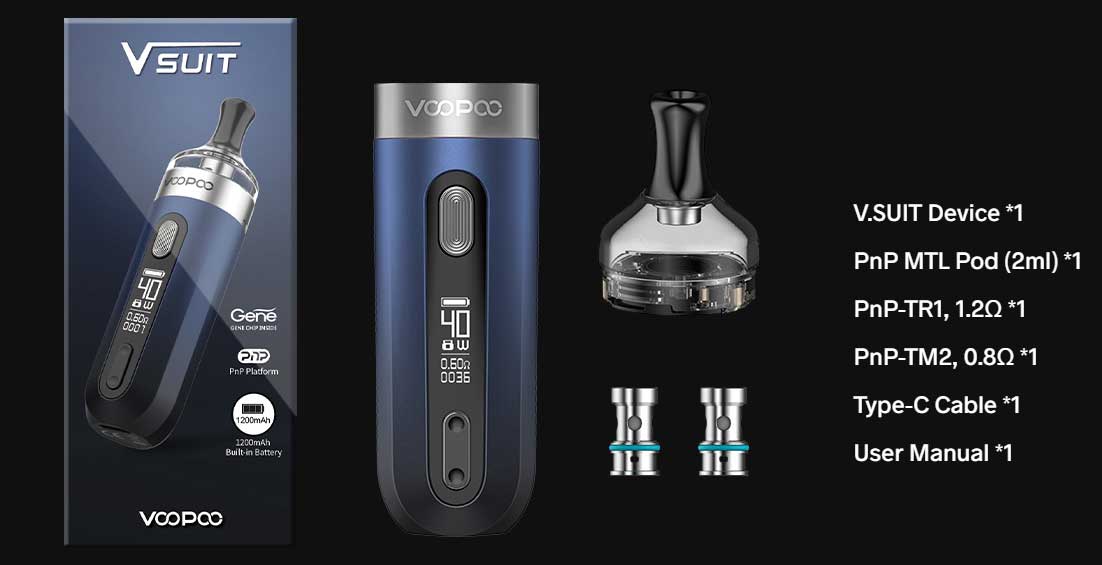 Similar Products
Total Views Today: 1 Total Views: 1,039