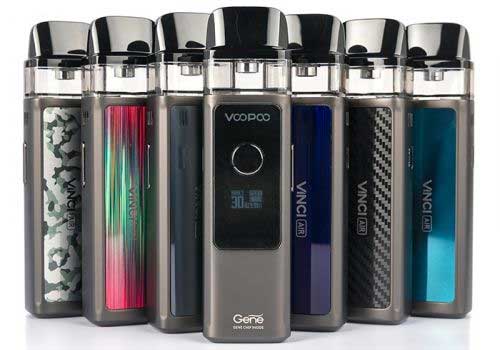 Voopoo Vinci Air: 30W/4mL Variable Wattage Mesh Pod System
The Voopoo Vinci Air is the lighter and more portable version of the Voopoo Vinci, Vinci R and  Vinci X.  The Vinci Air is 20% lighter and features 4mL refillable pods, variable wattage operation in the range of 5 to 30 watts, a 900mAh integrated battery, a wide range of safety protections, a state-of-the art GENE.AI chipset, dual airflow, and a micro USB charging system. Also, visit our deals page for the latest Voopoo Vinci X 2.
USA Deal:

$11.69

  Use coupon code 35C at checkout (exclusive 35% off sitewide – rock bottom prices on everything – one use per account – $300 limit)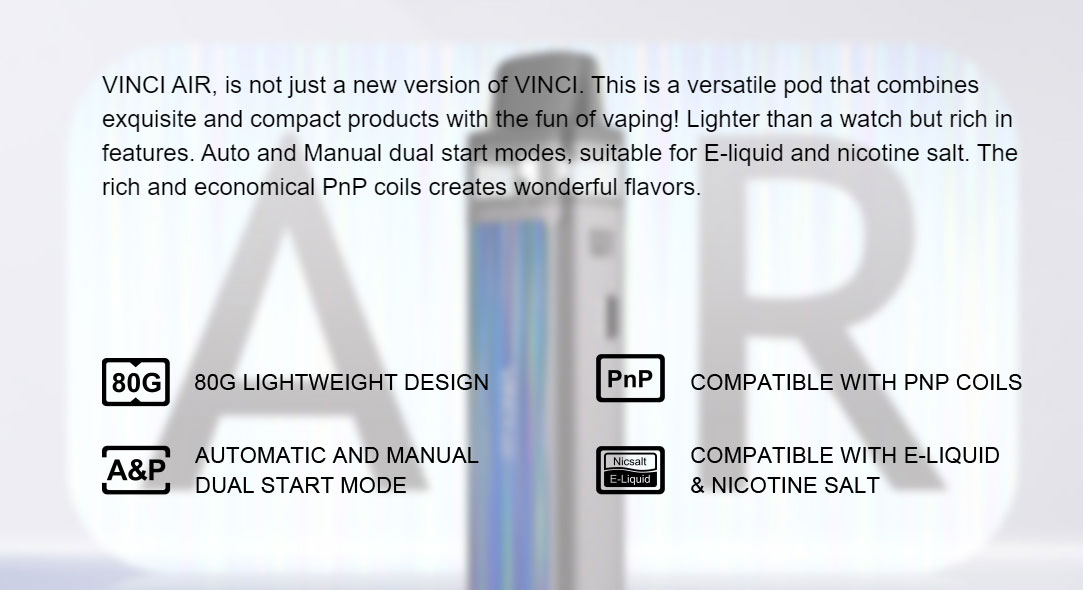 Review
Smaller & Thinner Design
Even though the Vinci Air has two air intake slots and two ignition methods, its still only the size of two fingers. It's actually 30% thinner and 20% lighter than previous Vinci devices.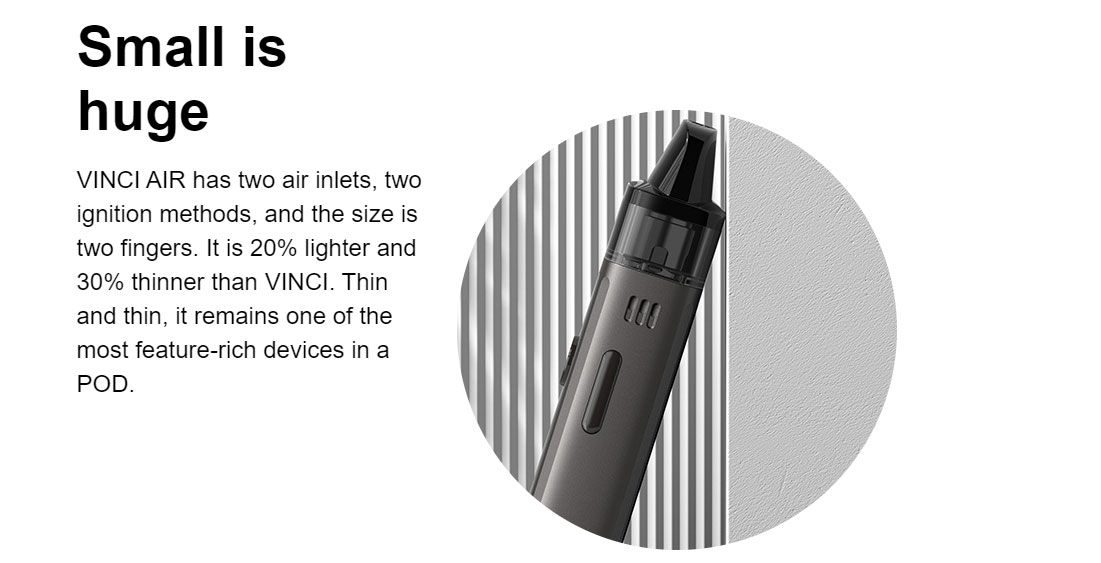 Beautiful Finishes
This new pod kit utilizes the identical matte metal paint finish you see on cars or you may prefer a textured version. You may obtain the Vinci Air in carbon fiber, camouflage, aurora blue, aurora, classic blue, classic red, or space grey.  On the side, there's an exquisite display screen that indicates current vape data, as well as the number of suction ports.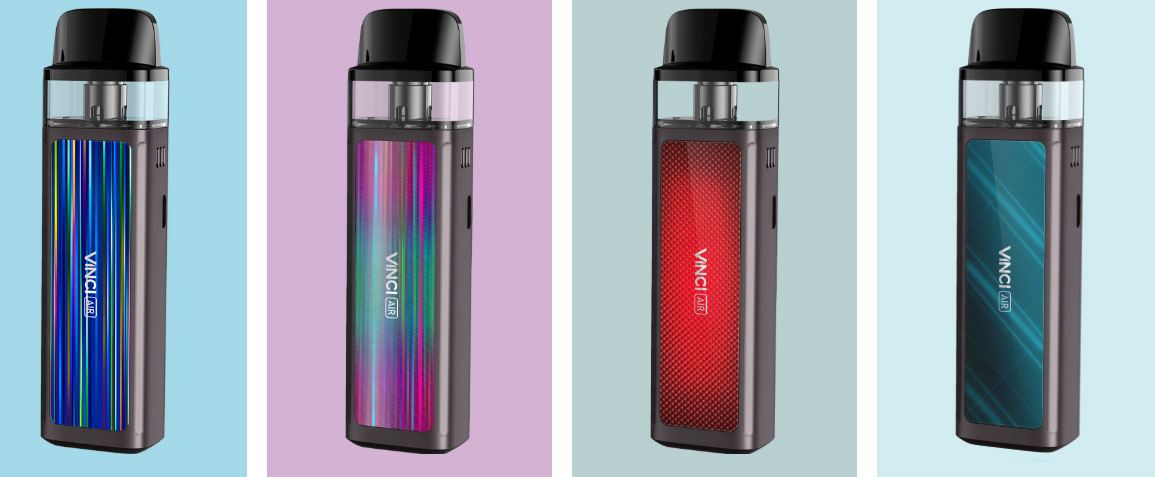 Manual Or Auto Mod
Whether you set the unit to manual or auto mode, the Vinci Air is said to produce huge vapor from a tiny device. Auto mode maximizes the benefits gained from the device, so be sure to try it out.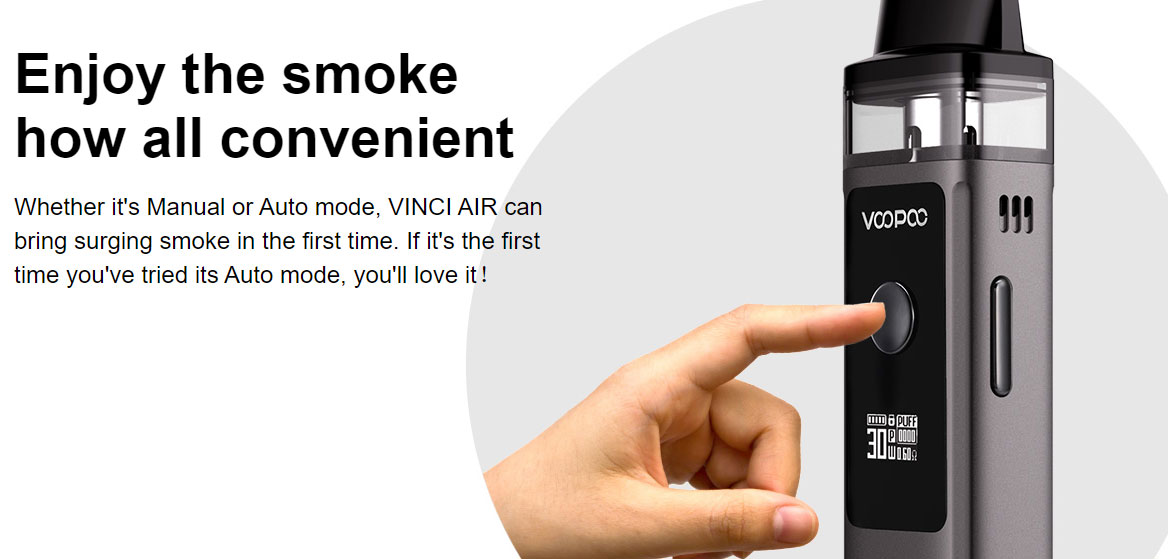 Dual Airflow System
This kit is built with a brand new Dual Airflow system to permit two different vape experiences. To try this, simply turn the atomizer 180 degrees and re-insert the pod into the mod section.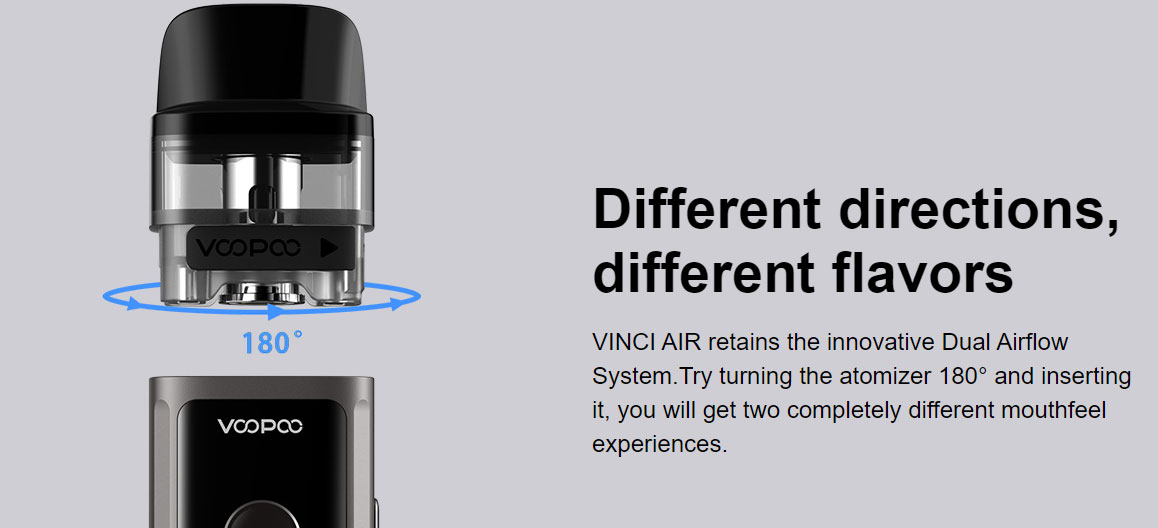 Unique Airflow
The Vinci Air has optimized the air inlets and internal air tunnels for the best possible mouth-to-lung or half-direct-to-lung vape experience.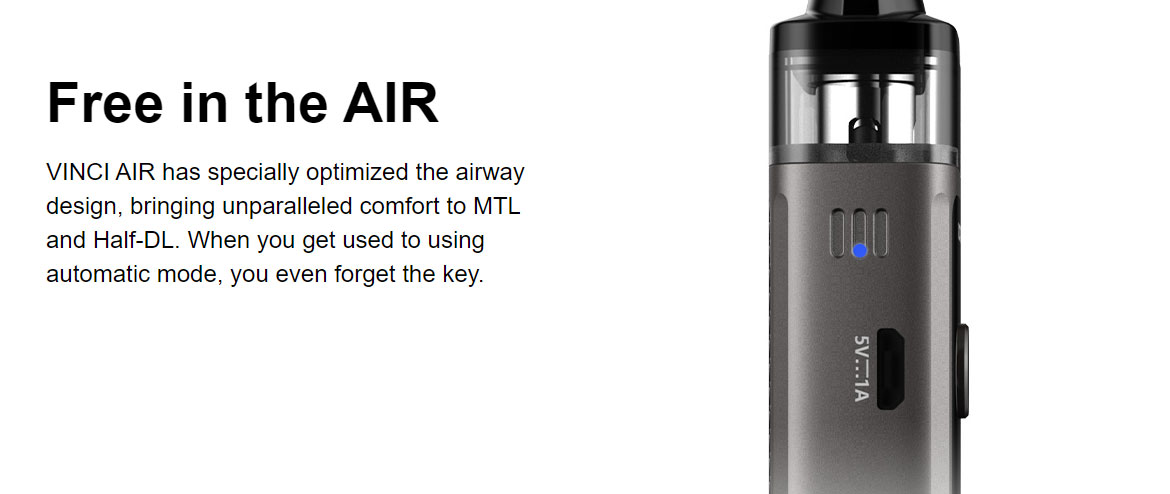 Mesh Coil Options
The Mesh Coil PnP-VM4 that fires with a 0.6ohm resistance in the range of 20 to 28 watts. This coil is perfect for nicotine salts with less than 25mg of nicotine. The second mesh coil is the PnP-R2 that has a 1ohm resistance and a 10 to 15 watt power range. This head should fire only nic salt e-juices with 35mg of nicotine or less. Other optional coil options are listed below.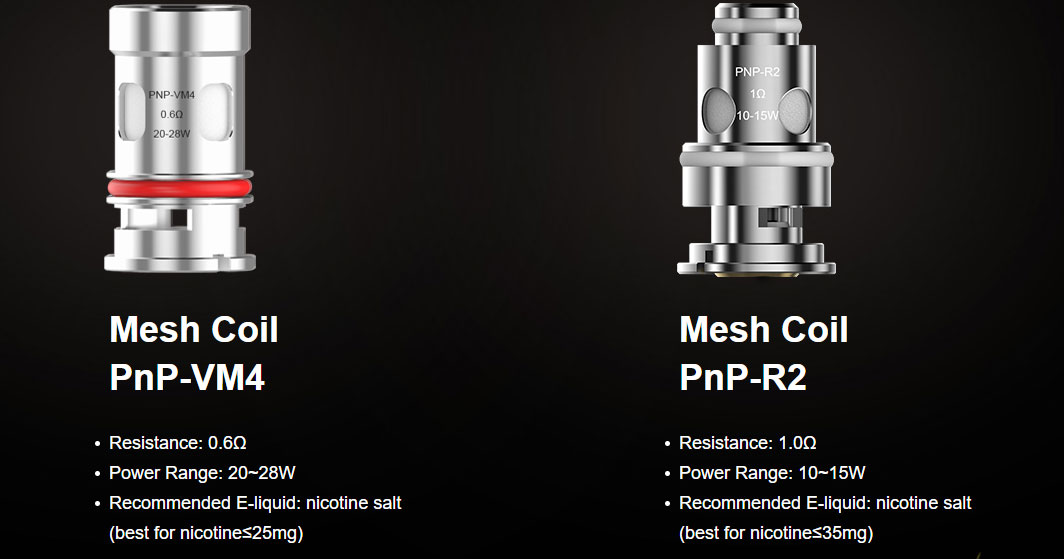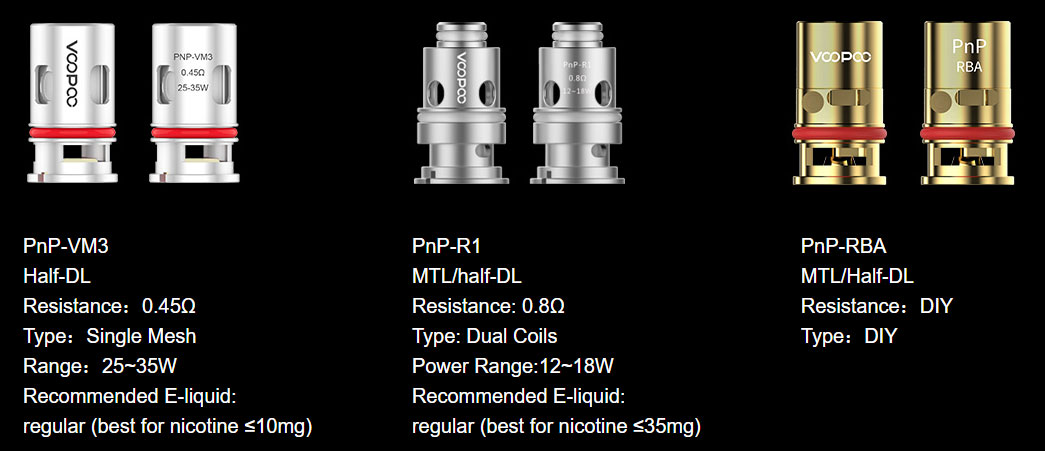 GENE.AI Chipset
The GENE.AI chipboard inside the Vinci Air is one of the most advanced ones in the vape marketplace. It permits intelligent coil matching, puff modes and has other functionality.  Plus, it is specifically design for a flavorful vape experience.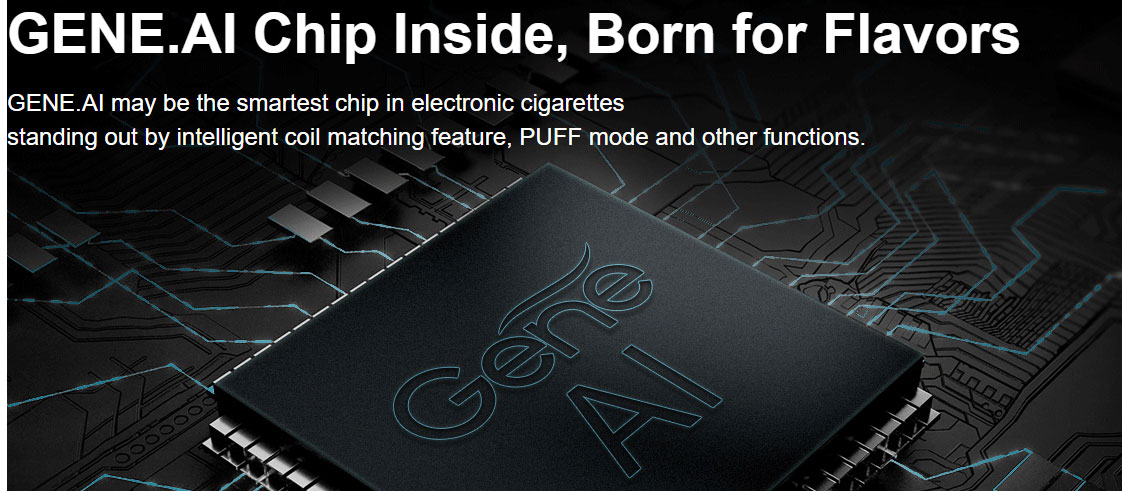 900mAh Integrated Battery
Despite the fact that the Vinci Air is extremely small, it still contains a powerful 900mAh battery which will allow for long vaping times, even at 30 watts of maximum power.

Powerful Pod To Mod Magnetic Connection
New magnets ensure that the cartridges stay in place, even when the kit is shaken around. Magnets are also an effortless and sanitary way to vaporize e-liquids.

Several Safety Features
The Voopoo Vinci Air is built with overtime protection to prevent the coils and cotton from burning, short circuit protection to protect the chipboard, overcharge protection to stop battery damage, high current protection, over-discharge protection to ensure safety and high temperature protection to ensure the kit works in a safe temperature range.

Voopoo Vinci Air Features & Specifications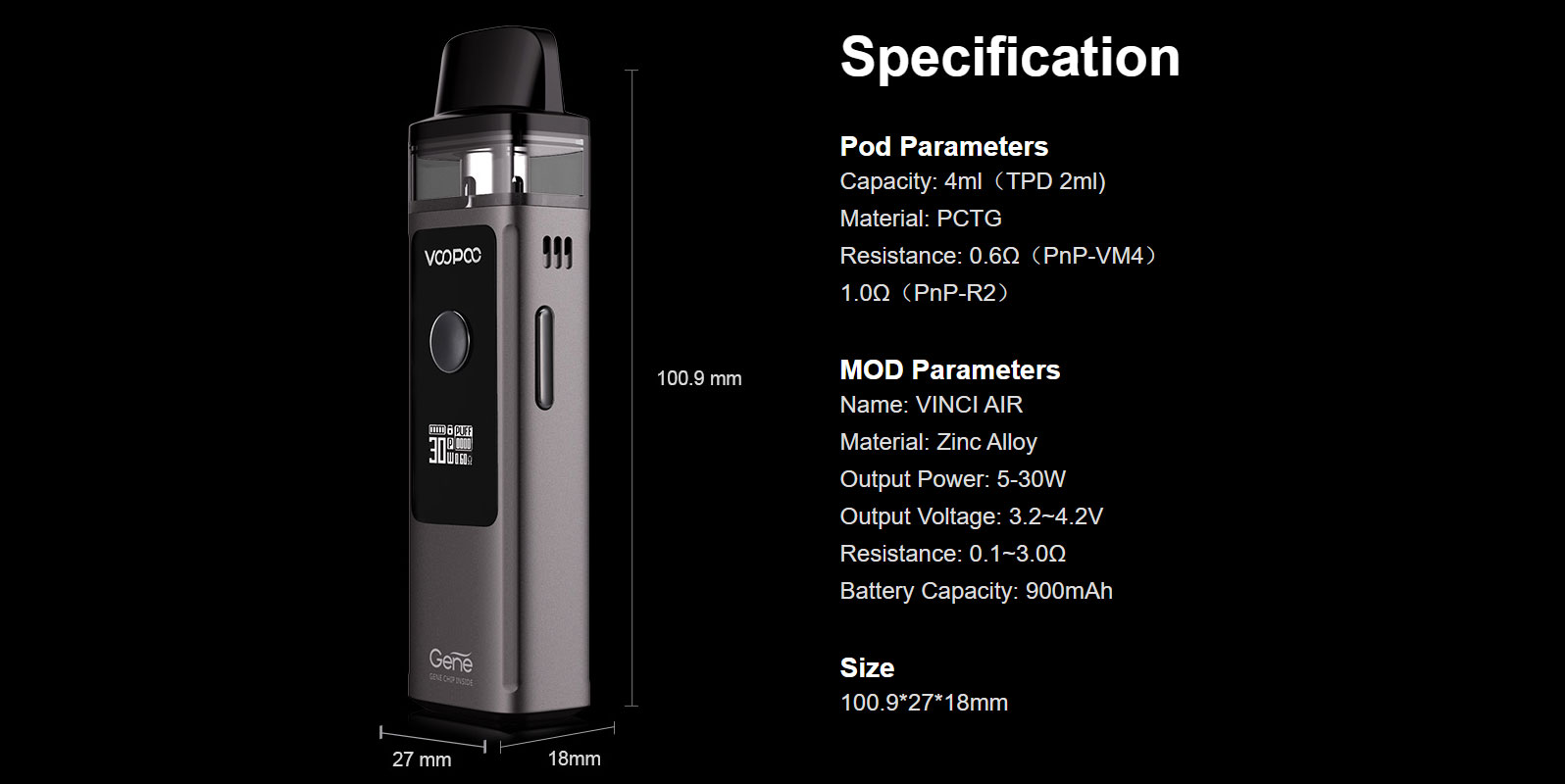 In The Box (Standard)
Vinci Air Mod
Vinci Air Pod
1 x PnP-VM4 0.6Ω Coil
1 x PnP-R2 1Ω Coil
USB Cable
Warranty Info
Manual
GENE CHIP Info Card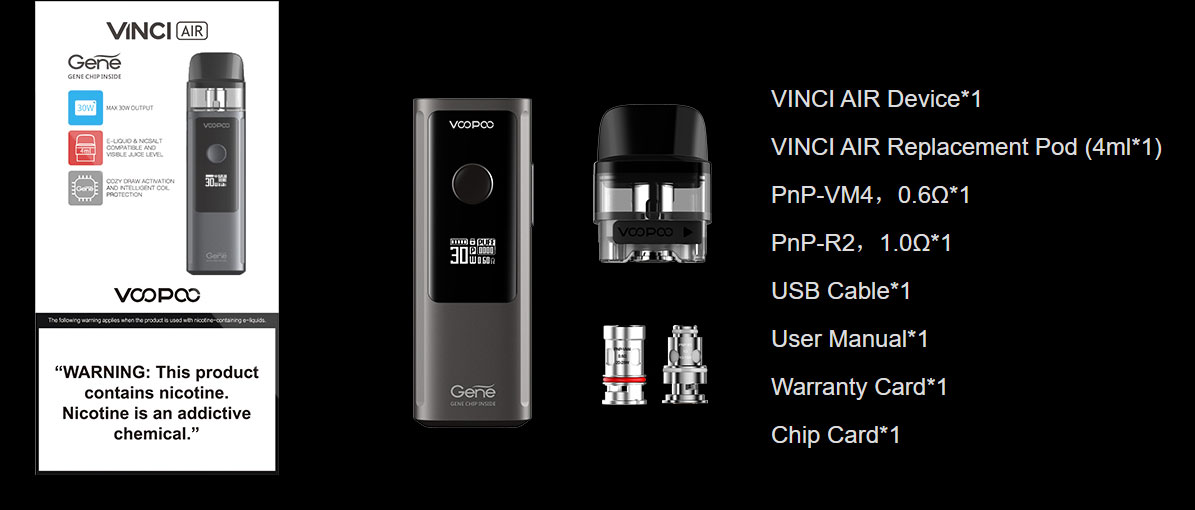 Related Deals
Total Views Today: 1 Total Views: 458