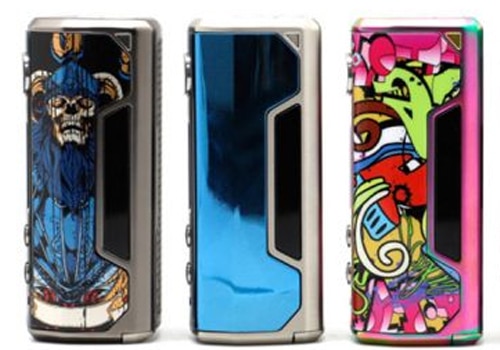 Here are cheap deals for the Vzone Cultura 100W Box Mod. This incredibly designed mod works with both 20700/18650 batteries, has durable
Update: This Item Is Sold Out Everywhere – Check  Similar 100W Box Mod & Kit Discounts Below
Overview
The VZONE Cultura Mod features 100 watts of power, a sophisticated chip board, a stunning design, in-mould-labeling injection for durability, taste modes and a versatile temperature control suite.
Made from aluminum alloy, this mod utilizes IML (in-mould-labeling) injection to make it highly resistant to wear and tear. The design looks stunning thanks to soft curves with camouflage, graffiti, skull or plain silver/blue finish options. On the control face, you will see an intuitive 0.91 inch OLED display that has a horizontal menu with indicators such as current voltage, atomizer resistance, current wattage/temperature, mode and a battery bar. The power and adjustment buttons surround the screen and look to be durable thanks to the metal construction material that is used. At the bottom of the Cultura Box Mod, you will see a flip door that easily opens up to reveal the battery bay in which you may install either a single 18650 or 20700 battery. Recharging the cell can be performed via a USB port.
On the technical side, the Vzone Cultura Box Mod is built with the latest HW Board 1.0 chipset that allows for power mode, temperature mode with nickel, stainless steel and titanium atomizer heating elements, temperature coefficient of resistance mode (TCR) of which your favorite settings can be memorized in three slots. Additionally, you may use three taste modes (normal, soft, hard) or enter your custom ramp vaping settings in user mode. This allows you to ensure each puff you take is exactly the way you like. Performance-wise, this mod can reach 100 watts in power mode, 600 degrees Fahrenheit in temperature modes and the minimum atomizer resistance is very low at 0.05ohm.
Cultura Features & Specifications
Measurements: 89mm x 39mm x 20mm
Made from aluminum alloy
IML injection for longevity and scratch resistance
Colors: camo, stainless steel, gunmetal, rainbow
510 threaded connection
Works with 18650 or 20700 battery

Bottom battery access
Micro USB charging system

 Innovative HW Board 1.0 Chipset

Modes: Power, TC-Ni, TC-Ti, TC-SS, TCR

Taste modes: normal, soft, hard, user
3 memory slots

Temperature range: 200°F to 600°F
Power output range: 7W to 100W
Max output voltage: 8.5V
Max output current: 32A
Min Atomizer Resistance: 0.05ohm
Total Views Today: 1 Total Views: 130