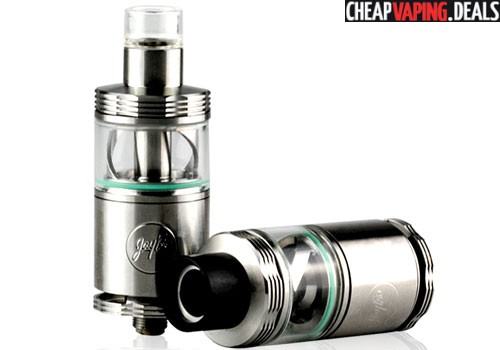 Here's a low price for the Wismec Cylin RTA by JayBo.
Overview
The Cylin is JayBo's latest RTA and is made with an automatic dripping system from its removable tank.   The device can be used as both a tank or RDA and is built with juice flow control and direct-to-coil airflow.
The device is made from stainless steel, measures 22m x 57.2mm and has a tank capacity of 3.5ml.  It is built with  juice flow control at the top which is adjusted by rotating the top cap.  There's a top fill system for easily adding e-liquid by lifting off the top cap.  The entire device can be disassembled for cleaning and maintenance.  Two alternate removable 510 drip tips are available for a versatile vape.
The Cylin be used as both a dripper or tank.  The tank tube can be removed and also works with other devices such as the Inde Duo RDA or Indestructable RDA, so that you can use them as auto-drippers as well.
Two adjustable airflow intakes on the Cylin is located on the bottom.  Air travels directly through two holes that line up with the deck's post to ensure air hits the coils directly.  This results in flavorful and massive vapor.
Two Notchcoils that measure 5mm x 7mm are included with purchase.  They can be used for high wattage vaping and produce incredible vapor.
Review
Features & Specifications
Measurements: 22m x 57.2mm
Constructed from stainless steel chassis
Glass tank
Easily detached
Dual coil
510 threaded connection pin
Removable 510 mouthpiece (two options)
Tank capacity: 3.5ml
Top fill setup
Adjustable juice flow control at top
Notchcoil
Leak resistance bottom airflow through two intakes
Air travels directly through the posts
Tank tube is compatible with other dripping atomizers that share the same sleeve size
Gallery
Similar Products
Total Views Today: 1 Total Views: 338