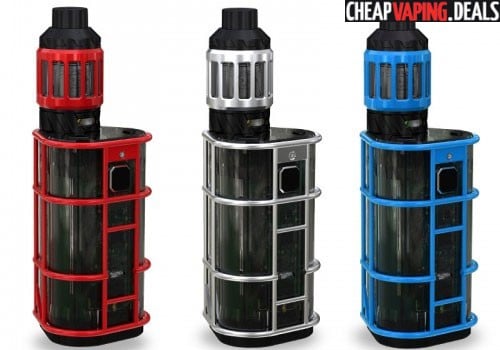 Check out this low price for the Wismec ES300 Exo Skeleton Box Mod or Full Kit with Wismec Kage Tank.  Powered by 2 or 3 batterires, this powerful 300 watt mod has a transparent chassis that allows you to see the chip board inside.
This Mod Has Been Discontinued So Check Out Similar Deals Below
Overview
The ES300 box mod from Wismec features a unique transparent frame, a display at the top, 300 watts of maximum output, low atomizer resistance, fast charging  and utilizes 2 or 3 batteries. This kit includes the Kage Tank that works with a new coil system for massive vapor and best flavors.
What really stands out on the ES300 is the translucent chassis that allows for viewing the interior of the mod. The inside  features LED lights illuminate during mod firing, but can also be turned off. A wire-like replaceable frame, in either red, silver or blue, surrounds the entire device.  And, with dimensions of only 50.7mm x 49.7mm x 86.0mm, this setup is relatively small for a 300 watt mod. Next to the spring-loaded 510 connection at the top, you will find a square OLED display that organizes vape data in a convenient way.  Two adjustment buttons can be seen next to the screen, while the fire button is located on the front of the device.
Two or three 18650 batteries power the ES300 Box Mod that can be charged via a micro USB port with a fast current of 2 amps. The cells are also accessible for external charging by conveniently opening a hinged bottom battery cover that flips open.
With two cells, the maximum power output is 200 watts, while installing three batteries will allow for up to 300 watts of power.  Operating modes include power mode, three temperature modes for all coil types and TCR mode for the most accurate temperature control operation possible.  The mod can also fire down to 0.05ohm, making it work well with virtually any build or tank you throw at it.
The design of the KAGE Tank in this kit perfectly matches the ES300's color and look.  This atomizer measures 55.1mm x 28mm and features a 2.8ml e-liquid reservoir.  It is conveniently refilled via a retractable top fill setup that slides open to reveal a fill port.  A childproof lock system ensures the device is inaccessible to children.  Dual airflow slots at the bottom are adjustable for a personalized vape experience.
New WT series coils power the Kage atomizer that were designed for both flavor and vapor production.  With purchase, you will receive a WT-V3 0.17Ω coil and WT-H2 0.4Ω one.
Video Review
Features & Specs
ES300 Box Mod
Measurements: 50.7mm x 49.7mm x 86.0mm
Transparent chassis with wire-like frame
Colors: blue, silver, red
Springloaded 510
Large square fire button
Hinged bottom battery panel
Utilizes 2 or 3 18650 batteries
Fast 2A micro USB charging
Power output range: 1W to 200W (2 cells) or 1W to 300W (3 cells)
Output  modes: VW/TC-NI/TC-TI/TC-SS/TCR
Power mode resistance: 0.1Ω to 3.5Ω
Temperature control resistance:  0.05Ω to 1.0Ω
Temperature range: 200°F-600°F or 100°C to 300°C
Output voltage range: 05V to 9V
Max output current: 50A
Kage Tank
Measurements: 55.1mm x 28mm
2.8ml tank capacity
Retractable top fill
Childproof
Dual bottom adjustable airflow slots
Utilizes new WT coils
Included: WT-H2 0.4Ω coil
Included: WT-V3 0.17Ω coil
Total Views Today: 1 Total Views: 45