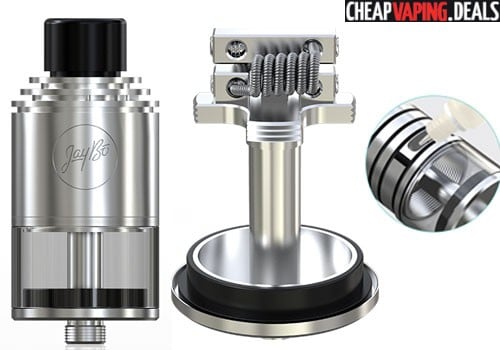 Check out these discounts on Wismec's Indereserve RDTA.
Overview
The Indereserve is a brand new RDTA from Wismec and Jaybo.  It features an efficient coil building system with a one-of-a-kind design, convenient wicking and a 4.5ml tank capacity with a side-fill system.  It is only available in silver.
The rebuildable dripping tank atomizer measures 25mm x 56.5mm and is made of stainless steel with glass.  At the bottom, there's a 510 threaded connection pin that supports most mods.  The e-liquid reservoir has a capacity of 4.5ml and utilizes a convenient side fill system for easily adding more juice, without a mess.  The entire RDTA is also detachable, making it easier than ever to maintain or clean.
The deck is completely redesigned and features quad wire terminals on a T-shaped center post.  The terminals are easily accessed for building as they are installed from the side.  This allows for large and intricate coil builds without any hassle. Installation of cotton is also made easier because the Indereserve features an open wicking setup.  With purchase, you'll receive two 0.5Ω Clapton coils that were made for mid-wattage use.  These claption coils are brand new and are said to result in huge vapor production with amazing flavor.
Airflow is adjustable by rotating the top cap clockwise or counterclockwise.  Air intake is massive to ensure high wattage vaping capability.
Pictures
Video
Features & Specs
Measurements: 25mm x 56.5mm
Weight: 179g
Stainless steel with glass materials
Colors: only silver
T-Post build deck with four easy-access wire terminals
Easy to wick
Side fill system, convenient
Top airflow control
Tank capacity: 4.5ml
Includes 2 x 0.5Ω new Clapton coils for midwattage vaping
Easily disassembled for maintenance/cleaning
510 threaded connection pin
Extra glass tube
Four seal rings
Four screws
Cotton included
Hex Key included (1.25mm Drive)
User manual
Total Views Today: 1 Total Views: 343