Here are cheap Wismec Luxotic DF Squonk Box Mod or Luxotic DF Squonk Kit deals.  The Luxotic DF Box features a mod with a re-imagined squonk system, a 7ml internal juice bottle, dual 18650 battery support, 200 watts of power, a masculine appearance, multiple protections, firmware upgrades, and an Avatar chip to provide a faster firing speed. The kit includes a Guillotine V2 RDA with convenient airflow, flexible airflow control, premade 0.28ohm Clapton coils for intense vapor, both a squonk & standard 510 pins, and a dual post build deck compatible with single or dual coil build.
Luxotic DF Box Mod
In the design department, the Luxotic DF mod is compact thanks to 42.1mm x 54.5mm x 77.2mm measurements and a weight of just 190 grams. With carved lines and a cutting design, the appearance is reminiscent of previous box mods by Wismec, such as the RX Gen3 Dual,  RX Gen3 Mod, or many of the company's Reuleaux mods. The device can be purchased in either white, blue, green, or black.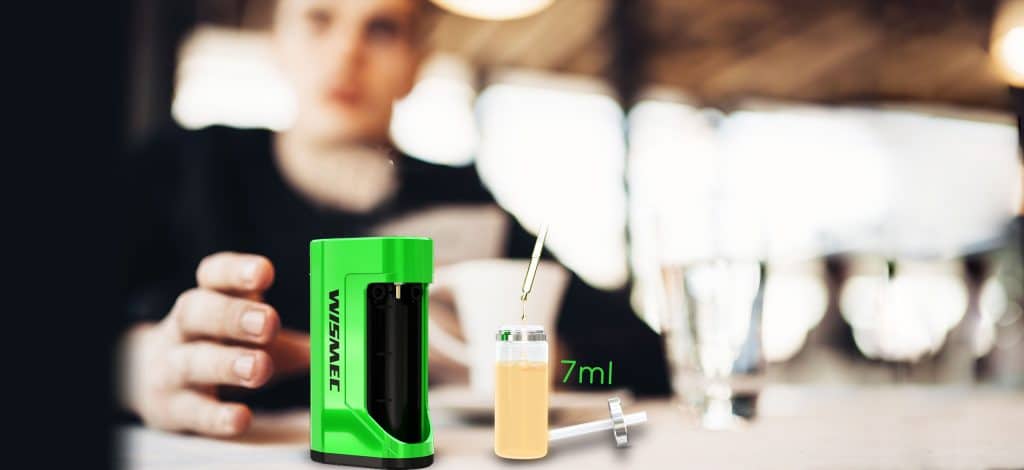 On the top of the Luxotic DF, you will find a 510 springloaded squonk-ready connector for use with your favorite BF RDA.  The bezel connects to an internal squonk bottle made from silicone and can store 7ml of e-juice. The bottle is installed and removed by opening the bottom panel and simply sliding the bottle into the opening. Refills of the bottle are performed by removing the bottle's cap to pour juice into the large opening.
The control face of the Wismec Luxotic DF features a metal fire button that looks ergonomic thanks to its unique shape. Underneath, you will see an almost identical display as you would find on previous mods by Wismec. The display has a vertical orientation, featuring white font on a black background, and its menu includes indicators for current mode, current wattage, current voltage, current amperage, current coil resistance, and two battery bars.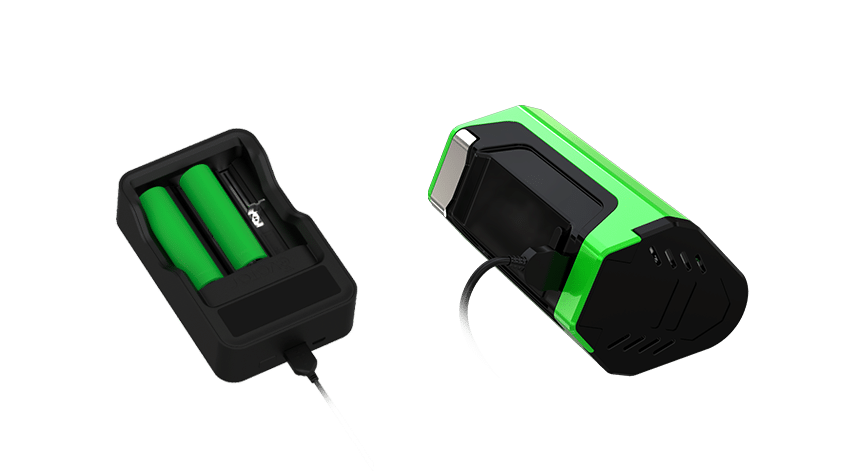 At the bottom of the control face, you will see a micro USB port used for firmware upgrades and charging of the dual 18650 batteries (not included) that power the Luxotic DF. The cells are loaded via the same bottom battery panel to access the squonk bottle.  Power-wise, this mod can achieve up to 200 watts of power which is massive for a squonker. Although operating modes are not yet listed, we imagine the device operates in power and bypass modes. We are uncertain whether there will be temperature control support, so we will update this page later with this information.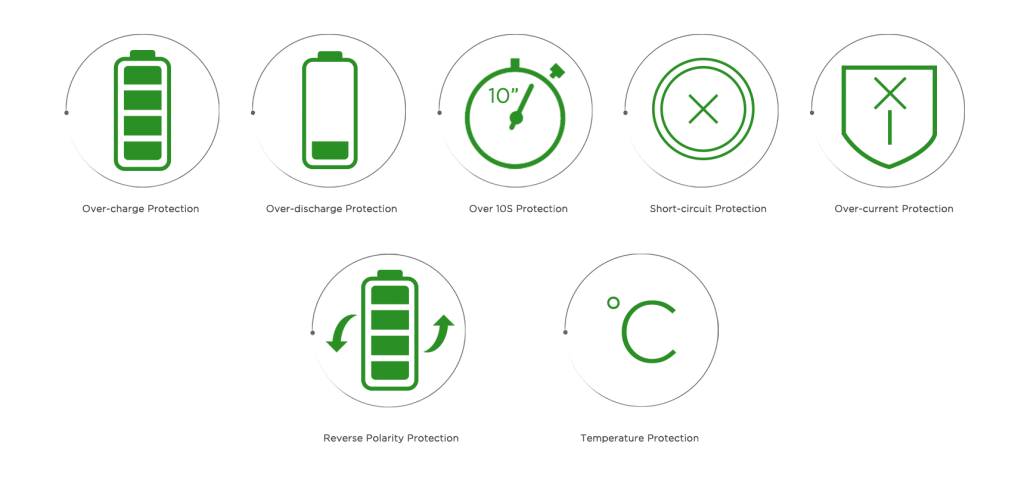 Built with the latest Avatar chip also allows for a much faster firing speed than any previous Wismec mods. Multiple protections are built into the unit, including overcharge protection, over-discharge protection, over puff protection (10s), short circuit protection, over-current protection, reverse polarity protection, and high-temperature protection.
Luxotic DF Kit
If you get the Wismec Luxotic DF Kit, you will also receive the Guillotine V2 RDA. It has a 34mm diameter with an optional 25.5mm ring base. At the bottom, there's a squonk ready springloaded/bottom-feeding 510 pin to make it a perfect fusion for the Luxotic DF Box Mod. The device includes a short PEI drip tip, but a larger one is available in the vape marketplace.
Inside the Guillotine V2, you will find a horizontal dual post build deck compatible with single and dual coil builds. Builds are kept in place via top-securing hex screws. You will get premade Clapton coils with a 0.28ohm resistance for intense vapor and flavor with purchase. Because the deck is spacious, this RDA is very easy to work with.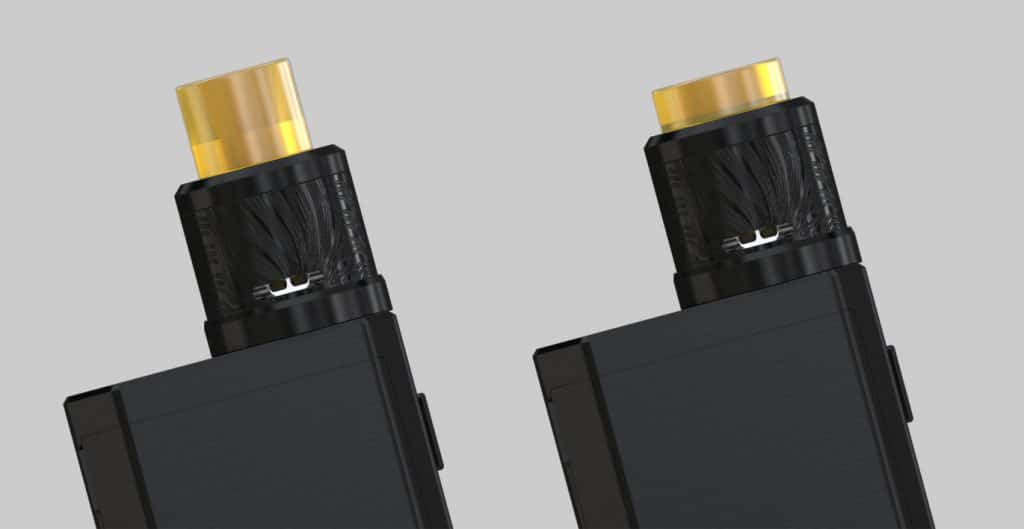 Airflow to the deck occurs via dual-slotted airflow on either the side or the bottom. This is thanks to the multi-functional chuff cap because it can be installed up or downwards to regulate airflow in two different ways. Underneath the deck, there's a 6mm deep juice well.
In The Package
With the purchase of the Wismec Luxotic DF Kit, you will receive the mod, the RDA, a silicone squonk bottle, a mouthpiece, two Clapton pre-built coils, cotton, a micro USB charging cable, a warning card, some spare parts and a user's manual.
Features & Specifications
Mod Only
Dimensions: 42.1mm x 54.5mm x 77.2mm
Weight: 190g
Carved lines with cutting design
Colors: black, white, blue, green
510 threaded spring-loaded/squonk-ready atomizer bezel
Internal squonk bottle

7ml juice capacity
Easy top-fill system
Accessed via the bottom panel
Silicone for health and easy push

Ergonomic metal fire button
Large 1.3-inch OLED screen

Vertical menu
White font on black background
Displays parameters clearly

Micro USB port for firmware upgrades
Powered by dual 18650 batteries
Micro-USB charging system
Maximum power: 200W
Avatar chip for fast firing speed and response
Safety features

Temperature protection
Reverse battery protection
High current protection
Short circuit protection
Over 10s protection
Over-discharge protection
Overcharge protection
Kit
Diameter: 24mm

Optional 25.5mm ring base

Made from stainless steel
Dual post horizontal build deck

Spacious
Top hex screws to secure builds
Dual/single coil compatible
6mm deep juice well
2 x 0.28ohm Clapton pre-made coils

Side or bottom airflow control

Install chuff cap up or down to change

Short PEI drip tip
Standard & squonk ready 510 pins included
Total Views Today: 1 Total Views: 1,823