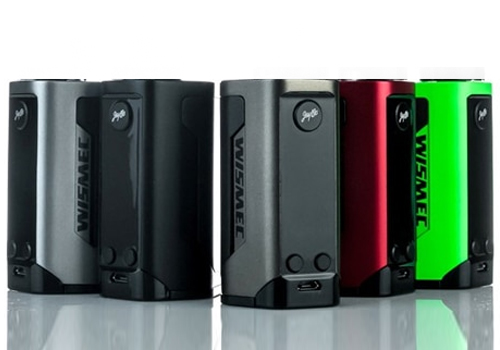 Check out these cheap deals to buy Wismec Reuleaux RX Gen3, for sale as a box mod or kit. If you liked the RX200, RX200S or RX300, you will love this  much more portable 300 watt RX mod that still uses three batteries for long vaping times!
Deals
Update: This Item Is Out Of Stock Everywhere So Check Out Similar Deals Below
Overview
The Reuleaux RX Gen3 is Wismec's third generation Reuleaux box mod. It is smaller, lighter & more ergonomic and features three 18650 cells, 300 watts of maximum output, new colors, a large 1.3 inch screen and the latest firmware.
Compared to Wismec's previous 300 watt model — the RX300 — this device is both smaller and lighter.  The dimensions come in at 39.3mm x 48.8mm x 113.7mm  and the weight, without batteries, is 197.9g.  The appearance looks very similar to other Reuleaux RX devices, but the color combinations give the Reuleaux RX Gen3 a brand new look.  The device is made from zinc alloy and available colors include all black, red, brown, grey and green. A springloaded 510 connection can be seen at the top for effortless installation of any build or tank.
On the control face, you will find the familiar Jaybo fire button, two adjustment buttons and a massive 1.3 inch display.  The screen has a brand new vertical interface and features a modern menu with current mode, temperature, wattage, resistance, amperage and three battery bars. The menu gets its look in part thanks to the latest Bespoke firmware that was specifically designed for the RX series of mods.
On the technical level, this mod looks equally capable.  A wide range of temperature modes include power, TCR and three temperature control modes that are compatible with nickel, stainless steel and titanium heads. Power output tops out 300 watts, temperature can go up to 600 Fahrenheit, while resistance bottoms out at a very low 0.05ohm in variable temperature modes and 0.1ohm in power mode.  Built into the OS, there's also a preheat system that allows ramping up of wattage for up to 2 seconds during initial firing. And, dual circuit protection systems make the RX GEN3 very safe to use and reliable.
Three 18650 batteries power the Reuleaux RX Gen3 Box Mod.  The batteries can be accessed at the bottom by opening a flip-open cover that is made with ventilation holes for safety and features gold plated/clearly marked polarities.  The cells can be charged while they are stored inside the mod via the micro USB port on the control face. For safety, the charging system features balanced technology to ensure the cells achieve equal voltage levels and reverse polarity protection is built into the device in case the batteries are inserted the wrong way.  The charging system tops off the cells at a very fast rate of 2 amps as well so you'll be vaping again in no time .  The micro USB port also can be plugged into any computer for future operating system upgrades whenever they are released on the Wismec website.
Features & Specs
Measurements: 39.3mm x 48.8mm x 113.7mm or 1.55″ x 1.92″ x 1.55″
Weight: 197.7g or 6.97oz
Made from zinc alloy
Lighter & more compact than previous Reuleaux RX mods
Colors: green, grey, brown, red, black
Springloaded 510 connector
Jaybo fire button
Massive 1.3″ display
Vertical oriented modern menu system
Latest Bespoke firmware designed for RX mods
Operating modes: VW/TC-Ni/TC-Ti/TC-SS/TCR mode
Power range: 1W to 300W
Preheat system for ramp up firing in power mode
Power mode resistance: 0.10Ω to 3.5Ω
Temperature output range: 200°F-600°F or 100°C to 300°C
Temperature control resistance: 0.05Ω to 1.0Ω
Max output current: 50A
Output voltage range: 0.5V to 9.0V
Utilizes triple external 18650 batteries
Fast micro USB 2A charging
Balanced charging system for safety
Flip-open battery cover
Firmware upgrades
Dual circuit protection
Reverse polarity protection
USB cable included
Operating manual
Warning card
Gallery
Total Views Today: 1 Total Views: 2,524