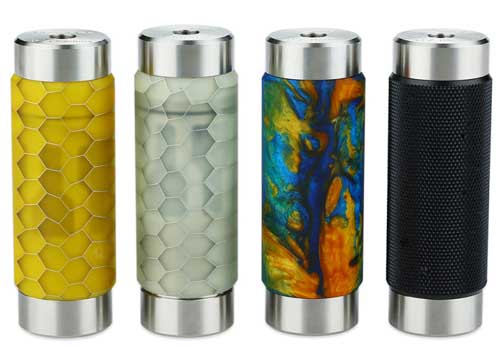 Check out these cheap deals for the Wismec Reuleaux RX Machina Mod or Kit.
Update: This Item Is Out Of Stock Everywhere – Check The Deals For Similar Mech Mods Below
Overview
The Reuleuaux RX Machina Kit by Wismec includes a mechanical mod and RDA.  The setup features the smallest tube mod in the marketplace, interchangeable sleeves, 20700/18650 battery compatibility, a one-of-a-kind Guillotine RDA and a beautiful appearance.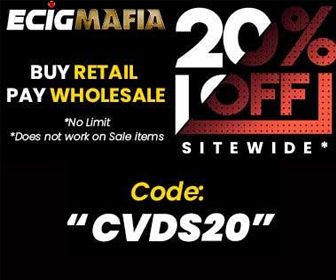 Designed by JayBo, the setup is said to look a lot like the robot in the ExMachina movie and is available with white honeycomb, honeycomb resin, swirled metallic resin and knurled blackout decorative tubes.  The sleeves can be effortlessly swapped out by removing the top cap on the mod  or you may want to simply use the device without a decorative sleeve. The entire setup is tiny thanks to tube mod dimensions of 28mm x 81.3mm and Guillotine RDA measurements that comes in at 24mm x 35mm.  And, the unit's compact size means it is convenient and comfortable to hold and carry.
Although the mechanical mod is simple to use, it is capable of multiple functions.  The device adopts a new bottom button design to allow for a compact form factor and for more space to fit a 20700 battery for long vaping times.  If you prefer to use an 18650 cell, you may do so by installing the included battery adapter sleeve inside the bay.
The Reuleaux RX Machina Kit also includes the Guillotine RDA that features a threadless connector to make installation as simple as possible. Removing the top cap reveals the convenient rebuildable deck that is made with dual posts and is compatible with single/dual builds. Upon reinstalling the top cap, you will notice that it also acts as the juice well and regulates the airflow via 2 x 2 air intakes at the bottom.  With this kit, you will receive the latest Clapton coils that were designed specifically for this setup and for best performance with a 20700 battery mod. The coils utilize 4 ply flat ribbon wire that fires with a 0.28ohm resistance with single coil configurations.  To ensure efficient cleaning and maintenance, the entire RDA is easily detached.
Features & Specifications
Tube mod measurements/weight: 28mm x 81.3mm/97.2g
RDA measurements/weight: 24mm x 35mm/33g
Ergonomic & portable: convenient in the hand and pocket
Colors: silver with either white honeycomb, honeycomb resin, knurled blackout, swirled metallic resin sleeve

Decorative sleeves can be swapped
Use without sleeve

Utilizes 20700/18650 batteries

Use included adapter to use 18650 cell

Bottom fire button
Guillotine RDA

Threadless connection for effortless installation
Dual post build deck
Single or dual coil compatible
Chuff cap adjusts airflow and acts as juice well
0.28Ω (single build resistance) Clapton coils included
Easily disassemble for cleaning/maintenance

Included with purchase:

Reuleaux RX Machina (no battery)
Guillotine RDA
Cotton
Spare parts
Battery sleeve
2 x 0.28Ω Clapton coils
User's manual
Warning card
Gallery
Total Views Today: 1 Total Views: 612