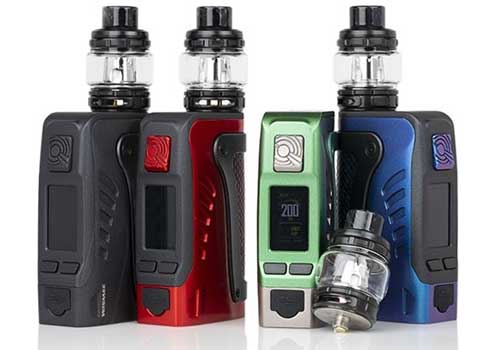 The  Reuleaux Tinker 2 is the follow-up of the Tinker and can be obtained as a standalone box mod or as a kit w/ Trough Tank. The mod is waterproof, dustproof and shockproof and further features an amazing appearance, crocodile-shaped leather,  a 0.96 inch full color display screen, 200 watts of power, dual 18650 batteries (not included), instant firing thanks to the latest Avatar chipset, and a myriad of operating modes. The Trough tank utilizes WT mesh coils for pure flavor, a 6.5mL juice capacity, an easy sliding top cap for refills and bottom adjustable airflow control.
Deal
Similar Products
 Four Color Options
The Tinker 2 features 4 color options: red, black, blue/purple and titanium grey. Wismec claims it is a work of art thanks to a perfect fusion of metal and leather, making it fashionable and notable.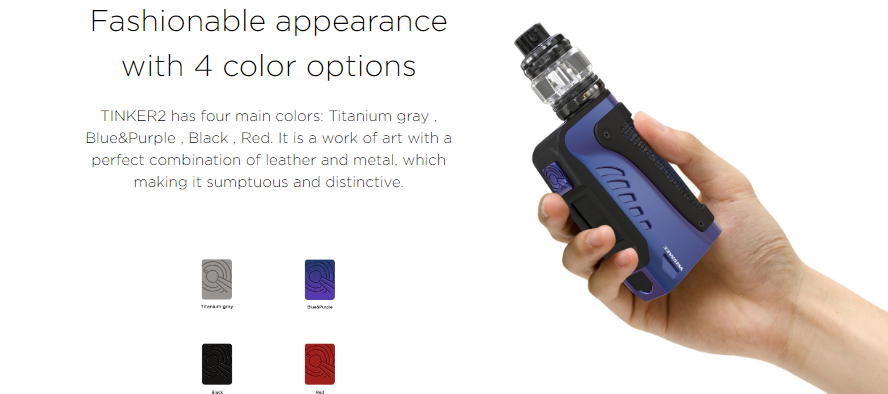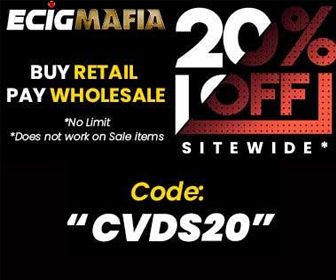 Crocodile Shaped Leather Finish
A crocodile-shaped leather panel curves around the back of the box mod, where it is gripped. This finish has a clear and glossy texture, looks exquisite, is durable and is extremely comfortable in the palm of the hand.

Full Color TFT Display w/ New User Interface
The control face features a brand new design for the fire button, as well as two adjustment buttons and a micro USB port. In the middle, you will see a 0.96-inch color display that has a brand new menu design with vertically-oriented vape data. On the mode screens, you will recognize a speedometer-style indicator in which you may display either the time or current wattage/voltage/temperature. Underneath, there is more vape data such as atomizer resistance, two battery bars for the dual 18650 cells that power the device, and more. In a separate menu, you may set the mode to power, temperature control, TCR or real-time clock. And, the settings menu has icons for mode, settings and mod information.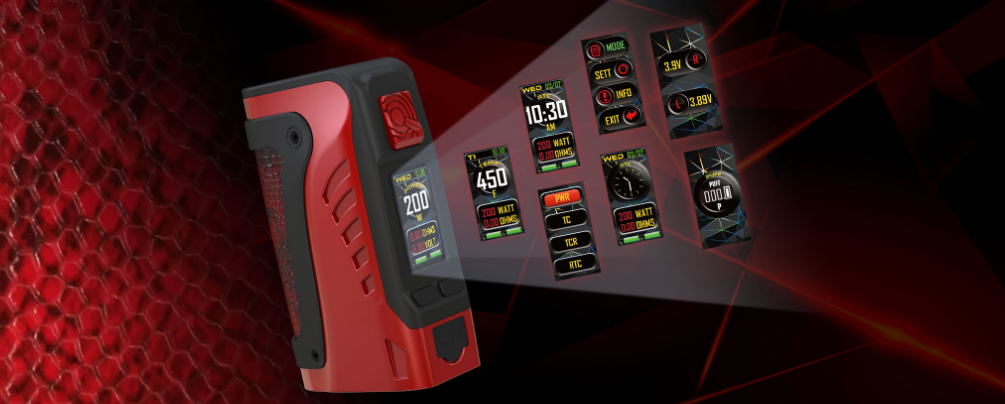 Waterproof, Dustproof, Shockproof
Unlike its predecessor, the Tinker 2 features advanced waterproof, dustproof and shockproof design. Feel free to take it out in the rain or to the pool.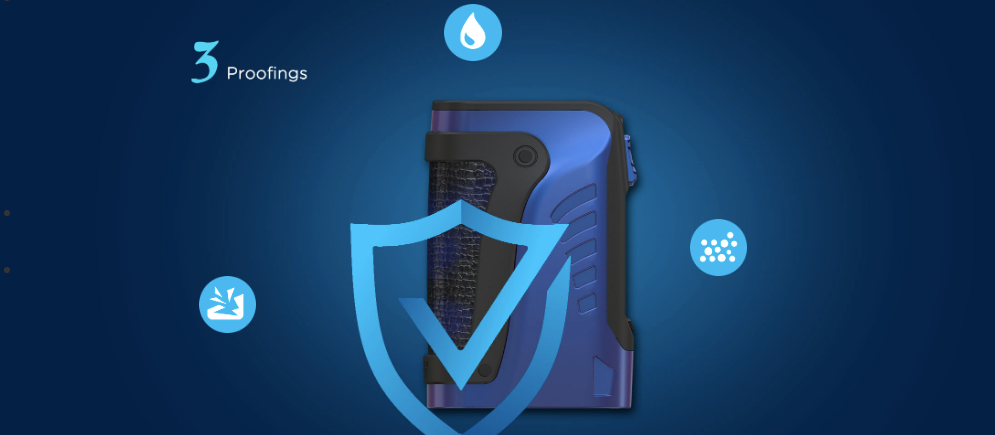 Powered By Dual 18650 Cells For 200 Watts Of Power
The Wismec Tinker 2 utilizes two 18650 batteries, making it capable of creating 200 watts of output. The batteries are recharged by way of a micro USB interface which is also used for future firmware upgrades.  Supported modes include variable wattage, temperature control which works with all standard heating elements (nickel, stainless steel, titanium) and TCR modes. The minimum resistance comes in at 0.05ohm, making it compatible with the majority of atomizers in the vape marketplace.

Avatar Chip: 0.001s Instant Firing
Developed by Wismec, the Tinker 2 is constructed with the latest Avatar chipset which results in reliable operation and a plethora of safety protections. More importantly, the Avatar produces almost instant firing speed of just 0.001 seconds.  This mod takes off as soon as you press the fire button!

Multiple Safety Protections
A plethora of safety protections will keep you safe while you vape. These are temperature protection, reverse polarity protection, over-current protection, short circuit protection, over-puff protection, over-discharge protection, and overcharge protection.

Onboard Charging
It is always a good idea to use an external charger to recharge your 18650 batteries. But, if you don't have one, the Tinker 2 has a micro USB port which connects to a computer or wall adapter and permits 2 amp fast recharges of the cells inside the mod.

Firmware Upgrades
The Tinker 2 comes with factory firmware installed.  In case there is an update, you may upgrade this operating system by downloading and installing new firmware from the Wismec site via your desktop computer.

Tinker 2 Kit w/ Trough Tank
The Trough Tank matches the color of the Tinker 2 Box Mod. It has a 6.5mL juice capacity with the included bulb glass section installed.

To add vape juice, all you do is slide the top cap that hides a large refill hole. The slot is built with silicone which stop leakage, while separating the airflow. This guarantees vape taste is never squandered.

Two massive air inlet at the bottom have been enlarged for additional vapor production. Simply rotate the airflow ring to adjust the settings to your liking.

The Trough works with the latest WT heads to provide marvelous taste and tremendous vapor. Included in the package is the WT01 0.35ohm coil that operates in the range of 30 to 50 watts and also a WT02 dual 0.2ohm coil that works in the 30 to 70-watt range. There is also an elective WT03 0.15ohm coil that can be fired with up to 90 watts of power.

The heads are constructed with 70 percent organic cotton and 30 percent wood pulp. And, the heating elements inside use mesh material to produce amazing flavor thanks to enhanced coil wicking.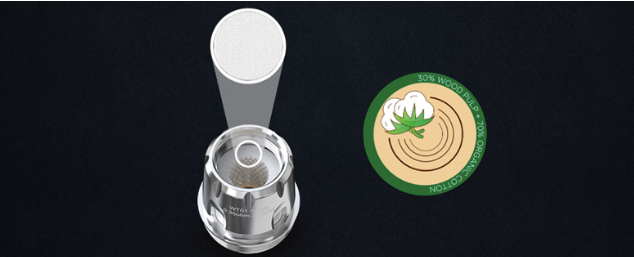 Wismec Reuleaux Tinker 2 Features & Specifications
Tinker 2 Mod
Size: 90 x 53.5 x 28.5mm
Waterproof
Shockproof
Dustproof
Exquisite appearance
0.96-inch full color screen
Leather grip
New interface
Latest Avatar chipset
0.001s instant fire speed
Max wattage: 200W
Maximum charging current: 2A
Powered by dual 18650 batteries
Output mode: Power/TC-Ni/TC-Ti/TC-SS/TCR mode
Temperature range: 100-315°C/200-600°F (TC modes)
Resistance range: 0.05-1.5ohm for TC modes
0.05-3.5ohm for Power mode
Maximum output current: 50A
Output voltage range: 0.5-8V
Wismec Trough (Tinker 2 Kit)
Measurements: 30mm x 50mm
Weight: 61.5g
6.5mL juice bulb glass section
Sliding top fill system
Huge bottom adjustable airflow
360-degree e-juice diversion/leading system
Mesh coils

Huge vapor and flavor
WT01 Single 0.35ohm
WT02 Dual 0.2ohm
In The Package (Kit)
Tinker 2 Mod
Trough Tank
WT01 Single Coil
WT02 Dual Coil
Charging cable
Spare Parts
Two Manuals
Two Warning Cards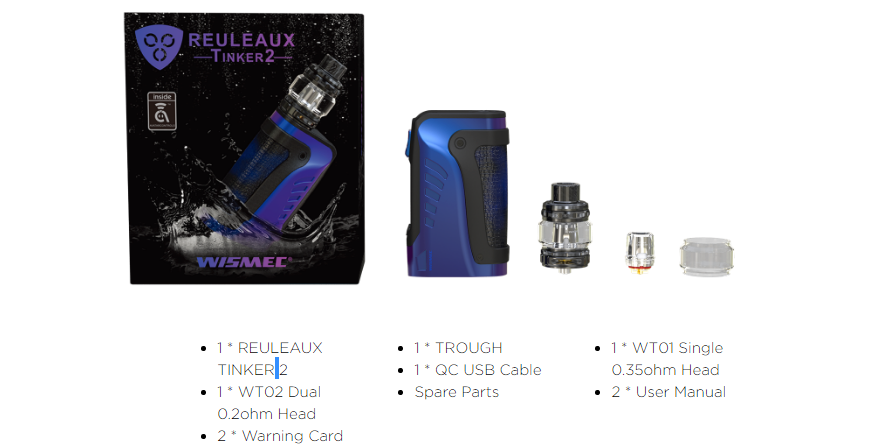 Related Deals
Total Views Today: 1 Total Views: 1,587