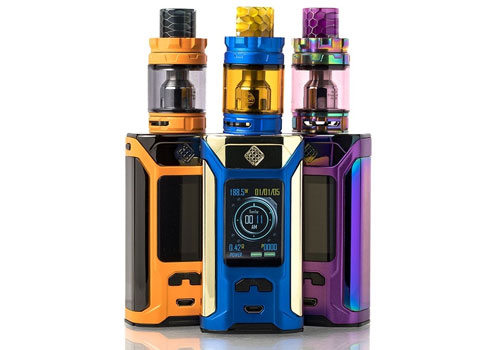 Here are a few cheap deals and discounts for the Wismec Sinuous Ravage230 Box Mod. This mod features a massive 230 watts of power, a full temperature control suite, a real time clock and a full color screen. Also available in a kit with tank.
Update: This Item Is Out Of Stock Everywhere – Check  Similar 230W Box Mod  Deals Below
Review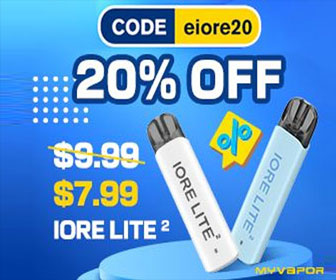 Overview
Here's yet another result of the partnership between Wismec and Sinuous Designs: the Ravage230 Box Mod. It features 200 watts of output, a full suite of temperature control modes, a real time clock and a full color display.
Appearance-wise, the Ravage230 looks to be quite similar from previous Sinuous devices by Wismec. Unfortunately, it is only available in black with red and the dimensions have not been made available, but the device is quite thin and looks to be portable. On the front, you will see a massive 1.4 inch display that has full color fonts for pleasurable and effortless viewing of vape data.  The main menu features a futuristic dial-like look with indicators for power/temperature, time, voltage, temperature, two battery bars and more. Easily accessed via the adjustment buttons, you will find several sub-menus that allow for changing modes, settings, setting the mod's time or get device information. The display can also be set to RTC mode which displays a clock. At the top of the mod, there's a centered 510 threaded connection that surely has a springloaded center pin for easy atty installation. The bezel's diameter looks to be wide enough for larger builds or tanks.
Powered by dual 18650 cells, the Wismec Sinuous Ravage230's battery bay can be accessed on the bottom via a panel that slides and flips open. Polarities are clearly indicated to ensure the batteries are not inserted the wrong way and. In case you don't possess an external charger,  a micro USB charging port allows for onboard charging.
Technically, this device has a wide range of operating modes. These include power mode, temperature control (compatible with heating elements such as nickel, titanium, stainless steel) and a TCR mode for compatibility with any coil type. There's also a preheat system which always for customized ramp vaping which results in a better individualized experience. The maximum power output of this unit is 200 watts, the highest temperature is 600 degrees Fahrenheit and the lowest atomizer resistance is unavailable but probably comes in at 0.05ohm.
Gallery
Features & Specifications
Dimensions: unavailable
Weight: unavailable
Colors: black/red
Wide 510 threaded connector with springloaded center pin
Massive 1.46″ color display
Threaded/ spring-loaded centered 510 connector
Utilizes dual 18650 batteries

Micro USB charging system
Easy access battery bay flips open
Clearly  marked polarities
Dual battery bars on screen to track charge levels

Operating modes: Power/TC Nickel/TC Titanium/TC Stainless Steel/TCR/RTC (real time clock)
Preheat system
Power mode output range: 1W to 200W
TC output range:  100 to 315℃ or 200 to 600℉
Suspected resistance range power mode: 0.1Ω to 3.5Ω
Suspected resistance range temperature modes:  0.05Ω to 1.5Ω
Safety protections
Total Views Today: 1 Total Views: 1,073