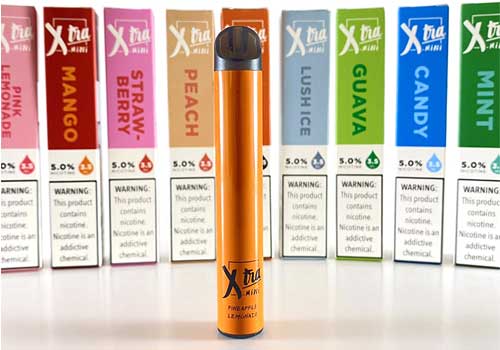 Update: This Item Is Out Of Stock Everywhere – Check  Similar Disposable Pod Kit Deals Below
Here are cheap deals to buy Xtra Mini Disposable at a low price.  This disposable pod system features a powerful integrated battery, 800 puffs, 5% nicotine strength, 3.5mL juice capacity pods, and puff-activated firing.  It is for sale in the following flavors: Guava, Pineapple Lemonade, Peach, Candy, Lush Ice, Strawberry, Banana, Mint, Pink Lemonade, Pineapple, and Mango.
Overview
The Xtra Mini Disposable Kit is an AIO portable vape kit that works with nicotine salt vape juices in many flavors.  It is almost the same device as the Xtra Disposable, but easier to carry because it is much smaller.  Each Xtra Mini has a 3.5mL pre-filled cartridge with 50mg nic salt e-liquid that is sure to have plenty of throat hit to satisfy your cravings with each draw.  And the battery should last for the life of the disposable, which is 800+ total puffs.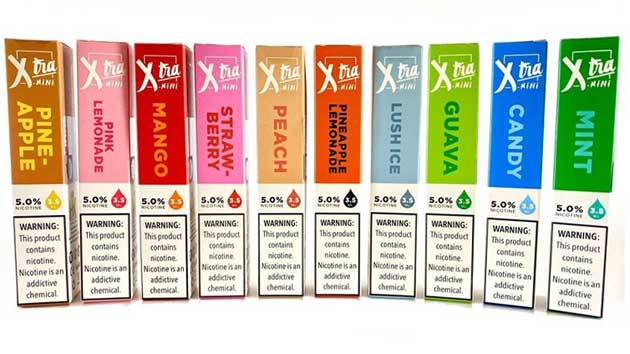 With purchase, you will receive one Xtra Mini device that has smooth airflow for an excellent mouth-to-lung puff. And an LED lights up every time you take a hit and will blink when the battery has met its lifespan.  Best of all, there are no buttons to press due to a puff-activated system.
Features
800 puffs
Puff-activated firing
Portability
Powerful battery
50mg (5%) vape juice
3.5mL pods
Flavor options

Pineapple
Banana
Guava
Lush Ice
Pineapple Lemonade
Total Views Today: 1 Total Views: 159