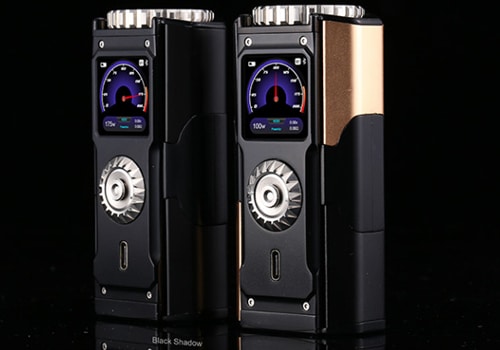 Here are cheap deals for the Yihi SXMINI T Class Box Mod.  The SXmini T Class features the latest Yihi SX580J chipboard, a full-color TFT screen with animated wallpaper, two fidget spinners (on the front and surrounding the 510 bezel), a mechanical theme, dual 18650 battery compatibility, 200 watts of power, Bluetooth app control and accurate operation with versatile temperature control.
Overview
Made from zinc alloy with stainless steel accents, the mod is available in black shadow, black shadow/golden, captain, captain/golden and X-Man. The theme is mechanical like and integrates two fidget spinners so you may relax while your holding this ergonomic device. On the front of the T Class, you will find an amazing full color IPS TFT display of which you may not only customize the background color, but which also features new animated wallpaper. On the menu, you will see indicators that include output wattage, voltage, temperature, a battery percentage indicator, voltage, current mode, atomizer resistance and a clock. On the backside of the mod, you will find an SXMini logo that is built with a backlight to really stand out. The control face features a large hexagon firing button and utilizes a joystick instead of adjustment buttons to navigate the menu and make adjustments. At the top of the mod, you will find a 24mm 510 atomizer bezel that is made with a gold plated/springloaded 510. Surrounding the bezel, there's a second fidget spinner.
In addition to the unique design elements, the SXMini T Class is also amazing on the technical level, to rival Evolv DNA Mods. The chip set not only performs very accurately, but also features Yihi's SXi-Q intelligent taste mode which utilizes sophisticated algorithms to produce flavorful vapor. You may store these settings in any of the five memory slots built into the operating system. Additionally, this mod has its own app you may download to your phone or tablet which connects to the mod via blutooth technology to make adjustments or set a custom logo. Operating modes for the T Class Box Mod include power mode, bypass mode, advanced mode (taste mode w/ eco, soft, standard, power and powerful+ options), temperature mode (works with nickel, titanium, stainless steel heating elements) and TCR mode to enter your heating element's temperature coeeficient of resistivity. Temperature control tops out at 120J or 572 degrees Fahrenheit while the highest power is 200 watts. All modes have a resistance range of 0.05 to 3.0ohm. For safe vaping, there's also reverse polary, short circuit, low resistance, low battery, overheating and battery overcharge protections. Powering the SXMINI T Class is dual 18650 batteries that are inserted into the mod from the bottom. The cells are recharged via the micro USB port with a lightning fast 2 amps of current. Firmware upgrades are also performed via the same interface.
SXMINI T Class Features & Specifications
YiHi SX580J Chip Set

Output power: 5 to 200W
Voltage output: 0.1 to 8.0V
Resistance range: 0.05 to 3.0ohm
Operating modes: bypass, novice, advanced (taste control), SXi-Q, temperature control,TCR

Two fidget spinners (front and top)
Bluetooth phone app
Hexagon fire button
IPS TFT full color display

Joystick to make adjustments
Animated wallpaper
Change background color and logo

Back lit SXMini logo (change color)
Utilizes dual 18650 batteries

Sliding bottom battery cover
2A fast charging

Firmware upgrades
Colors: black shadow, black shadow/golden, captain, captain/golden and X-Man
Made from zinc alloy with stainless steel accentsStainless steel 510 connection

Spring loaded/gold plated pin
Works with up to 24mm diameter atomizers
Integrated spinner

Safety protections: Reverse polarity, short circuit, low resistance, low battery, overheat protection, battery overcharge
Pictures
Total Views Today: 1 Total Views: 716