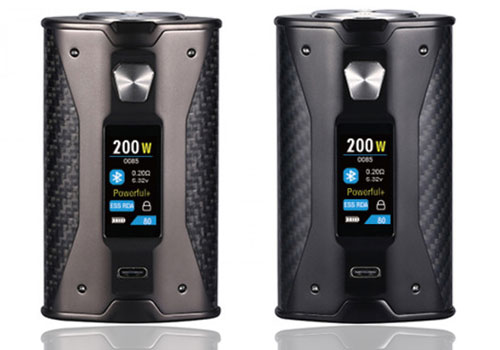 Yihi SXMini X Class: 200W Advanced Auto-Squonker w/ Color Touchscreen
The SXMini X Class is the latest squonk box mod by Yihi. It features an exquisite appearance, ESS driver technology (electronic squonk motor), an advanced Yihi SX650J chipset, intelligent juice level monitoring, a full-color touchscreen, lots of taste modes, dual 18650 batteries, a micro USB port type-C for effortless recharging, and a myriad of safety protections.
Review
Intelligent Autofeeding Squonk Motor
The SXmini X Class is built with the latest Yihi  SX650J Chipset and offers a built-in ESS (Electronic Spray Squonker) System that automatically squonks for compatible atomizers.  This motor pumps juice automatically from the juice reservoir to the installed build or tank.

Squonk Reservoir
Unlike traditional squonk mods, the X Class does not utilize a juice bottle. Instead, e-liquid is stored inside a back/bottom reservoir that easily slides out by simply pulling on its notch. This juice tank is transparent so that you may monitor e-liquid levels. Filling the plastic tank involves squirting juice into its fill port upon removal.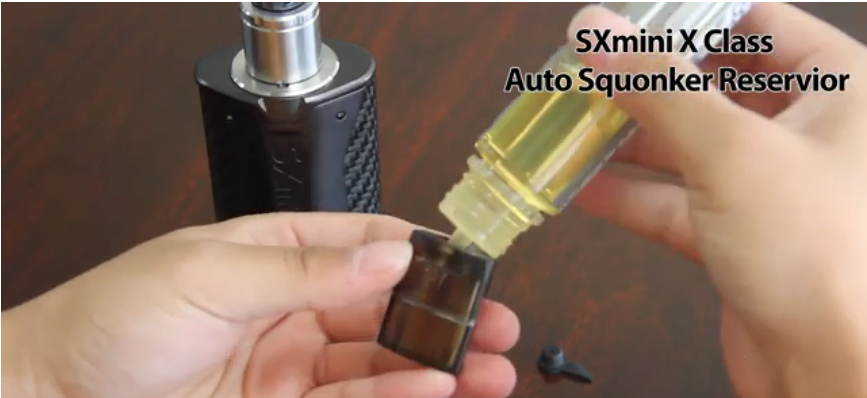 Exquisite Design
Constructed from beautifully painted zinc/stainless steel alloy with exquisite carbon fiber inlays, the X Class carries gives off an atmosphere of indulgence. The available color combinations are carbon fiber/gunmetal and kevlar/black.
At the top, there's a massive 510 squonk connection that should work with wide atomizers. The control face is built with an impeccable fire button, a full color TFT touch screen. At the bottom, there's a type-C charge port for effortless recharges of the dual 18650 batteries that power the device. The USB interface is also used for firmware updates.
At the back, there's a beautiful SXMini engraving and also the juice reservoir, while the bottom has a panel that flips open to access the battery bay.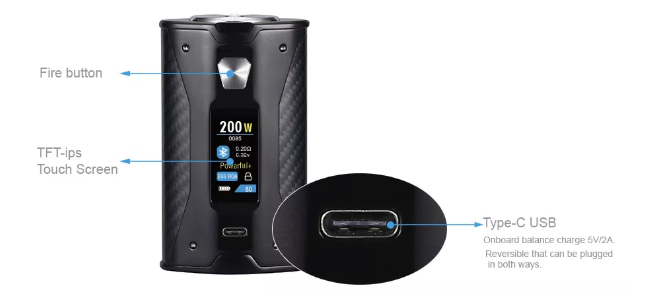 Full Color TFT Touchscreen Display
The responsive touchscreen's interface displays vape data in full color and looks very similar to previous Yihi box mods, but it operates a little differently.
Swiping down on the menu results in the juice auto feeder's controls where you can press up or down to pump juice up or to pull juice down. Here, you may also set the automatic feeder settings or choose your atomizer as the ESS RDA (specific for the X Class Mod), SXPure or any BF RDA.
Other submenus allow for setting the modes and preferences. Most settings are accessed by swiping down on the touchscreen.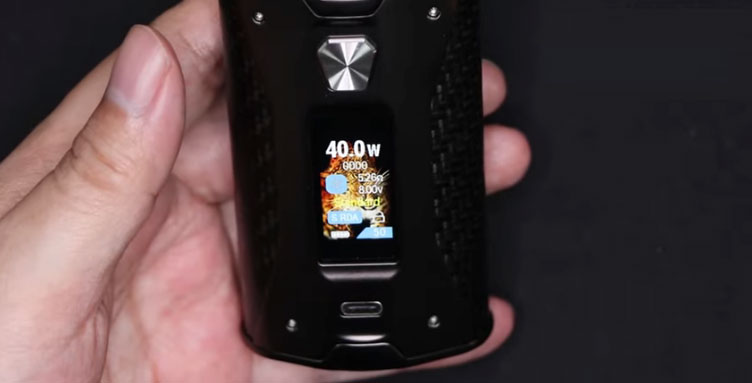 Technical Parameters
As previously mentioned, the SXMini X Class features the Yihi SX650J, the same chipset found in the Pioneer4You IPV-3 Mini.
There are many available modes of operation including variable wattage up to 200 watts, temperature control with nickel, titanium, stainless steel and TCR.  Temperature control is designed with anti-dry-burn technology so that it can be controlled via Bluetooth on the Android or iOS app. And, there are the usual taste modes that are programmed into every Yihi SX Mini mod such as powerful, powerful+, soft, eco, as well as SXi- Q-S1 ~ S5.  The X Class is compatible with atomizers down to 0.05ohm in all modes.
For safety, there are a plethora of safety protections such as overheat, battery overcharge, low resistance, output short and reverse polarity.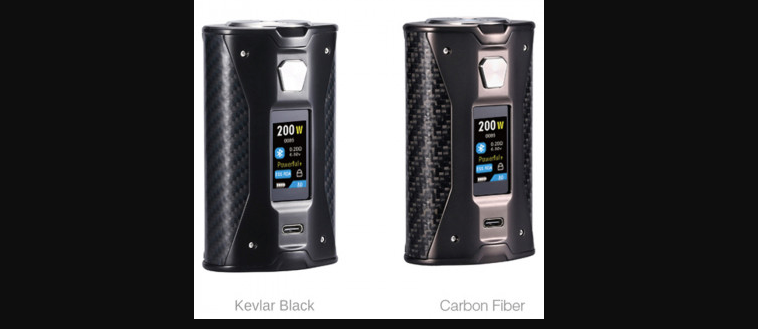 Features & Specifications
Latest YiHi SX650J Chipset
Zinc-Stainless/Steel Alloy Chassis
Carbon Fiber Accents
Dimensions: 95.5mm x 57mm x 40mm
Colors: Kevlar Black, Carbon Fiber
24mm 510 Threaded Squonk Connection
Uses Dual 18650 Batteries
Easy Bottom Battery Cover
Type-C Micro USB Charging Port (easy to plug in)
USB Firmware Upgrades
Power Output Range: 5W to200W
Voltage Output Range In Power Mode: 0.7V to 8.0V
Voltage Output Range In TC/Joule Mode: 1.0V to 8.0V
Resistance Range All Modes: 0.05Ω to 3.0Ω
Taste Modes: Powerful, Powerful+, Standard, Soft, Eco, and SXi-Q-S1-S5
TC Mode (Ni/Ti/SS): Anti-Dry Burning Technology Via Bluetooth App
ESS Driver Technology – Automatic Juice Pumping
Intelligent Juice Level Monitoring
Easy Access Juice Reservoir With Effortless Refills
Natural Firing Button
TFT-IPS Touch Screen Display
Protections

Reverse Polarity Protection
Output Short Protection
Low Resistance Protection
Low Battery Voltage Protection
Overheat Protection
Battery Overcharge Protection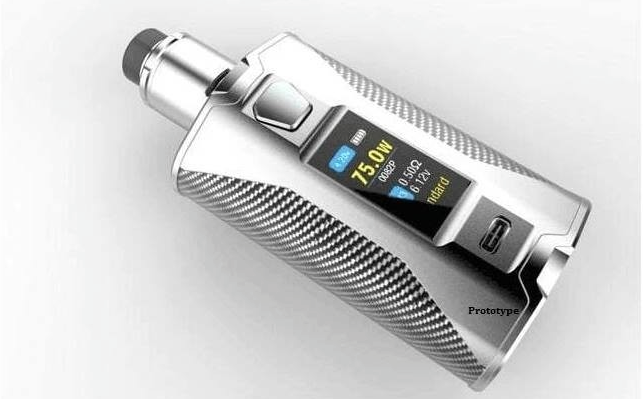 In The Box
Yihi SXMini X Class Mod
Type-C Micro USB Cable
2 x E-Juice Reservoir Plugs
Manual
Warranty
Related
Total Views Today: 1 Total Views: 1,557