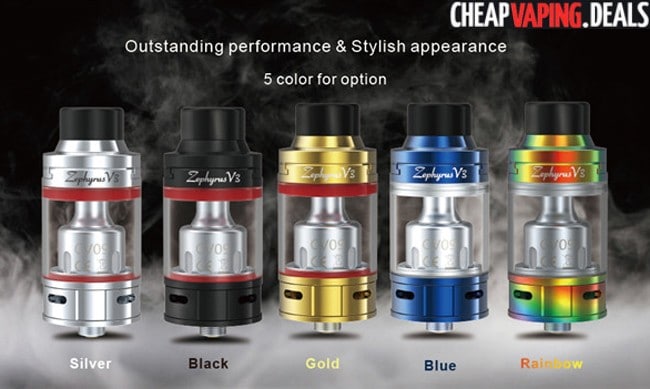 Update: The

Youde UD Zephyrus V3 Tank or RTA

Has Been Discontinued

– Check  Newer RTA Deals Below Or Find Tank Deals Here
Overview
The Zephyrus has been updated with a new version.  Compared to its predecessor, the V3 features a more compact form factor,  a retractable top fill system, a massive fill port, quadruple adjustable bottom airflow and unique chimney rifling lines for massive vapor output.   There's two versions to choose from: you can get the tank version that utilizes octuple organic cotton coils or choose the DIY/RTA version that comes with a dual post 18mm build deck with bottom as well as side internal airflow. The device is available in black, blue, rainbow, gold or stainless steel.
The Zephyrus V3 has dimensions of 25mm x 45mm, utilizes a 8mm x 16mm wide bore drip tip and is made from stainless steel with pyrex glass tank.  The reservoir can hold up to 5ml of e-liquid and is constructed with a top fill system that uses the sliding/retractable top cap to uncover a massive 4.5mm x 10mm fill hole.
Airflow is amazing thanks to quadruple airslots that are easily adjusted to your favorite setting. In combination with the rifling lines that are build into the chimney, the V3 is said to produce huge vapor clouds with lots of flavor.
Two versions of the device are available. If you enjoy coil building, you should purchase the DIY version that features an 18mm dual post build deck with four post holes. Unique internal airflow hit s the deck from two directions for extremely flavorful vapor output. Or, if you'd prefer pre-built coils, you may choose the tank version. It utilizes octuple organic cotton coils that fire with a resistance of 0.15ohm in the range of 60 watts to 120 watts, but are best from 80 to 110 watts.  Best of all, the Zephyrus V3 tank is also compatible with any Zephyrus series coils.
Zephyrus V3 Features & Specifications
Dimensions: 25mm x 45mm
Weight: 160g
510 drip tip: 8mm x 16mm

Compatible with 810 drip tips

Colors: silver, rainbow, golden, blue, black
Tank capacity: 5ml

Retractable top fill system

Sliding top cap
Massive fill port: 4.5mm x 10mm

Made from stainless steel
Pyrex glass tank tube
Quadruple bottom adjustable air slots
Chimney riffling for huge vapor and flavor
Tank version

Octuple organic coils (OCC)
0.15Ω resistance
Range: 60W to 120W
Best: 80W to 110W
Compatible with all Zephyrus seriers coils
Included:

Two OCC coils
Extra glass tank
Accessories Kit
Warranty card
User manual

DIY/RTA version

Dual post 18mm build deck
Four wire holes
Unique airflow from 2 directions onto the deck
Extreme flavor
Included:

Extra glass tank
One build deck
One OCC coil
Accessories kit
Hexagon wrench
User manual
Warranty card
Pictures
Total Views Today: 1 Total Views: 98