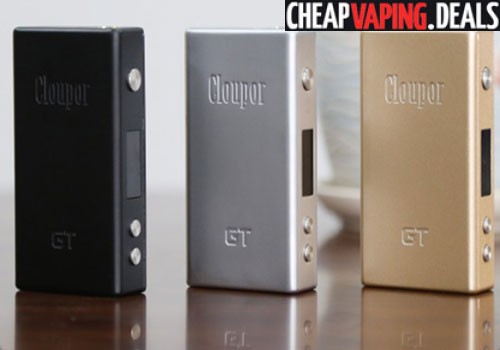 Overview
What's unique about the Cloupor GT 80W is that it's a small temperature control box mod, yet it's powered by dual 18650 batteries.  It's compact & lightweight so you can simply put it in your pocket when you go out for the night.  With 80 watts of power and long lasting battery life, it will certainly meet your vaping needs all day long.
With its soft edges, perforated back panel and button configuration, the device has a similar look to other Cloupor mods, in particular the Mini.  The clicky buttons have a groove texture for grip and they don't rattle.  Overall, everything on this device seems to be more sturdy than previous Cloupor devices.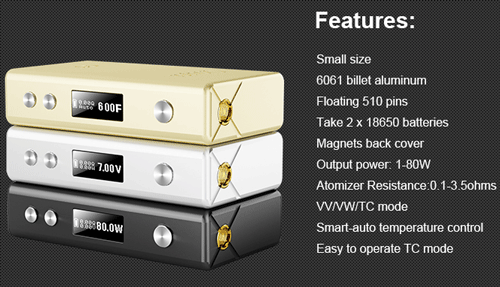 Temperature is adjustable from 200°F to 600°F.  It features automatic temperature control mode which adjusts Joules on its own to prevent overpowering the mod.  Joules can also be changed manually, but there's no need for it as auto-mode works flawlessly and results in a smooth vape.
The batteries are held behind an easy-to-remove magnetized panel that doesn't rattle, but may slightly move around if pressure is applied.   Unfortunately, there is no USB port for passthrough charging and battery ventilation is missing on this device.
The GT 80W features a springloaded 510 center pin with some ventilation slits for airflow.  The hexagonal connection allows for improved connection.
As with previous Cloupor products, there are a couple of small design flaws mentioned above.  But, this device proves that Cloupor is continually improving their products.   The GT 80W is not glitchy and works perfectly.  At this price, it's a fantastic buy.
More information on GT 80W on Cloupor's website
Features
Compact size: 94mm x 53mm x 22mm
Very light (99g)
Compact
Constructed of 6061 billet aluminum
Floating 510 pin
Dual external 18650 batteries
Magnetic battery panel
Variable voltage: adjustable from 0.5 to 7 volts
Variable wattage: adjustable from 1 to 80 watts
Smart temperature control: adjustable from 200°F to 600°F or 100°C-300°C
Standard Resistance: 0.1Ω to 3.5Ω
Temperature Control Resistance: 0.1Ω to 3Ω
Reverse battery protection
Video review
More Cloupor GT pricing and accessories
Total Views Today: 1 Total Views: 185