Here are cheap deals to buy the Freemax Maxus Max Mod or Maxus Max Kit at a low price.  The mod features a stylish appearance, a small dual-battery design, a Type-C fast charging port, an embedded full-color IML display, 4 user interface color options, and multiple output modes (power, VPC, bypass, TC, TCR).  The kit comes with the Freemax Maxus DTL Pod and has a 5ml juice capacity, easy side-fill system, double or triple mesh coils, and dual adjustable air intakes. If you want a more portable Maxus mod or kit, check out the Freemax Maxus Solo.
Similar Products
Freemax Maxus Max Mod
As of this writing, the Maxus Max is said to be extremely compact for a dual 18650 box mod.  In fact, with the pod installed, the measurements come in at only 43mm by 30.9mm by 128.5g and the weight at only 200 grams.  This means you could potentially store the kit in your pocket or purse.   The 1.3 inch embedded IML screen also perfectly integrates with the overall appearance of the setup.  And, customize the UI to four different colors.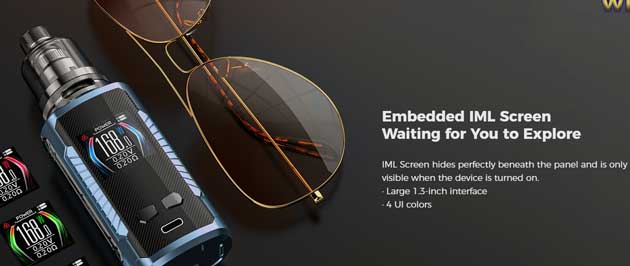 Continuing with the design of the Freemax Maxus Max, the firing mechanism spans one entire length of the mod for convenience and ergonomics.  You may also customize your key lock/unlock functions via the menu.  For example, you may turn off voltage or wattage adjustment by pressing the plus and minus buttons simultaneously or push the plus/minus buttons and fire key to lock the device altogether.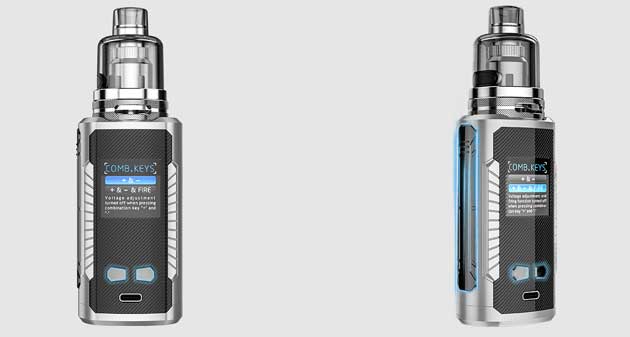 5 colors are available: silver, gold, gunmetal, blue, and black.
Powered by dual 18650 batteries, this mod achieves 168 watts in a multitude of modes starting at 5 watts of power.  The settings include power mode, VPC mode, bypass mode, temperature control mode (nickel, titanium, SS), and a TCR mode for vape experts.  In case a recharge of the batteries is necessary, you may simply open the battery bay via a bottom flip-door or use the onboard USB-C charging system that operates with a fast 2 amp current to end the process in virtually no time at all.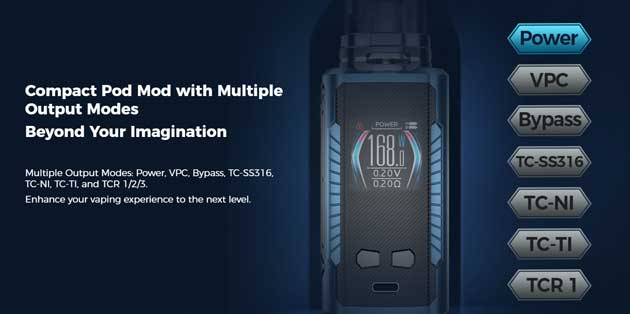 All these technical capabilities are due to the latest FM Chip 2.0 chipset that has the additional benefits of being smart,  fast, and secure.  Always feel safe using the Freemax Maxus Max Box Mod with overcharge, over-discharge, short circuit, low voltage, over time, open circuit, overload, and overheat protection.

Freemax Maxus Max Kit
The Maxus Max Kit includes either the Maxus DTL Pod or Pod Tank by the same name, but the latter atomizer has not yet been released.  The included pod works with the new MX platform of coils that were first seen in previous kits starting in 2021.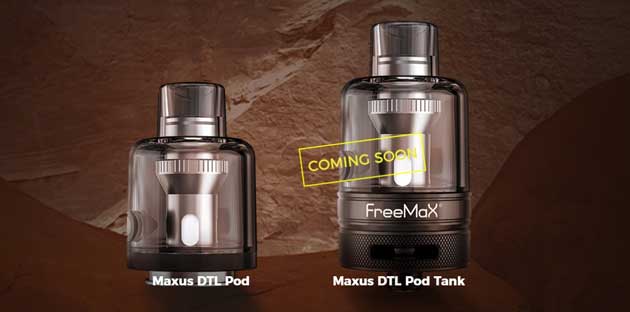 The MX coil platform has five options.  When you receive the package, you will see one MX2 0.2ohm mesh coil is already installed.  It operates in the range of 60 to 90 watts, but is best used at 80 watts.  And, there's also a 0.15ohm MX1 mesh coil included with a 50 to 80 watt range, but recommended at 70 watts. There are 4 more additional coils, although some have yet to be released.

The Freemax Maxus Max kit's coils are almost identical to the previous M Pro Mesh Coils, with single/dual/triple structure, except the new coils use a pluggable design for less messy coil swapping and an effortless process.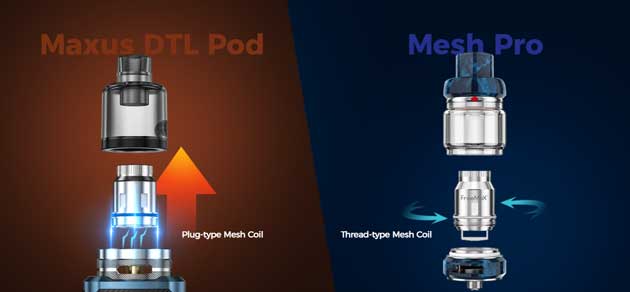 To ensure the best possible flavors, each coil uses FM Coiltech 4.0 technology which means it is made with tea fiber cotton and military-grade mesh.  This has the further benefit of creating massive clouds and  ensuring durability.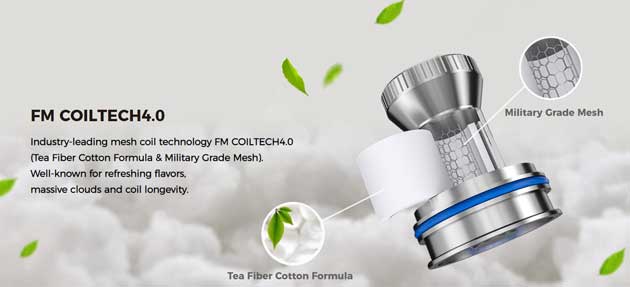 Each pod has a 5ml vape juice reservoir and is refilled via a newly designed side-fill port that is easier to work with.  Simply open the plug on the atomizer without removing it from the mod and inject e-liquid.  Unlike competing pods with limited or no airflow, the Maxus Max Kit has dual bottom air intake slots that you may freely adjust to your liking.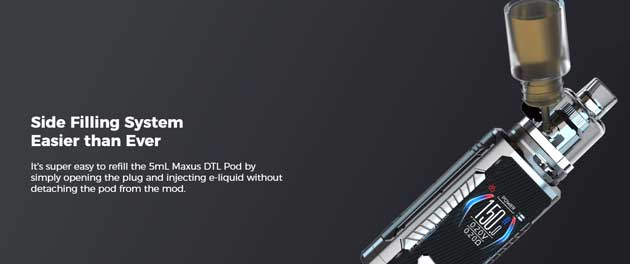 Features & Specifications
Freemax Maxus Max Mod
Dimensions w/ pod: 43mm x 30.9mm x 128.5mm
Weight 200g
Small dual battery kit
Colors: black, gunmetal, stainless steel, gold, blue
Massive firing mechanism
1.3″ embedded IML screen

Full-Color
Set theme to four different colors

FM Chipset

Faster
Smarter
Secure
Protections

Overcharge
Over-discharge
Short circuit
Low voltage
Overtime
Open circuit
Overload
Overheating

Modes:

Power
VPC
Bypass
TC-SS316
TC-Ni
TC-Ti
TCR

Dual 18650 batteries (not included)
USB-C sharing system
Easy bottom battery bay access
Power range: 5W to 168W
Output voltage: 0.7V to 8.4V
Freemax Maxus Max Kit
Kit Includes Maxus Pod
5ml juice capacity
Side-fill system
Dual bottom adjustable airflow
Plug-style coils
DTL vaping only
Coils

MX platform coils
Coiltech 4.0
Military-grade mesh
Tea fiber cotton for refresh vapor production
Included: MX 1 0.15Ω | 50W To 80W | Best: 70W
Included: MX2 0.2Ω | 60W To 90W | Best:80W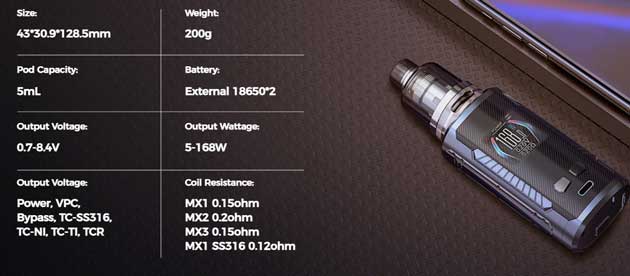 In The Box (Kit)
Freemax Maxus Max Mod
Freemax Maxus DTL Pod
Included: MX2 0.2Ω coil (pre-installed)
Included: MX 1 0.15Ω coil
USB-C Charging Cable
Warning Info
Warranty Info
Manual
Desiccant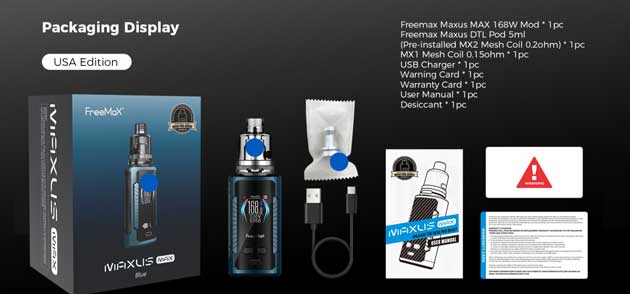 Total Views Today: 1 Total Views: 5,377