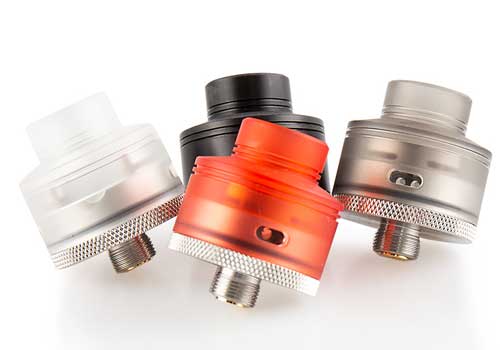 Here are cheap deals for the GAS Mods GR1 S RDA.
Overview
The amazing GAS Mods G.R.1 S RDA has a 22mm diameter, a height of 21mm, is made from 304 stainless steel, has a cone shape and is available in black only.
This RDA is one of the only in the marketplace that can be used for both mouth-to-lung and direct-to-lung vaping. This is due in part to its innovative airflow system that utilizes two different hole sizes that measure 2mm x 2mm or 2mm x 5mm and can be found on both sides of the GR1. The recommended angle setting for the airflow is 45 degrees.
When you remove the chuff cap, you will see a dual post deck that is compatible with single builds, but the size of the wire terminals and the depth of the juice well is unknown. This RDA includes a POM drip tip and also comes with a bottom feeder pin to install if you are using a squonk mod.
Total Views Today: 1 Total Views: 41