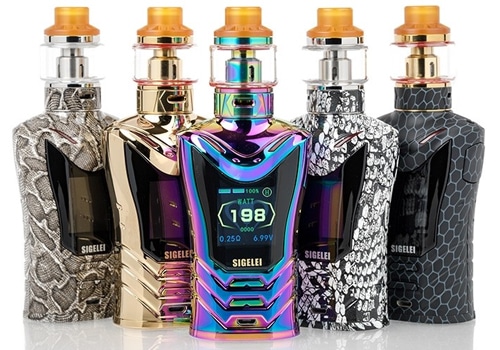 Here are cheap deals to buy the Sigelei Sobra 198W Box Mod Kit. The Sigelei Sobra 198W Box Mod features an exquisite Cobra design, 198 watts of power, a 1.3-inch full-color display, two alternate user interfaces, versatile temperature control, low resistance capability, and dual 18650 batteries.
Review
Overview
Design-wise, the chassis of the Sobra is made from zinc alloy with a surface process paint finish that is on sale in black, blue, gold, gunmetal, 7-color, and silver. The appearance incorporates a Cobra design and, although not listed in the specs, there seem to be 2 LED lights below the screen. This full-color TFT display measures 1.3-inch and can be set to two alternate interfaces. Two 18650 batteries power the Sigelei Sobra which are accessed via an effortless battery panel that is tightly held in place, yet easy to remove. The cells can be recharged via a micro USB port with an included cable which is included. The charging process is lightning fast due to a 2.5 amp charging system.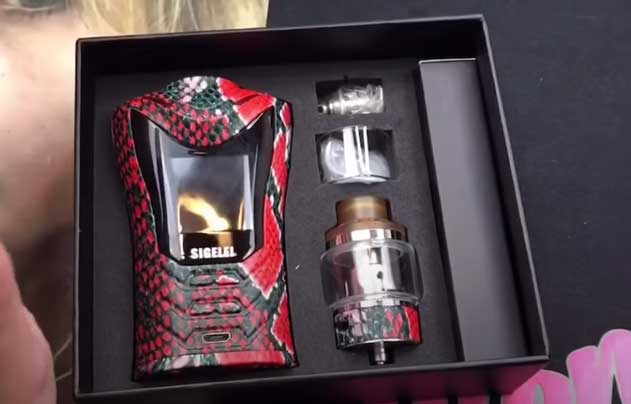 On the technical side, this mod is versatile thanks to an operating capability that allows vaping in power mode, TCR mode, and four temperature control modes: titanium, nickel, stainless steel, and nichrome. The power tops out at a whopping 198 watts, the temperature at 570 degrees Fahrenheit, and resistance capability is very low at just 0.05ohm.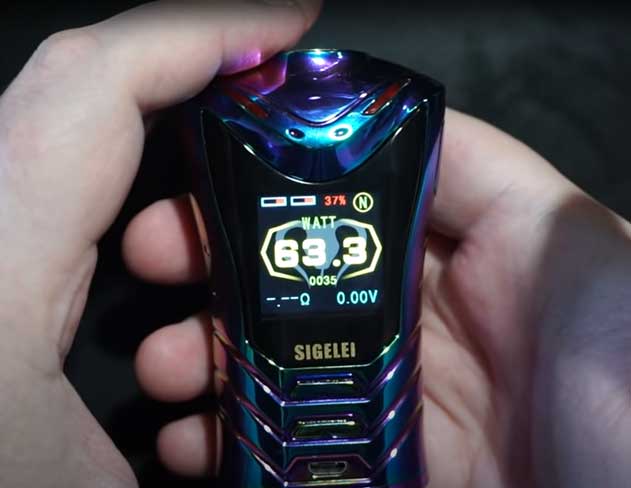 If you get the Sigelei Sobra Kit, you will also get a T4 Tank. It measures 24 x 51mm, is made from stainless steel, and has a 2.5ml reservoir that is easily filled via a top-located fill port. Airflow on this atomizer is adjustable and works perfectly in combination with SM2-H coils that fire in the range of 60 to 100 watts with a resistance of 0.2ohm.
Features & Specifications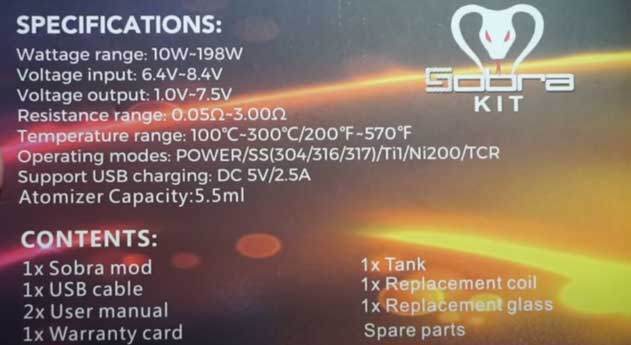 Made from zinc alloy
1.3 TFT color display
Power output range: 10W to 198W
Temperature range: 100 to 300°C | 200 to 570°F
Input voltage range : 6.4V to8.4V
Output voltage range: 1.0V to 7.5V
Output current: 40A
Resistance range: 0.05ohm to 3.0 ohm
Uses dual 18650 cells
Total Views Today: 2 Total Views: 9,117