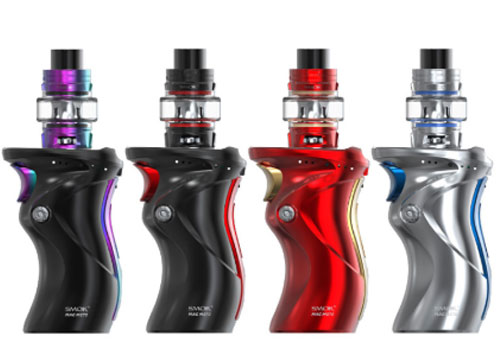 MOK Mag M270: 70w/5mL TC Box Mod Mesh Kit
Update: the Mag M270  is quite old and no longer available. Please check out the new Smok Mag 18 Box Mod or Kit or other Mag Mods below.
The Smok Mag M270 is the more portable version of the Mag Grip and includes the TFV8 Baby V2. The mod features a portable profile, an ergonomic design, a top located display, 21700/20700/18650 battery support, gun magazine style battery loading, 70 watts of output, multiple protections and temperature control. You will also receive the TFV8 Baby V2 Tank with 5ml capacity, dual bottom adjustable air inlets, an easy top fill system and low to mid-wattage coils including a mesh coil for intense vapor with flavor.
Smok Mag M270 Kit Features & Specifications
Mag M270 Mod
Dimensions: 59.5mm x 91.3mm x 38.7mm
Ergonomic gun handle design
Compact and portable
Exquisite fire key
0.66″ OLED display
510 threaded connection bezel
Works with a single 20700/18650 battery

Magazine style loading
Press side button to release battery magazine
Sounds like reloading a gun
Micro USB charging port on the side
Supports micro USB firmware upgrades

Power mode output: 1W to 70W
Temperature range: 200°F to 600°F
Operating modes: power & temperature control
Minimum atomizer resistance

0.05Ω in temperature modes
010Ω in power mode

Output voltage range: 0.5V to 9V
Standby current: <220uA
Safety protections

Intelligent atomizer recognition
Short circuit protection
Overheat protection
Over-discharge protection
10s cutoff
Puff monitoring system
TFV8 Baby V2
Made from stainless steel with pyrex glass
Measurements: 30mm x 54mm
Weight: 65g
Colors: white, matte black, green, gold, prism blue, 7-color, red, stainless steel
New carvings on top cap and base for modern appearance
Bulb juice reservoir

Larger 5ml capacity
Easy sliding top cap exposes juice port

Patented lock mechanism
Larger filling port
Gasket has been moved to bottom of top cap

Better appearance
Leak proof refills

Triple bottom adjustable airflow

One additional slot compared to predecessor
Wider for huge vapor

510 threaded connection pin

Gold plated

Maximum electro conductivity
Longevity

16mm wide bore cobra/resin Delrin drip tip

Heat resistant
Easy push installation (no threading)
Perfectly fits in the mouth
Enhances airflow and vapor production
Optional Cobra Resin drip tips:  black, green, gold, blue, red, white, 7-color, purple, pink

New coil system

Pre-installed: 0.15ohm Baby V2 S1 Mesh

Custom made for Stick series batteries
Lower wattage
Intense clouds and flavor
Large mesh heating area
Rated: 40W to 80W
Best: 60W to 70W

Included: 0.15ohm Baby V2 S2

Custom made for Stick series batteries
Lower wattage for better vapor and flavor
Longer lifespan thanks to extra direct wicking ports
More restricted airflow
Rated: 30W to 70W
Best: 45W to 60W

Optional: 0.17ohm Baby V2 A1

Silver color (optional gold/rainbow colors)
Large mesh heating area
Rated: 90W to 140W
Best: 110W to 130W

Optional: 0.2ohm Baby V2 A2

Silver color  (optional gold/rainbow colors)
Dual heating cores for huge vapor production
Rated: 50W to 80W
Best: 65W to 75W

Optional: 0.15ohm Baby V2 A3

Silver color  (optional gold/rainbow colors)
Triple heating cores for thick vapor and tons of flavor
Rated: 60W to 100W
Best: 80W to 90W
In The Box
1 * MAG M270 Mod
1 * TFV8 Baby V2 Tank
1 * Baby V2 S1 0.15Q Single Mesh Coil (Pre-installed)
1 * Baby V2 S2 0.15Q Quadruple Kanthal Coils
1 * Glass Tube Replacement
1 * USB Cable
1 * 18650 Battery Adapter
1 * User ManualSpare parts
Related Smok Deals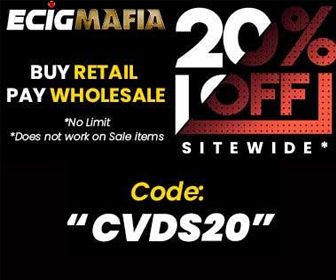 Total Views Today: 1 Total Views: 1,077