The Smok Novo 2 pod system features a larger 800mAh integrated battery, draw-activated firing, enhanced airflow, 2mL pods with an easy refill method, a mesh DTL coil, a ceramic MTL coil, an ergonomic design, new swirling colors, nicotine salt compatibility, an improved battery LED and onboard charging.
Deals
USA Deal:

$11.89

  Use coupon code 30CVD at checkout (exclusive 30% off sitewide – blowout prices & fast USA shipping – one use per account – $250 limit)
Smok Novo Versus Novo 2
In addition to the new finish options, the Smok Novo 2 has a larger 800mAh (versus the previous 450mAh) battery capacity, allowing longer vaping times without a recharge. The pods now have a mesh or ceramic coil option (included). The 1.4ohm ceramic head produces amazing flavor and results in mouth-to-lung style vaping, while the 0.1ohm mesh coil comes pre-installed and produces more vapor thanks to even, rapid heating.  Airflow has also been refined by adding air inlet grooves to improve vapor production. A final refinement is the improved battery full-color LED, making it more effortless to keep track of the cell's charge level.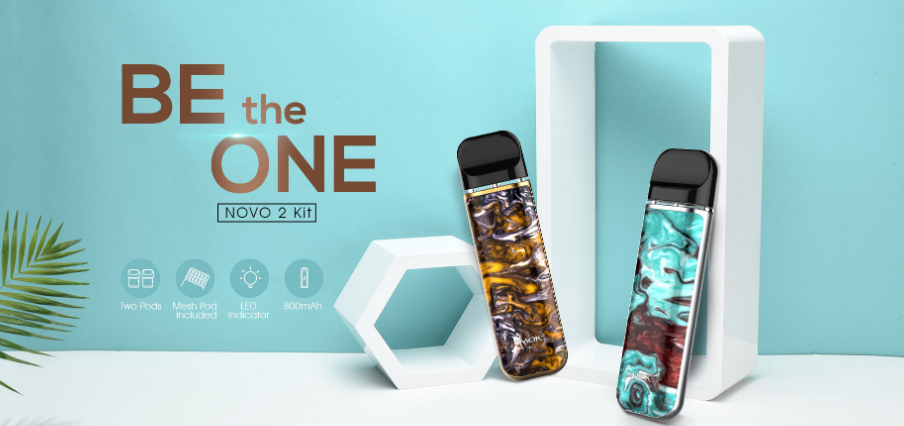 Overview
With this new device, the carbon fiber style colors of the predecessor have been replaced by beautiful resin-like finishes with swirling patterns/colors that are available in 7-color shell, 7-color spray, green/red, yellow/purple, red/yellow, 7-color, blue/black, black/white or blue/brown.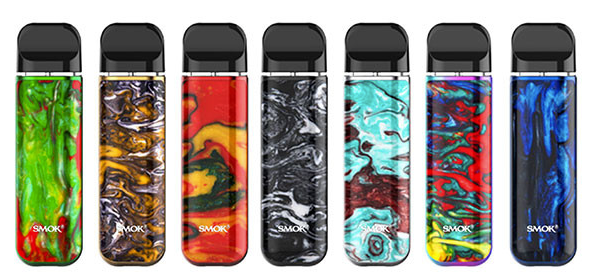 Monitoring the charge level of the powerful battery is effortless due to a built-in battery LED on the front of the Novo 2. This indicator will light up green if the charge level is above 70 percent, orange between 30 and 70 percent, and red if the battery is below 30%.

To recharge the battery, plug the USB port at the bottom into any USB outlet or computer. A cable is included in the package.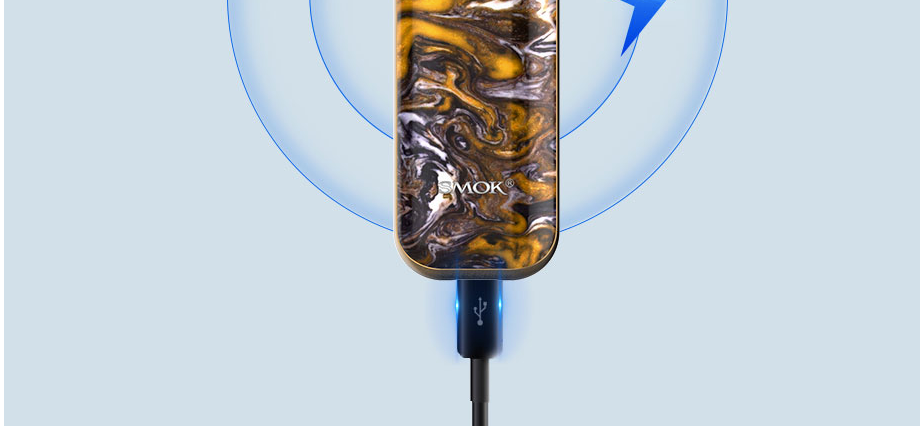 The pod kit operates with refillable pods that also double as the mouthpiece. This tip is whistle-shaped to ensure it fits perfectly into the mouth. The pods can hold 2mL of e-liquid, and refills are done via a side-fill port. To add juice, pull out the pod from the battery, open the rubber plug on the refill slot, and add juice.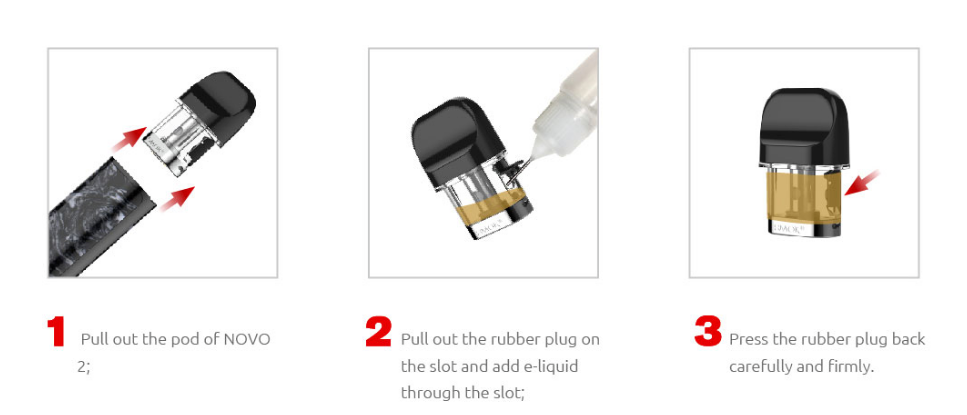 When operating this pod system, messing around with a fire button is unnecessary. All you do is take a puff, and it will engage thanks to a draw-activated firing system. The device features air inlets on both sides that direct air thru a U-shaped internal airflow path to increase vapor production and flavor greatly.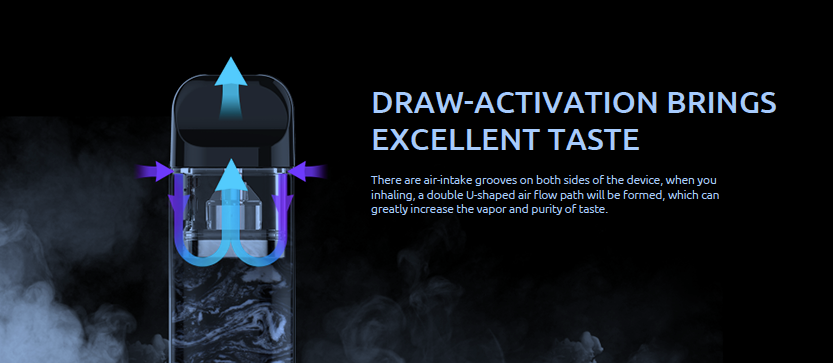 The Smok Novo Two's design also solves the problem of juice condensation around the electrodes on the battery mod's electrodes. This is done through new grooves around the contacts that temporarily store excess juice, thus preventing leakage and a messy situation.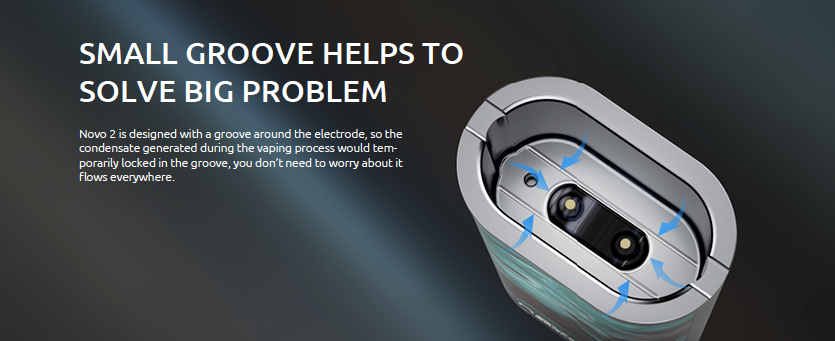 In addition to the cartridge with mesh coil, which is more for direct-to-lung style vaping, Smok includes a pod with the Novo 2 DV 1.4ohm mouth-to-lung coil. This pod has a ceramic heating element for flavor, and with dual heating elements inside, more vapor can be produced. A cigarette-style experience!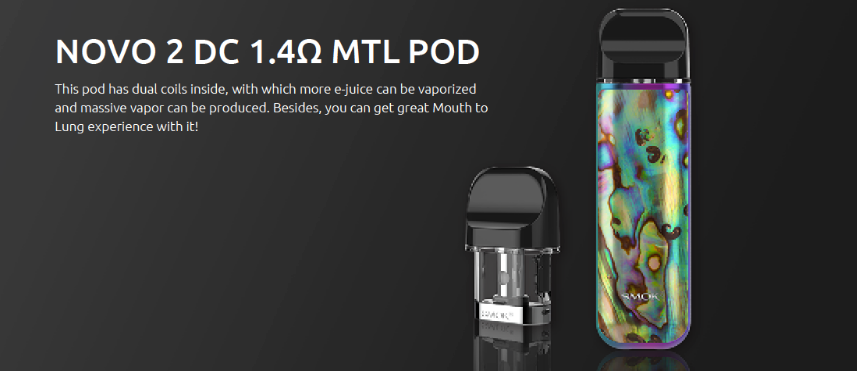 The design integrates multiple safety features to ensure the safest vape experience. These include low voltage protection, short circuit protection, and 8-second over-puff protection.

12 Month Warranty
One last improvement that must be mentioned is the 12-month warranty from Smoktech. The company affirms it can extend the warranty period because of the durable materials and excellent design. This way, you may enjoy the device for at least a year without worries!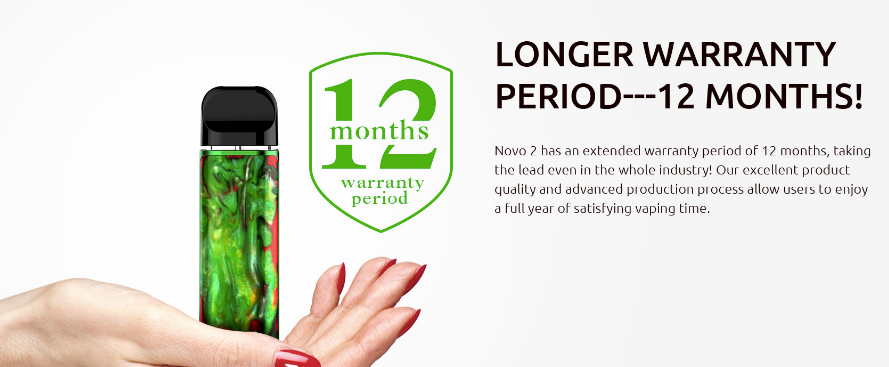 Features & Specifications
Dimensions: 88.3mm × 24.3mm ×14.3mm
Small and portable
Pattern options: 7-color shell, 7-color spray, green/red, yellow/purple, red/yellow, 7-color, blue/black, black/white or blue/brown
Whistle-shaped mouthpiece for a perfect fit
800mAh  integrated battery
Micro-USB charging system
Batter LED: green (>70%), orange (30% to 70%), or red (below 30%)
2ml capacity pods
Easy refills via a side port
Pods

Pre-installed: Mesh 1.0ohm DTL Pod
Included: 1.4ohm MTL Pod

Input voltage: 3.3V to 4.2V
Power output: 6W to 25W
Overcharge Voltage: 4.3V
Over-discharge Voltage: 2.4V
Overcharge Current:1A
Output Voltage: 3.0V-4.0V
Standby Current: <20uA(No-load) <50uA(Load)
Safety protections: short circuit, low voltage, over puff
Condensation prevention grooves around electrodes
12-month warranty
In The Package
Battery Mod
Mesh Pod
MTL Pod
Micro-USB charging cable
Manual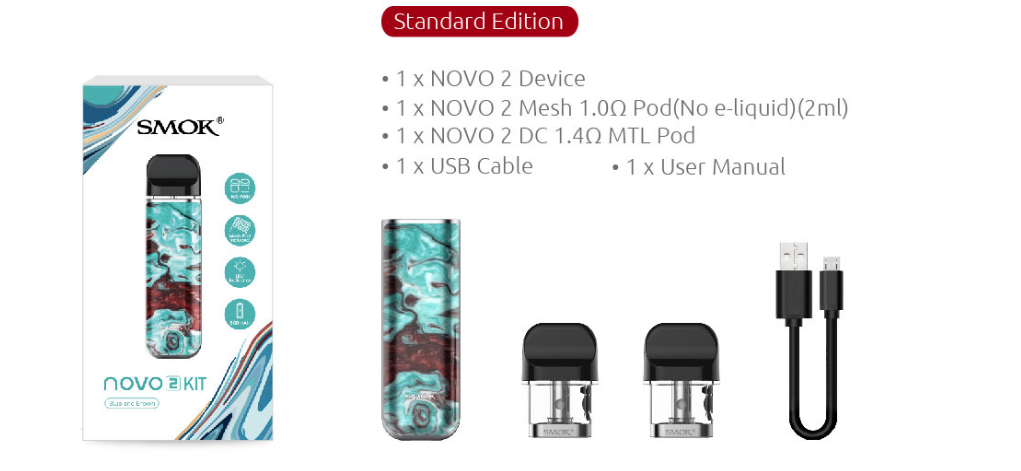 Total Views Today: 1 Total Views: 13,280