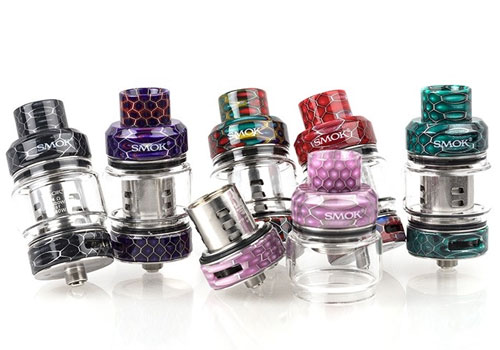 Check out this cheap deal for the Smok Resa Prince Tank.
Update: This Item Is Out Of Stock Everywhere – Check Similar Smok Tank Deals Below
Overview
The Smok Resa Prince continues the line of Prince Tanks by Smok. This new atomizer features a beautiful cobra resin design, massive vapor with dense flavors, LED light coils, a top fill system and the latest bulb style glass tube that increases capacity to 7.5ml.
With a brand new design that incorporates cobra resin on both the chassis and drip tip, the appearance looks elaborate and glamorous. The available colors are also wide ranging and include black, yellow, purple, green, blue, red, pink, white and 7-color. Size-wise, the Resa Prince Tank has dimensions of 30mm x 58mm and a weight of 58g. Just like the previous TFV12 Prince, this new version utilizes a convex glass tube to increase the juice capacity. But, the Resa's bulb tank is even wider which increases the tank reservoir's capability to a whopping 7.5ml.  This reduces the necessity for frequent refills for vaping on the go.  For refills, it looks like the top fill system has been upgraded as the top cap simply comes off when twisted for effortless refills via the fill port.  Airflow hasn't changed and features massive dual intakes for huge vapor with a lot of taste. The air intake amount is also easily adjusted to your liking, from wide open to closed.
The Smok Resa Prince Tank utilizes the same coils as the TFV12 Prince, but there are two new options available, including an RBA head. Included with purchase, you will get the V12 Prince Q4 (deep rich vapor), the V12 Prince X6 (massive vapor and silky taste) and the V12 Prince T10 (massive vapor and red LED light). Optional heads are the V12 Prince M4 that should be used with mechanical mods (silky and rich clouds) and the V12 Prince RBA that has smooth airflow and a dual post deck.
Smok Resa Prince Features & Specifications
Measurements: 30mm x 58mm
Weight: 58g
Materials: stainless steel chassis with Cobra resin finish
Cobra resin drip tip
Colors: 7-color, white, pink, red, blue, green, purple, yellow, black
Convex glass tank tube

Bulb style
Massive 7.5ml capacity
Top fill system
Food grade
Non toxic
High temperature resistance

510 threaded connector
Coils

Pre-installed: 0.4Ω Quad V12 Prince Q4

Range: 40W to 100W
Best: 60W to 80W
Rich vapor

Included: 0.15Ω Sextuple V12 Prince X6

Range: 50W to 120W
Best: 80W to 100 W
Huge vapor
Silky taste

Included: 0.12Ω Decuple Prince T-10

Range: 60W to 120W
Best: 80W to 110W.
Massive vapor
Rich flavor

Optional: 0.17Ω V12 Quadruple Prince M4

For use with mechanical mods
Range: 30W to 70W
Best: 40W to 60W.
Silky rich vapor output

Optional: 0.25Ω V12 Prince RBA

Dual post deck
Smooth airflow
With purchase
Resa Prince Tank
1x V12 Prince-Q4 0.4Ω Quadruple Coil
1x V12 Prince-X16 0.15Ω Sextuple Coil
1x V12 Prince-T10 Red Light(0.12Ω Decuple Coils)
Extra glass tank
Manual
Extra parts
Total Views Today: 1 Total Views: 317