Here are cheap deals for the Smok TFV18. This new tank features replaceable mesh coils, adjustable bottom airflow, DL or RDL styles of vaping, a 7.5mL bulb juice reservoir, and an RBA coil option. This tank is included with the Smok Morph 2 Kit, so check that one out.
Deals
USA Deal:

$17.49

  Use coupon code 30CVD at checkout (exclusive 30% off sitewide – rock bottom prices on everything – one use per account – $250 limit – fast USA shipping)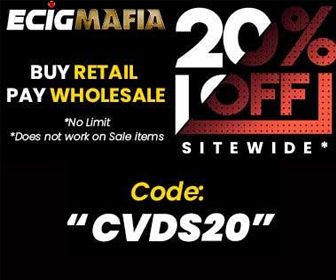 Overview
When you first look at the TFV18 Tank, you'll immediately notice that it looks almost identical to previous atomizers by Smok, such as the TFV16.  But this tank is quite different.  Available in 7-color, blue, red, gold, stainless steel, and matte black, this atomizer measures 63.3mm by 31.6mm, making it slightly bigger than its predecessor.  Moreover, the Smok TFV18 features a straight wide-bore drip tip made of beautiful resin material, the color of which is different for each tank.  And the drip tip is incredible at directing vapor while also having heat-resistance properties that prevent scalding of the lips. It is also important to note that the TFV18 Tank has five copper braces at the base that efficiently transfer power, resulting in much faster coiling heating than previous Smok Tanks.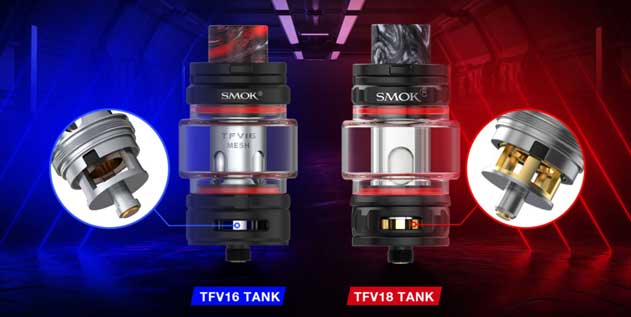 With either a 7.5mL or 6.5mL capacity, depending on the coil inside, you may vape for extended periods without needing a refill.  However, if required, press the bottom on the top cap to swivel it, which uncovers a large filling slot compatible with any juice bottle, large or small.  It is important to let the e-juice saturate the cotton inside the coil for a few minutes to prevent damaged coils or burnt puffs.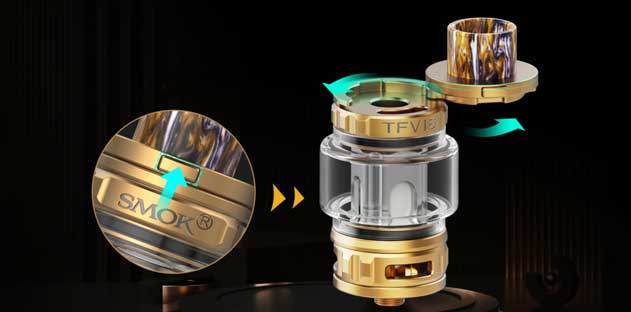 At the bottom of the Smok TFV18, you will notice three large airflow slots that are fully adjustable, from wide open to completely closed.  This means you can engage in direct-to-lung vaping and set the tank to a more restricted puff style.  Moreover, the airflow system funnels air from the bottom to the top with great velocity, thus releasing heat and producing massive vapor.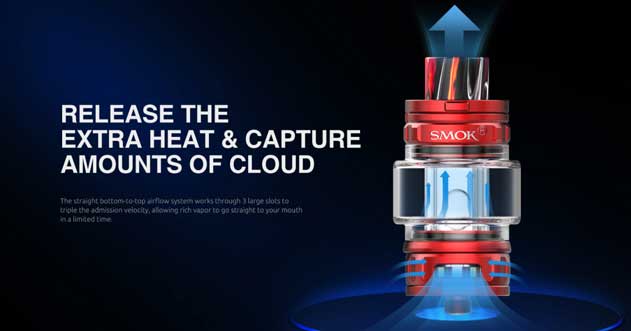 With the TFV18, you'll receive two different coils.  The first is the TFV18 Mesh coil with a 0.33ohm resistance.  This head features tight contact with the cotton inside to enhance the release of mellow flavor and operates between 80 and 140 watts of power.  Or, use the TFV18 Dual Meshed coil features two integrated coils to optimize flavor and heats up faster for denser vapor production.  This coil also works in the 80 to 140-watt range.  Not included in the package is a brand new RBA head with a 0.33ohm resistance and an operating range of 45 to 80 watts.  This RBA coil results from a partnership between Smok and Wotofo, and coil building entails installing pre-wrapped coils, dry-burning the RBA coil, and inserting/trimming the cotton.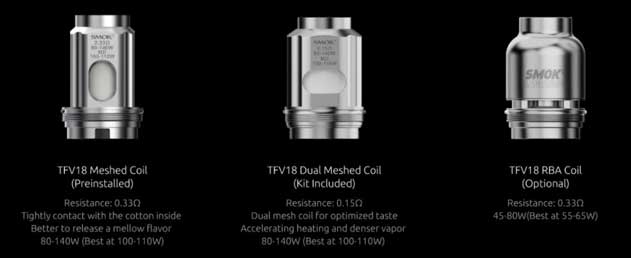 Best of all, the TFV18 also works with several TFV16 coils. The first is the 0.17ohm TFV16 coil with a large heating area for 120 watts. Or install the 160W TFV16 0.12ohm dual mesh coil with superior wicking, vapor production, and rich flavor.  And you may utilize the TFV16 triple mesh coil with a widened heating area for quick ramp-ups at 90 watts.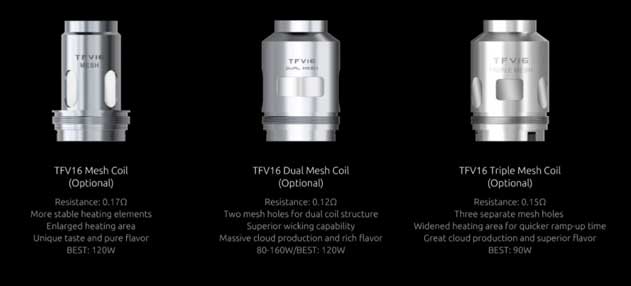 Smok TFV18 Features & Specifications
Dimensions: 31.6mm x 66.3mm
Made from stainless steel
510 thread connection
Color options: 7-color, blue, red, gold, stainless steel, matte black
7.5mL juice capacity with included TFV18 Meshed 0.33Ω Coil | 80W to 140W
6.5mL juice capacity with included TFV18 Dual Meshed 0.15Ω Coil | 80W to 140W
Optional 0.33Ω RBA Coil | 55W to 65W
Cross-compatible with TFV16 coils
Top-fill method
Straight resin heat-resistant drip tip
Gold-plated connection pin
Resin drip tip – heat resistant
Large fill port
Lock button
Triple bottom airflow intakes
Bottom-to-top airflow for massive vapor and velocity
5 braces on bases for efficient transfer of power and fast heating
Childproof top cap
DL or RDL-style vaping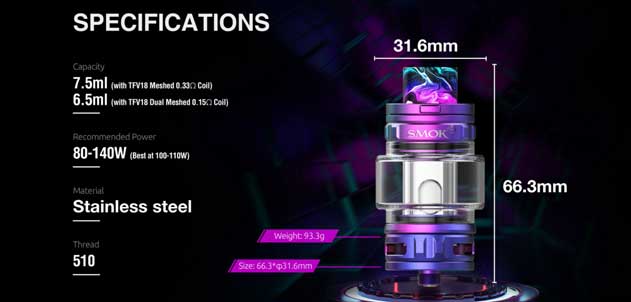 In The Package
TFV18 Tank
TFV18 Meshed 0.33Ω Coil
TFV18 Dual Meshed 0.15Ω Coil
Bulb glass replacement
Manual
Spare parts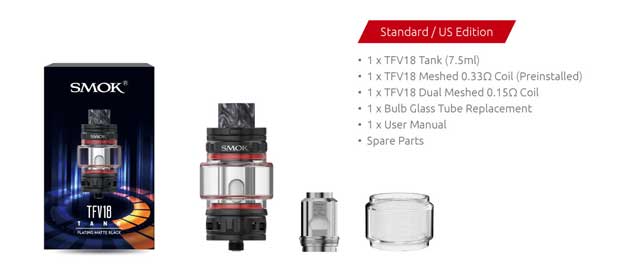 Similar Products
Total Views Today: 1 Total Views: 6,325