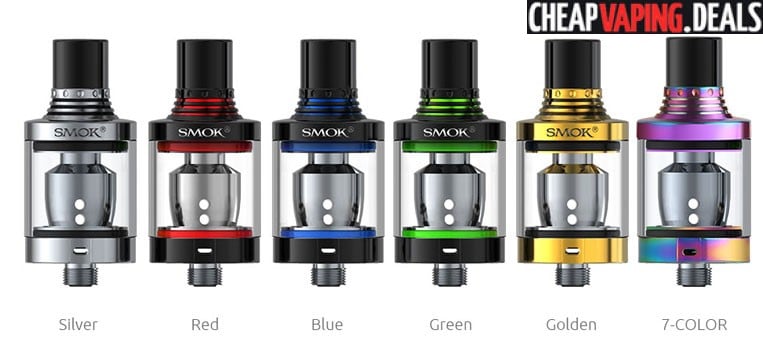 Here's some good deals on the Smok Spirals Sub Ohm Tank.
Overview
The Spirals is a brand new tank from Smoktech and was designed to produce amazing vape flavors. The mod features a small form factor, organic cotton coils, adjustable airflow and an elongated drip tip.
The Spirals tank is constructed with stainless steel and Pyrex glass materials.  The device measures 22mm x 48mm and weighs only 42g, making it perfect for use with mini mods and when you leave the house.  Included in the package, you will find an elongated heat-resistant Delrin drip tip that is said to be designed for better airflow and prevent burning of the lips.  You can get the Spirals in several colors including silver, red, blue, green, golden and a unique 7 color one (not available yet).
The tank only holds 2ml of e-liquid, but a convenient top fill setup allows for easy refills.  Airfllow is adjustable at the bottom and takes place thru 4 small air intake slots.  They can be adjusted from extremely open to all the way closed.
There are a two alternate coils and an RBA deck included with purchase of the Spirals tank.  They are all large and made with high quality Japanese imported cotton for rich flavors.  The first available coil is a 0.6ohm dual core head that was meant for use at low wattage and is rated 18 to 35 watts (best at 28w) and features more vapor production.  Another head is the 0.3ohm dual core that is meant to be fired between 20 and 45 watts and is best at 35 watts.  This head is perfect for large airflow with plenty of vapor.  If you are into coil building, you will also receive a 0.55ohm RBA head. The deck on the RBA is easy to work with and compatible with single builds.
Features & Specs.
Measurements:  22mm x 48mm
Stainless steel and glass construction
Portable and best used with mini mods
Tank capacity: 2ml
Convenient top fill system
Elongated Delrin drip tip for powerful draw
Four freely adjustable airflow slots at bottom
510 threaded connections
Included 0.3Ω coil, 0.6Ω coil and 0.55Ω RBA head
All coils are made with Japanese imported cotton
Video
Pictures