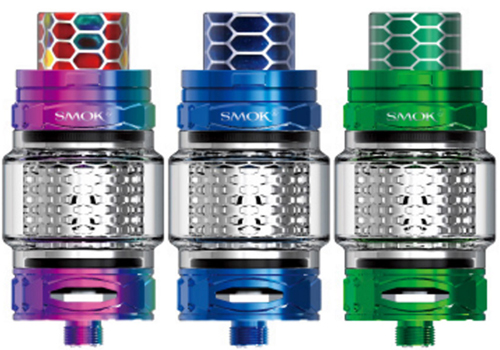 Update: This Item Is Out Of Stock Everywhere – Check  Similar Smok Sub-Ohm Tanks Below
Here are cheap deals for the Smok TFV12 Prince Cobra Edition. This new version has snake like patterns at the top and bottom, exquisite cellular mesh surrounding the chamber and there are a couple of color changing finish options.
Overview
The TFV12 Prince Tank has been updated with an enhanced appearance and strip, mesh and clapton coils. The TFV12 Prince Cobra Edition features snake like patterns on the base and top, an exquisite appearance, strip coils, mesh coils, Clapton coils, cellular mesh surrounding the coils to see "the shape of e-liquid", a 7ml or 8ml juice capacity, 2 color changing options (red to white, blue to white), a top fill system, adjustable airflow and more.
What separates the Cobra Edition TFV12 Prince Tank from its predecessor is several improvements. First, there are snake like patterns carved into the top and base which makes the tank look luxurious and exquisite. The second update is two added color changing device finishes: red and blue that gradually change to white as you vape and the tank heats up. A third enhancement to the TFV12 Prince Cobra Edition is the mesh net that surrounds the coils which looks amazing thanks to the cellular structure that make the tank look like a masterpiece. Additionally, when you pour juice into the tank, Smok states you can see "the shape of e-liquid" as it travels down the honey style pattern.  The last change with the Cobra Edition is the optional globe style tank section which looks like a ball and has the largest ever capacity of 8ml. This tank tube is optional, so you won't find it in the package.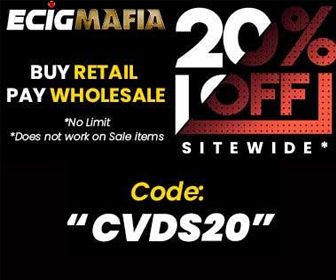 The TFV12 Prince Cobra Edition also uses the latest updated coils for massive vapor and flavor. With purchase, you will get one V12 Prince strip coil that has a large heating area, produces pure flavor, has a 0.15ohm resistance heating element, fires in the range of 40 to 100 watts, but is best from 80 to 90 watts. The second coil in the package is the V12 Prince Mesh one that features huge vapor production with mid-wattage power. Its heating element fires with a 0.15ohm resistance, operates in the range of 40 to 80 watts, but is best from 60 to 70 watts. Last, but not least, you will also receive the V12 Prince X2 Clapton coil that is said to be extremely durable and produce massive vapor. This 0.4ohm head fires optimally between 90 to 100 watts, but is rated from 60 to 140 watts.
Material wise, the TFV12 Prince edition is constructed from stainless steel with a glossy finish that is said to make it durable, strong and is also non toxic and able to resist corrosion. In addition to the blue & red color changing versions, you may also get the tank in black, 7-color, prism blue, gold, green, purple, silver and a different red. The reservoir on this atomizer can hold 7ml of e-liquid (8ml with optional globe shaped tank tube) and is easily refilled via a patented top fill system that utilizes a simple press of a button to release and swivel open the top cap and reveal a massive fill port. Airflow on this tank is located at the bottom and features dual massive airflow intakes that can be fully adjusted. At the top of this device, you will also see the cobra drip tips which are also available for purchase individually, allowing for a further customized appearance to your liking. Or, you may opt for acrylic and resin drip tips which are also for sale in the vape marketplace.
Smok TFV12 Prince Cobra Edition Features & Specifications
Dimensions: 28mm x 63mm
Weight: 60g
Bulb type tank tube (included)
Globe type tank tube (optional)
Honeycomb cobra drip tips

Optional acrylic drip tips
Optional resin drip tips

Stainless steel body

Glossy finish
Durable
High density
Resists corrosion
Strong
Non-toxic

Colors: red, black, 7-color, prism blue, gold, green, purple, silver
Color changing finishes: red, blue

Gradually changes to white as you vape

Top fill system

Top cap rotates open
New patented lockbutton

No accidental openings
No leaking

510 threaded connector
Dual bottom adjustable air slots
Coil system

Pre-installed: 0.15Ω V12 Prince Strip

Range: 40W to 100W
Best: 80W to 90W
Large heating area
Pure flavor

Included: 0.15Ω V12 Prince Mesh

Range: 60W to 70W
Best: 40W to 80W
Huge vapor production
Strong power

Included: 0.40Ω Prince X2 Clapton

Range: 60W to 120W
Best: 90W to 100W
Durable
Huge vapor production
Pictures
Total Views Today: 1 Total Views: 547