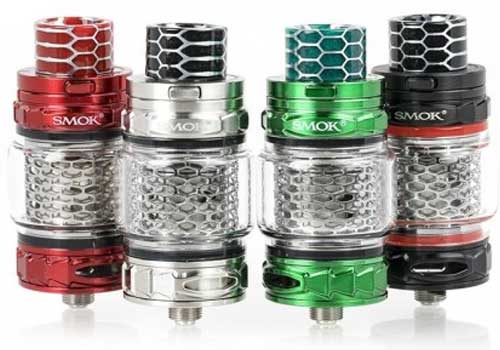 Smok TFV12 Prince
Check out this cheap deals for the Smok TFV12 Prince Tank. It features  massive vapor output, mid to high wattage coils, a patented locking mechanism for the top fill system, a cobra drip tip and a massive 8ml tank capacity thanks to the new convex glass tube.
USA Deal:

$17.99

  Use coupon code 25C at checkout (exclusive 25% off sitewide – blowout prices & fast USA shipping – one use per account – $300 limit)
More Smok Tank Deals below
Superior Design
Design-wise, the chassis has adopted a crown-style form factor and available colors include black, green, gold, blue, red, silver, 7-color and purple.  The appearance also incorporates cobra drip tips that feature an amazing snake skin pattern and are available in many optional colors.
8ML Juice Capacity w/ Top Fill
There are two editions of the tank available: the standard one measures 28mm x 63mm, weighs 60g and is built with a bulb shaped (convex) glass tank which results in an e-juice capacity of a whopping 8ml.  For those who live in the European Union, where there are suffocating regulations, you will receive the EU version that only holds 2ml, weighs 62g and measures 25.5mm x 63mm. This new tank is built with the same top fill system that allows the top cap to rotate on a hinge to expose a fill port.  But, to prevent accidental opening and leakage, the setup has been enhanced with a patented lock system that involves a simple press of a button to open the top cap.
New Coil System For Max Vapor
The Smok TFV12 Prince utilizes a brand new coil system.  With purchase, you will receive the latest Q4, X6 and T10 coils that are all designed to produce massive vapor clouds with amazing flavor. These cores are all built with 12 wicking slots to quickly saturate the cotton while dissipating heat.
The included 0.4ohm Quad Coils V12 Prince Q4 core has a power range from 40 to 100 watts, but should be used between 60 and 80 watts for best performance. It produces rich deep vapor clouds.
The included 0.15ohm Sextuple Coils V12 Prince X6 can be fired from 50 to 120 watts, but is best between 80 and 100 watts. It puts out huge vapor with a silky taste.
The included 0.12ohm Decuple Coils Prince T-10 fires in the range of 60 to 120 watts, but is recommeneded  80 and 110 watts. It results in massive vapor and rich flavor.
The optional 0.17ohm Quad Coils Prince M4 has an output capability from 30 to 70 watts, but is recommended for use from 45 and 55 watts. It is said to work best with mechanical mods and produces rich clouds with silky flavor.
The optional  0.25ohm V12 Prince RBA is perfect for those who enjoy coil building. It provides smooth airflow.
Massive Airflow
Airflow on the Smok TFV12 Prince looks to be the same.  But, like its predecessor,  this device has massive dual airflow airflow intakes that are built with an easily adjustable mechanism.  The air slots are easily set from all the way closed to wide open or anywhere in between.
Features & Specifications
Standard version

Dimensions: 28mm x 63mm
Weight: 60g
Bulb type tank tube
Capacity: 8ml

EU version

Dimensions: 25.5mm x 63mm
Weight: 62g
Standard tank tube
Capacity: 2ml

Chassis constructed from stainless steel

Glossy finish
Durable
High density
Resists corrosion
Strong
Non-toxic

Colors: purple, 7-color, stainless, red, blue, gold, green, black
Food-grade glass tank tube

Non-toxic
Resistant to high temperatures

Top fill system

Top cap rotates open
New patented locking mechanism

Prevents accidental opening
Prevents leaking

510 threaded connector
Cobra drip tip

Colorful snake pattern
Many optional colors available

New coil system

Included: 0.15Ω Sextuple V12 Prince X6

Range: 50W to 120W
Best: 80W to 100 W
Huge vapor
Silky taste

Included: 0.4Ω Quad V12 Prince Q4

Range: 40W to 100W
Best: 60W to 80W
Rich vapor

Included: 0.12Ω Decuple Prince T-10

Range: 60W to 120W
Best: 80W to 110W.
Massive vapor
Rich flavor

Optional: 0.17Ω Quad Prince M4

Range: 30W to 70W
Best: 45W to 55W
Made specifically for mechanical mods
Rich vapor clouds
Silky flavor

Optional: 0.25Ω V12 Prince RBA

For coil building
Dual coil compatible
Smooth airflow
Not compatible with EU edition Prince Tank
Gallery
Related Smok Deals
Total Views Today: 2 Total Views: 3,198