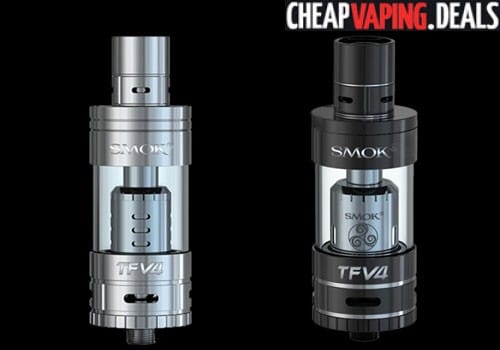 Update: The
Smok TFV4 Tank
Has Been Discontinued – Check  Newer Smok Tanks
Below Or See
All Tank Deals
Overview
The SmokTech TFV4 is one of the most awesome vape tanks ever.  It features an all-new design, big tank capacity and massive coil heads.   It has received many positive reviews because it produces more vapor and flavor than any other tank in the marketplace.
The device is a 510 threaded, 5ml tank with adjustable airflow at the base and on the drip tip.  This results in a really pleasant and cool vape, even at high wattage. Regardless of what wattage you usually vape on, the TFV4 will produce the biggest vape you've ever experienced for that power level.   The recommended power on this device is 40 to 140 watts.
Not only will you receive a triple coil head,  but also a quad coil head with your purchase. With the quad coil, the four wicks have their individual holes stacked on top of each other to enhance wicking and vapor production.  The coils also feature four massive juice holes to produce amazing clouds.
This device features a very easy top fill design.   As is the case with the Triton  tank,  you don't ever have to remove the TFV4 from the box mod to refill.  The head of the tank swivels open to reveal an expandable filling slot.  Simply squeeze your juice through the opening and swivel the top back over the tank.
The only drawbacks to this tank are that it's very large and it guzzles juice like there's no tomorrow. But if you're a cloud chaser, this one's for you: the TFV4 chucks out massive vape clouds and flavor is out of this world.  It's actually difficult to take a small hit off this device.
Features
Size: 24.5mm x 70mm
Tank capacity: 5ml
Made of stainless steel
Replaceable high grade glass tank tube
Patented triple 0.2Ω coil: 40 to 130 watts
Patented quadruple 0.15Ω coil: 40 to 140 watts
Coils are made with organic cotton
Double layered drip tip with airslots
Four adjustable air slots on bottom
Easy swivel top fill
Won't leak
Rebuildable base
Video Review
Total Views Today: 1 Total Views: 351