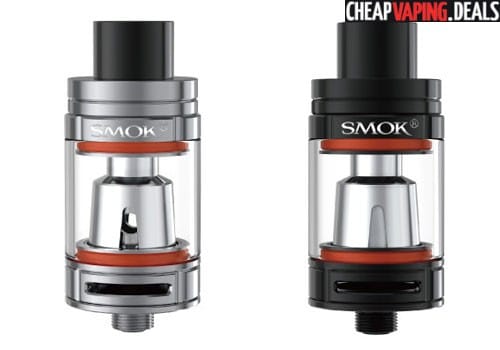 Check out this awesome price for the Smok TFV8 Baby Beast Sub Ohm Tank.   I received one in the mail the other day and this tiny tank puts out massive vape clouds.  It looks like these are running out of stock quickly, so order quickly if you want one.
 Overview
The TFV8 Baby was previously called the Micro TFV8 and is the newest sub ohm tank from Smoktech.  This baby beast is the more portable version of the Smok TFV8 and is one-third smaller.  The compact tank features four brand new coil options and an adequate e-liquid capacity.  It is said to perform as well as its bigger brother, so it looks like this one is also going to be quite popular! You can get it in black or stainless steel colors.
The tank has been made very compact with dimensions of just 22mm x 53mm.  It's about 1/3 the size of the regular TFV8 and weighs just 47g.   It is made from a glass tank tube with a durable stainless steel chassis and features a 3ml tank capacity.  At the bottom, there's a 510 threaded connection pin for easy use with many mods.  The top features a big Delrin drip tip that was made specifically for this tank and it's wide to produce a powerful draw.  On the base, there's two large adjustable airflow slots that are said to be completely redesigned to ensure this tank puts out big clouds and amazing flavors.
The TFV8 Baby comes with four alternate coil types that you can use according to your preferred vape.
The first coil head is the dual coil V8 Baby Q2 Core and is pre-installed.  Its resistance is 0.4Ω, produces rich vape clouds, has a wattage range of 40W to 80W and is best at 55W to 65W.
Another included coil is the octuple coil V8 Baby T8 which puts out dense/rich clouds, has a power rating from 50W to 110W and is best from 60W to 80W with a resistance of 0.15Ω.
A third option coil is the quad coil V8 Baby X4 that produces a silky and smooth vape at 0.15Ω, rated from 30W to 70W with a recommendation of 45W to 70W.
There's also going to be an RBA head, but this has not been released yet.
Just as its larger brother, this device is built with a top refill system that features the same hinged style patented setup.  Simply twist open the top cap and add e-liquid through the revealed fill port.  It's really easy!
Overall, the Smok TFV8 Baby looks like it's going to be an amazing sub ohm tank that puts out huge vapor clouds while you're on the go.  And, with a reasonable 3ml e-juice capacity and an easy top fill design, this surely will be your favorite tank to put in your purse or pocket.
In addition to two coils, you'll also receive an extra tank section and a user's manual.
Video  Reviews
Features & Specs
Dimensions: 22mm x 53mm
Weighs 47g
Stainless steel shell
Massive vapor in portable tank system
Pyrex glass tank tube
510 connection pin
Colors: black or silver
Tank capacity: 3ml
Hinged easy top fill
Reconfigured bottom adjustable airflow slots
Large air chamber in small device
Two coil options included: Micro V8-D Quad Core & Micro V8-S Dual Core.
Redesigned Delrin drip tip
Pictures
Total Views Today: 1 Total Views: 730