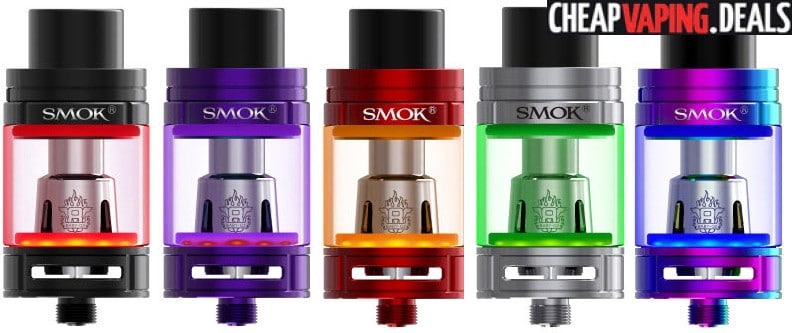 Check out this deal for the Smok TFV8 Big Baby Light Edition Tank with LED light. Change the light's color with the included sealant rings.
More Smok Tank Deals below
 Overview
The Smok TFV8 Big Baby has been upgraded.  The latest Smok TFV8 Big Baby Light Edition features an LED that lights up when the tank is fired, 6 alternate sealing rings to change the LED color, compatibility with all V8 baby coils and optional bulb-shaped glass tube to increase the e-juice capacity to 7ml.
What really sets the Light Edition Tank apart from the previous TFV8 Big Baby is the fact that LED lights have been placed at the base of the tank.  These lights activate upon tank firing and the color changes according to which sealing ring you install.  Included with purchase, you will get 14 sealing rings that have the ability to change the LED color to either white, orange, yellow, green, purple or blue. In this way, you may choose to match the LED's tank color which is available in 7-color, stainless steel, red, purple and black.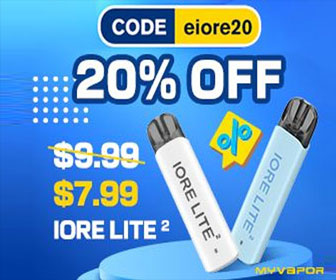 Another new aspect of the TFV8 Big Baby Light is the fact that there is an option for obtaining a Bulb Pyrex glass tube which expands the e-juice capacity from 5ml to 7ml. Installation of this extension tube does not make the device taller.  As a result, this new tank still has similar dimensions as the previous device at 24.5mm x 60mm and an identical weight of 60g.
The Smok TFV8 Big Baby Light Edition operates using the same coils as its predecessor. The included cores depend on which version you purchase because, due to regulations, the EU version uses its own coil system to reduce the tank capacity to 2ml. With purchase, European Union customers will get two V8 BAby Q2 EU Dual Coils that fire with a resistance of 0.4ohm.  The standard/worldwide edition comes with three coils: a 0.4ohm V8 Baby Q2 Dual Coil, a 0.15ohm Baby T8 Octuple Coil and a 0.15ohm V8 Baby T8 Octuple Coil.
Everything else with the Light Edition of the TFV8 Big Baby looks to be the same.  There is still a stainless steel chassis, a hinged-style top fill system, a massive fill port and huge adjustable dual airflow intakes that can be set to your liking. Included, you will get a drip tip adapter and a heat-resistant Delrin drip tip that takes airflow to the next level. Available for purchase are also new drip tips with snake patterns that are available in red, 7 color, blue, purple, green and yellow.
Features & Specs
Dimensions: 24.5mm x 60mm
Weighs 60g
Stainless steel chassis
Pyrex glass tank tube
Colors: black, purple, red, grey, rainbow
LED light at base of tank

Activates when tank fires
Change o-rings to change LED color

14 o-rings included
LED color options: blue, purple, green, yellow, orange, white

Tank capacity

EU edition: 2ml
Standard edition: 5ml
Optional 7ml bulb tank section
Convenient top fill system with large fill port

510 threaded connection pin
2 x bottom adjustable airflow slots
Big air chamber in small setup
Coils

EU Edition

2 x 0.4Ω V8 BAby Q2 EU Dual Coils

Standard Edition

1 x 0.4Ω V8 Baby Q2 Dual Coil
1 x 0.15Ω Baby T8 Octuple Coil
1 x  0.15Ω  V8 Baby T8 Octuple Coil

Optional RBA section

Delrin drip tip

Heat resistant
Enhances airflow
Optional snake drip tips: green, yellow, purple, blue, rainbow, red
510 drip tip adapter

Included

3 coils (standard edition)
2 coils (EU edition)
Extra glass tank
510 drip tip adapter
14 o-rings
Spare parts
'User's manual
Pictures
Total Views Today: 1 Total Views: 1,562