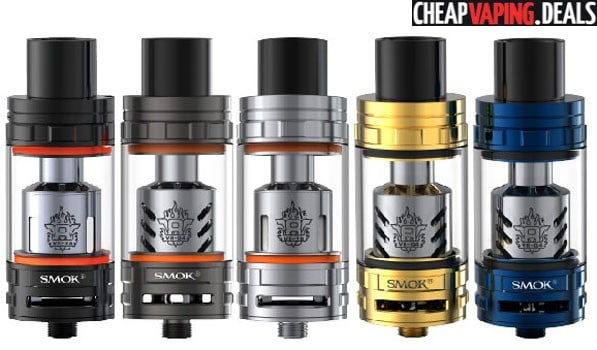 Check out these awesome prices for the Smok TFV8 Cloud Beast Sub Ohm Tank.  One of the few tanks that features huge vapor at massive power!
Deals
USA Deal:

$14.24

  Use coupon code Vapor25 at checkout (Expiration date unknown: if expired, use code VapeNews instead
Similar Smok Tanks
Overview
The follow up to the very popular Smok TFV4 is here.  The TFV8 Cloud Beast brings huge power that will shake the vaping world just like its predecessor.  It packs four patented "turbo engine" coils: the V8-T8 (6.6T), V8-T6 (6.0T), V8-Q4 (5.0T), V8 RBA (4.0T-X).  All of these turn the TFV8 into a Cloud Beast!
The tank is constructed from stainless steel & glass and has a massive 5.5ml to 6ml capacity, depending on the installed coil.   The chassis measures 24.5mm and the glass section is 1mm wider.  It features a 510 threaded connection and comes with a super large Delrin drip tip that connects to a super large air slot for massive clouds.
The TFV8 packs four different types of coils which you can choose according to what type of vape you like.
First, there's the V8-T8 octuple coil which was made to produce deep and rich clouds.  It fires at 0.15Ω, with a wattage range of 50W to 260W, but is recommended at 120W to 180W.
The second coil is the V8-T6 sextuple coil which also brings cooler rich clouds.  It fires at 0.2Ω and has a power range of 50W to 240W, but is best at 110W to 150W.
Next, there's the V8-Q4 quadruple head which produces a smooth and silky hooka-like vape.  Its resistance is 0.15Ω and it fires in the range of 50W to 180W, but is recommended at 90W to 150W.
Finally, there's the 18mm diameter V8 RBA deck to build your own.  It comes pre-installed and is Clapton dual coil with a rating of 50W to 140W and resistance of 0.28Ω.
The TFV8's hinged top fill system has also been updated.  The top cap easily rotates off the tank to reveal a much larger fill port. Adding juice has never been more convenient.
Airflow has also been updated on the TFV8, with 2 larger adjustable airflow slots on the bottom, an increase of 18% over the TFV4,  Air can be freely adjusted.
Inside the tank, you'll find that the heating air tube has an enlarged diameter and surface area.  Versus the TFV4, the diameter is 15% bigger and the area is 30% larger.  This allows for amazing efficiency of the airflow.
Reviews
Features & Specifications
Dimensions: 24.5mm x 50mm
Weight: 74g
Made from stainless steel
Glass tank tube
Tank capacity: 5.5ml(with T8-V8) or 6ml(with T8-Q4)
510 threaded connection
Easy hinged top fill system
Large fill port
4 unique patented coils
RBA head
Big bottom airflow slots
Larger heating air tube
Very wide Delrin drip tip
Huge central air slot
Gallery
Total Views Today: 7 Total Views: 2,489