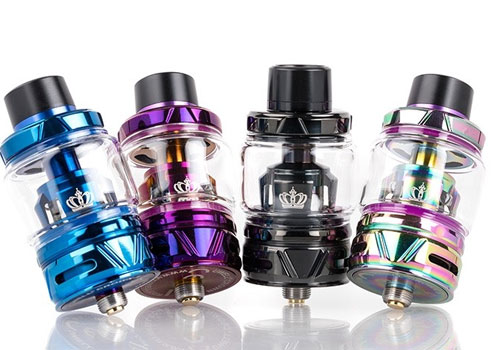 Uwell Crown 4
This new atomizer features a massive 6ml capacity, double helix mesh coils for excellent vapor & flavor production, no effort refills, a compact profile and dual bottom adjustable airflow.
Similar Products
Design
The Crown IV measures 28mm x 54.8mm and is constructed from stainless steel with silicone. The design is modern thanks to a hand polished finish and has many color options that include black, silver, blue, green, iridescent and purple. Inside the chamber there is the familiar Crown logo you may have seen on previous versions of the Uwell Crown.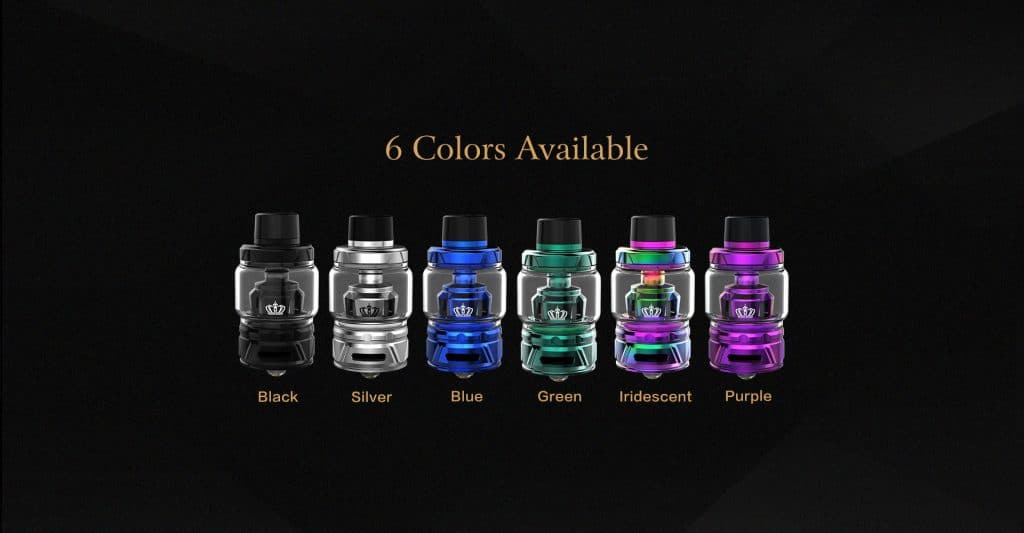 There are two glass sections that are included with purchase. You may use the compact 5ml standard tube or install the larger 6ml bulb style section. Refills occur by turning the top cap 90 degrees to remove the top cap and expose the large fill slot that surrounds the entire circumference of the device.
Airflow is adjusted by rotating the bottom AFC ring which opens and closes the two air inlets.
Double Helix Mesh Coils
The Crown 4 works with the latest Helix mesh coils. These mid wattage heads produce exquisite flavor, have a longer lifespan and are made from better quality steel. With purchase, you will receive a Dual SS904L coil that has a 0.2ohm resistance rating and works in the range of 70 to 80 watts. Also included with purchase, there is a 0.4ohm version of the SS904L that should be fired between 60 and 70 watts.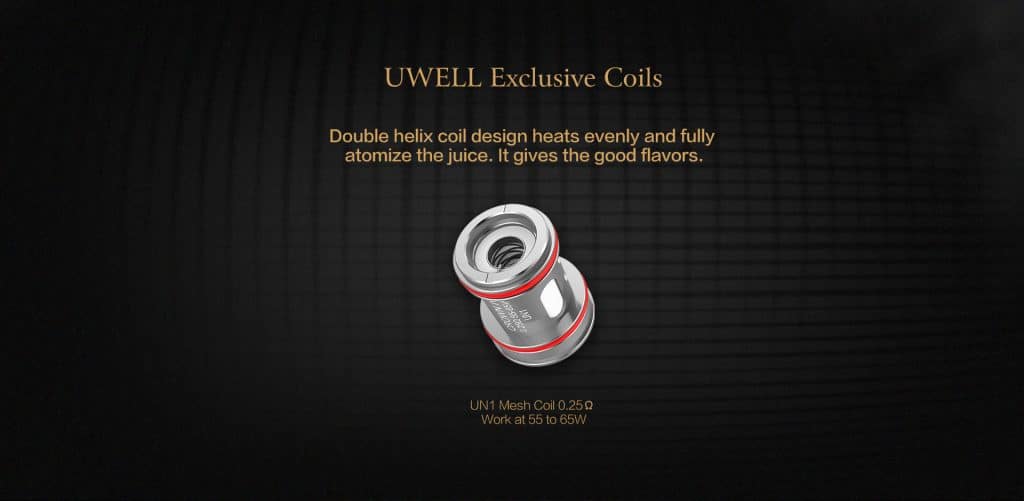 In the Package
With purchase of the Crown IV, you will get an extra glass tube, two coils, a pack of replacement o-rings, a manual and a drip tip cover.
Crown IV Features & Specifications
Measurements: 28mm x 54.8mm
Constructed from SS with silicone
Handcrafted
Juice capacity: 6 ml (5 ml with standard glass)

90 degree top cap refills for effortless process

Leak free
Patented self-cleaning system
Dual bottom adjustable air inlets
Coils

Dual SS904L Coil 0.2 Ω = 70-80 W
Dual SS904L Coil 0.4 Ω = 60-70 W
Optional: SS304 UN1 Coil 0.25 Ω = 55-65 W
Optional FeCrAl UN2 Coil 0.23Ω = 60-70 W
Even heating for best vapor production and flavor
Gallery
More Sub-Ohm Tank Deals
Total Views Today: 1 Total Views: 170