Check out the brand new Uwell Crown 5 Tank.  It features a 5mL juice capacity, a 1/4 turn refill system, patented self-cleaning technology, multiple mesh coil options for an incredible vape experience, and dual-slotted airflow control.  It sells in grey, silver, red, black, blue, or yellow.
You may also be interested in the  Uwell Crown 5 Mod Kit.
Exquisite Design
Made from stainless steel with pyrex glass, the Uwell Crown V features a polished finish that produces a smooth feeling and bright, shiny appearance.  The coating is available in yellow, blue, black, red, silver, or grey.  The Roman numeral "V" is integrated into the airflow ring and top cap to add to the exquisite impression. You can see the familiar white Uwell Crown logo on the coil inside the chamber.   Moreover, this atomizer's size is 29mm by 50.5mm, making it more compact than competing devices and easier to carry.  The top cap also features a  unique scheme to refill the 5mL juice reservoir, as you only have to turn it 90 degrees to uncover a fill hole built with a silicone check valve.  This makes it 100% leakproof and mess-free.  Finally, at the bottom of the Crown 5, there's a 510 threaded connector with gold plated contact for maximum conductivity, and an airflow control ring above controls two widely-adjustable air intake slots.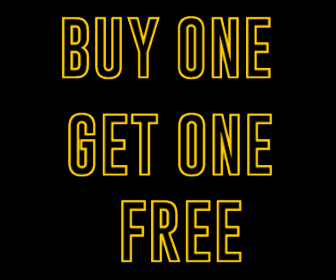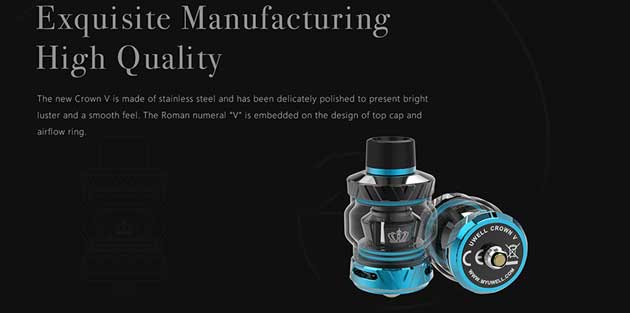 Multiple Mesh Coils
To ensure excellent vapor with tons of flavor, the Uwell Crown 5 utilizes mesh coils which are popular in the marketplace because they heat fast and have a larger surface than traditional coils.  There are three different mesh coils, all of which have a sub-ohm heating element, so they should be used with standard vape juices below 6mg of nicotine.  With the purchase of the Crown V, you will receive two coils. The first is the 0.23ohm single mesh coil that features smooth airflow for a direct-to-lung vape experience.  This head will produce incredible flavor and has a recommended range of 65 to 70 watts.  Or, install the included 0.3ohm dual mesh coil, which should be used from 50 to 55 watts and is suitable for more restrictive direct-to-lung puffs. The vapor from this coil is warmer, and the flavor is more saturated.  Lastly, an optional 0.2ohm triple mesh coil should be vaped in the range of 65 to 90 watts and has slightly higher airflow for additional throat hit.  This coil will produce massive vapor with decent flavor production.  The vapor produced from all these coils is further enhanced thanks to Pro-Focs Flavor Testing Technology that properly controls the heating temperature and strictly enforces the quality of the used materials to restore e-juice flavor to what it is meant to be.  And patented self-cleaning technology absorbs e-juice into a condensation holder and vaporizes it through regular usage.  This not only means that leakage is reduced but also the need for maintenance and cleaning.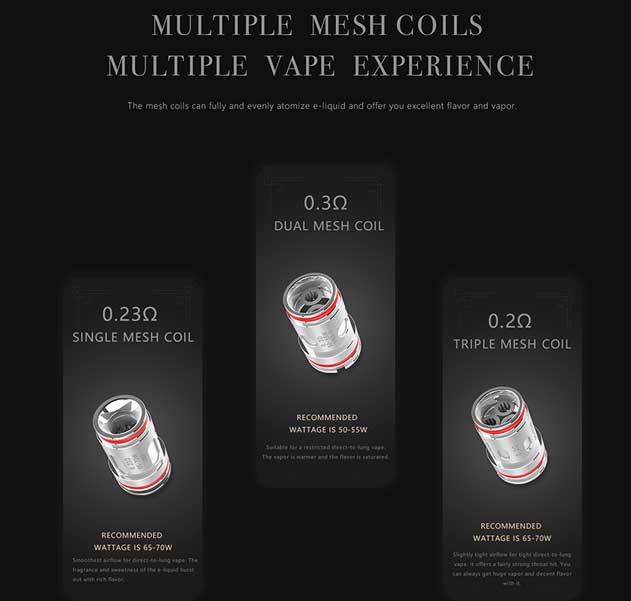 Features & Specifications
Dimensions: 29mm x 50.5mm
Chassis material: stainless steel
Roman numeral "V" on the top cap and AFC ring
Tube material: pyrex glass
Color Options: silver, grey, red, black, blue, yellow
510 threaded connection
5mL juice capacity
90-degree top refill system
Leakproof fill port with silicone check valve
Optimal cap design
Mesh coils

Included: .23Ω Single Meshed Coil | 65-70W
Included: .3Ω Dual Meshed Coil | 50-55W
Optional: .2Ω Single Meshed Coil | 65-70W

Self Cleaning Technology
Pro-Focs Flavor Tested
Dual adjustable bottom airflow slots
Detach for cleaning/maintenance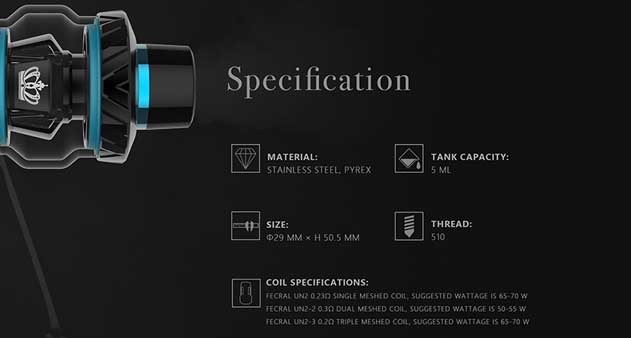 Gallery
Similar Products
Total Views Today: 1 Total Views: 3,591