Here are cheap deals to buy the Vaporesso Gen X Box Mod or Gen X Kit, now called the Vaporesso Gen S Ultra. The new mod features master craftsmanship,  CNC machining, aircraft-grade aluminum, stylish design, dual 1865o batteries, 220 watts of output, a user-friendly UI, a wide range of modes, and 2.5 amp fast charging.  The tank in the kit has an 8mL e-liquid reservoir, dense vapor production, a simple refill system, and dual adjustable air intake slots.  Also, check out the latest Vaporesso Gen 200 Box Mod or Kit
Gen S Ultra | Gen X Mod
Design-wise, Gen X or Gen S Ultra looks similar to previous Gen mods, except that new materials were used for a more luxurious, durable result.  According to Vaporesso, this is the first vaping mod that combines aircraft aluminum with CNC machining for an incredible hand feeling and exquisite look. Moreover, these materials are extremely strong and have amazing corrosion resistance properties, resulting in longevity.  Combined with the contours and curved corners, the box mod is stylish and sure to turn heads.  And there are new colors, including space grey, sapphire blue, matte gold, and classic black.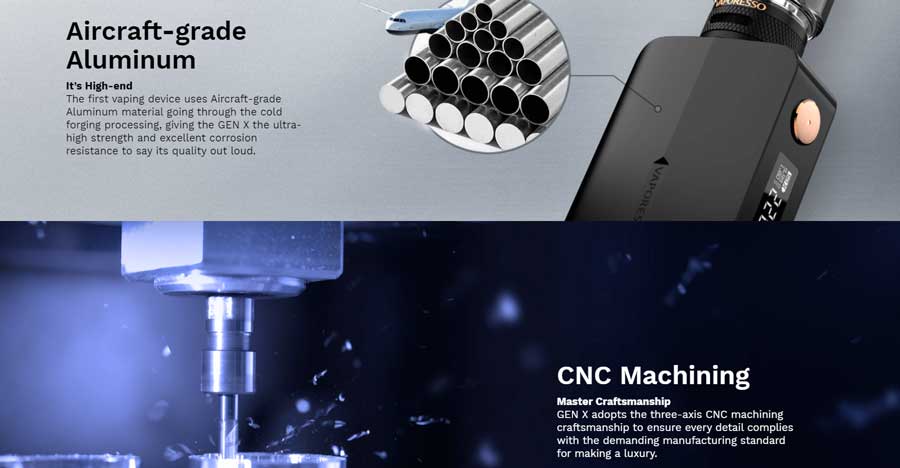 The Axon chipboard inside also does not disappoint.  It features a friendly operating system for entry-level users and is extremely functional.  Accessing vape data and changing the settings is done via a 0.91-inch OLED display screen with three adjustment buttons for an easy process.  And as a result of the chipboard, the Vaporesso Gen X/Gen S Ultra also features pulse mode, which will boost output every 0.02s for stable performance.   Best of all, recharging the dual 18650 cells in the battery bay occurs with a fast 2.5 amps current with an included micro USB cable.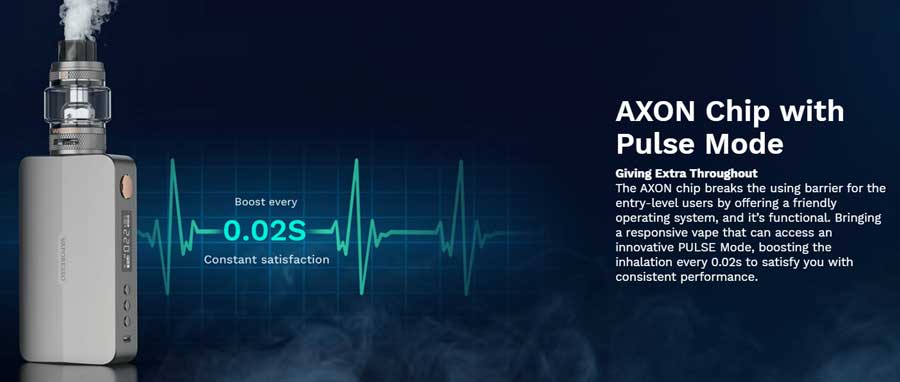 Gen S Ultra | Gen X Kit
If you buy the Gen X / Gen S Ultra kit, you will receive the NRG-S Tank compatible with GT coils.  GT technology allows this tank to produce unprecedented flavor as the coils' upgraded mesh technology maximizes the combination between cotton and e-liquid in the best way.  And the NRG-S tank features an 8mL juice capacity with easy slide-to-fill refills and effortless coil replacements.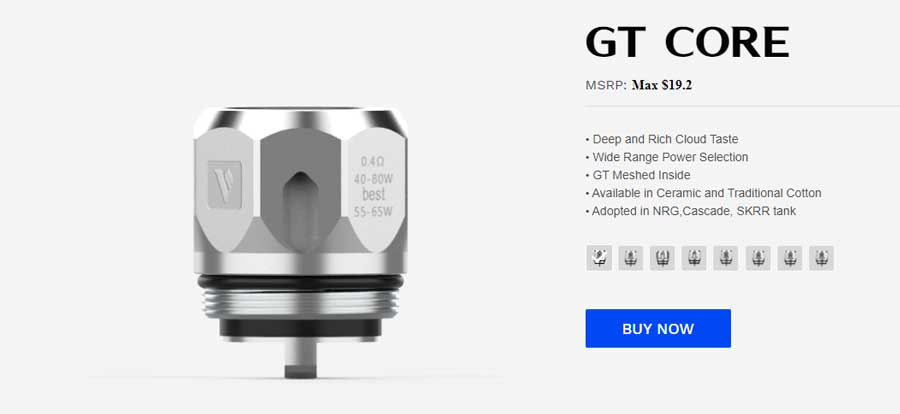 Features & Specifications (Kit)
Dimensions: 144.8 x 27.6mm x 49.4mm
Colors: classic black, sapphire blue, matte gold, space grey
Aircraft-grade aluminum
Master craftsmanship
Three-axis CNC machining
Resistant to corrosion
Extremely strong
Works with dual 18650 batteries
2.5A Micro USB lightning-fast charging
0.91″  display
Four-button UI navigation
AXON chipset
Pulse mode: fires every 0.02s for stable output
ECO mode for long vape times
Power range: 5W to 220W
Mod resistance range: 0.03 to 5ohm
8mL e-liquid reservoir
Dual bottom adjustable air slots
Sliding refill system
Meshed coils for incredible vapor

GT Meshed Coil | 0.18Ω | 50W to 85W
GT4 Meshed Coil | 0.15Ω | 50W to 75W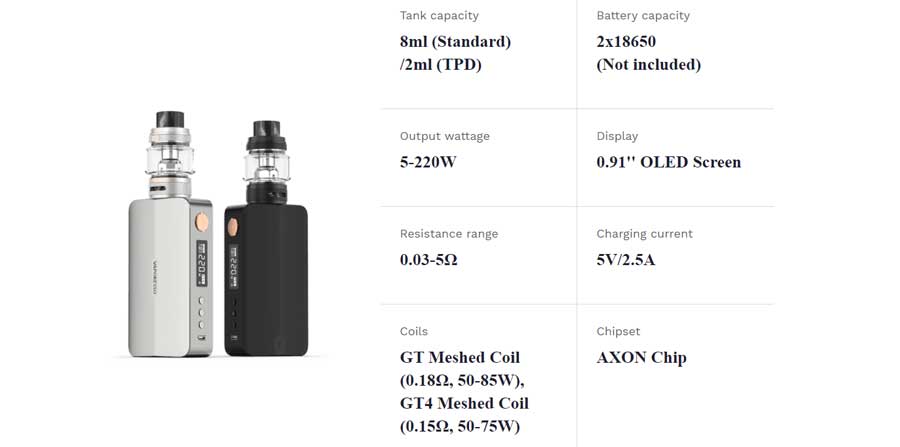 In The Box 
You will get the mod, a micro USB cable, a manual, and a warranty with the purchase. The kit also includes these items: an NRG-S tank, a GT coil, a GT4 coil, an extra drip tip, an extra 5mL glass tube, and four o-rings.
Total Views Today: 1 Total Views: 3,537