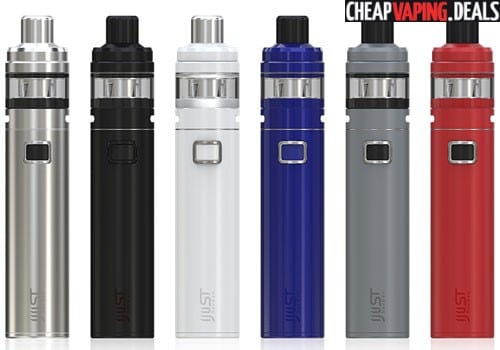 Here's a discount on the  Eleaf iJust NexGen 3000mAh Starter Kit.
Update: This Item Is Out Of Stock Everywhere – Check  Similar Tube Mod & Kit Deals Below
Overview
The iJust NexGen Kit is the latest all-in-one vape system by Eleaf.  It features a powerful 3000mAh battery, brand new HW flavor coils, an effortless retractable top fill mechanism, battery LEDs and single button operation.
This tube-style vaping kit is compact with dimensions of just 24.5mm x 117mm and its light with a weight of only 137.5g.  The design is streamlined with a variety of colors available including red, grey, blue, white, black and silver. The reservoir on the Pyrex glass tank can hold up to 2ml of e-juice.  To add e-liquid, simply slide the top cap and drip tip to refill a large refill port.  Airflow on the tank is adjustable at the bottom of the atomizer by rotating the flexible control ring.  All parts of the NexGen kit are easily detached for cleaning and maintenance.
A  3000mAh battery is built into the bottom tube section of the kit to allow for long vaping times at the maximum of 50 watts of output.  This is an unregulated device, so power depends only on the battery's voltage level.  A four color LED on the power button automatically changes color according to the cell's charge level.  A green light means there's 60% to 100% battery life remaining, orange 30% to 59%, blue 10% to 29% and red 0% to 9%.  To recharge, simply plug the NexGen's side USB port  into any wall adapter or computer.
New HW coils inside the atomizer are said to produce big vapor clouds with the best flavor possible.  The included HW1 head is made from stainless steel, has a power rating of 40W to 80W and is best from 50W to 65W.
Overall, if you like pen-style vaping kits, the Eleaf iJust NexGen is  sure to be a satisfactory setup because of the long vaping times, new  coils and the wide range of available colors.
Video
Features & Specifications
All-in-one vape starter kit
Dimensions: 24.5mm x 117mm
Weight: 137.5g
Colors: blue, grey, red, white, black, silver
Easy to use
One button operation
Built-in battery capacity: 3000mAh
Battery LED on fire button (4 colors)
Micro USB charging port
Maximum power output: 50W
Resistance range: 0.15Ω to 3.0Ω
HW coils for big vapor with flavor
Included: SS316L HW1 40W to 80W / Best: 50W to 65W
Dual circuit protection
Software/hardware battery protections
Overcharge protection
Over-discharge protection
Over-current protection
Tank capacity: 2ml
Retractable top fill setup
Adjustable airflow control
Disassembles for easy cleaning/maintenance
Made from stainless steel shell
Viewing window for monitoring e-liquid
Massive 2200 mAh battery
2ml internal tank
Top fill system
Leakproof design
Many available colors
USB charging
LED light can be changed to several colors
Pictures
Total Views Today: 1 Total Views: 174