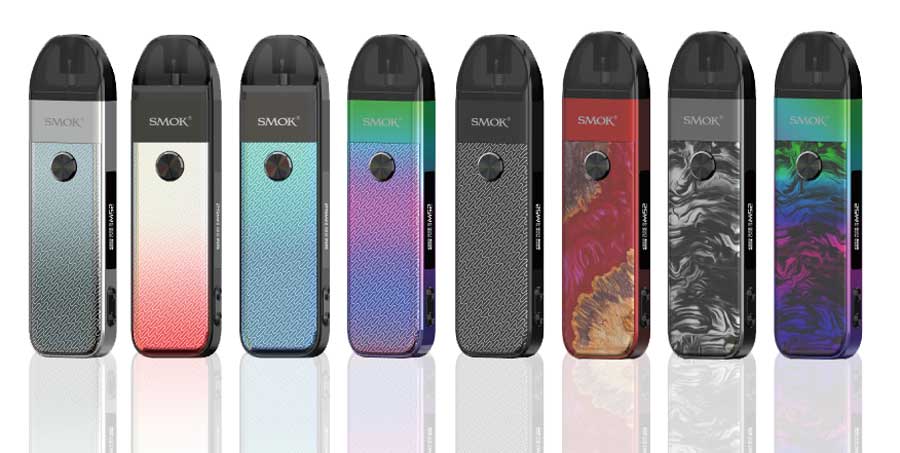 Here are cheap deals to buy the Smok Pozz Pro Kit at a low price.  This new pod system features a puff-activated system, 4 airflow levels, 25 watts of adjustable power, a 1100mAh integrated battery, a fast 90-minute charge time, a display screen, multiple protections, and meshed coils.  Deals for empty Smok Pozz Pro Replacement Pods can be found here.
Deals
USA Deal:

$19.49

  Use coupon code 25C at checkout (exclusive 25% off sitewide – rock bottom prices on everything – one use per account – $300 limit – fast USA shipping)
Review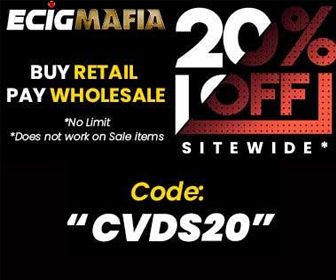 Smok Pozz Pro Device
With a height of only 29mm and a width of 12.9mm, the Smok Pozz Pro Pod Kit features extreme portability thanks to a compact design which indicates you may simply place it in the pocket. The manufacturing process also utilizes electroplated finishes to ensure ergonomic placement in just one hand.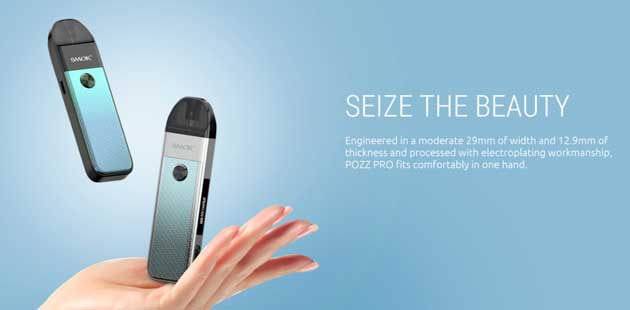 The zinc alloy chassis features textured metallics that were tested for longevity and are said to make the device look stunning.  Choose from silver black alloy, silver red alloy, green blue alloy, 7-color alloy, black alloy, red stabilizing wood, fluid black grey, or fluid 7-color.
Near the top of the mod section, the Pozz Pro has an airflow control slider that permits 4 different settings.  In this way, you may personalize your puff style from very restrictive to a normal mouth-to-lung vape experience.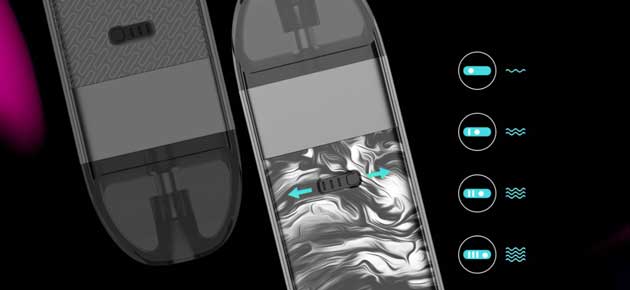 And, you may choose 2 different ways of vaping: button-triggered or air-activated.  With the latter, you may simply draw on the mouthpiece to engage the firing mechanism.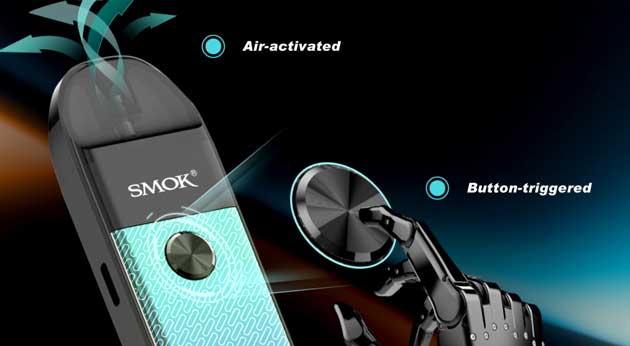 On the side of the Smok Pozz Pro, there's a 0.69″ monochrome display screen and 2 adjustment buttons that permit wattage adjustments. You can put this setting in the range of 5 to 25 watts.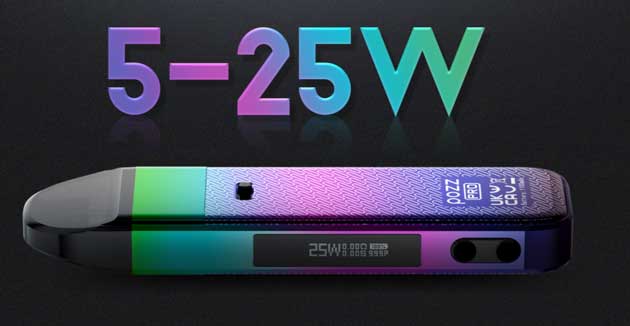 A 1100mAh battery inside the Pozz Pro Pod System assures all-day vaping without a recharge, but there is a Type-C USB port on the side in case you need a recharge.  The charging process only takes about 90 minutes and a USB-C cable is included in the package.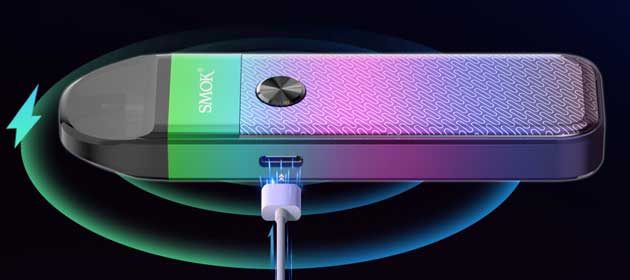 Multiple protections on the circuit board also ensure a safe vape experience.  These include overtime, low voltage, overcharge, short circuit, and over-discharge protection, as well as atomizer detection.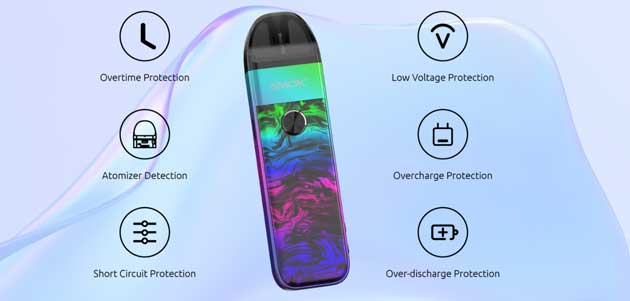 Smok Pozz Pro Pod Kit
Just a was the case with the previous Pozz X, the cartridge connects to the Pozz Pro via a magnetic connection to ensure it doesn't move around.  Plus, each pod can hold about 2.6ml of vape juice and features an effortless refill method.  To add to the reservoir, pull out the red silicone plug on the side and dispense e-liquid into a small juice port.  Always wait a few minutes to permit the coil's cotton to fully saturate or the coil may burn out.

Two LP1 meshed 0.9ohm coils are included in the package.  This particular coil features a leakproof design, balanced heat distribution, and delicate flavor production.  The best setting for this head is 15 watts and there are three other optional coils you may buy separately.

The coil also utilizes a leakproof design thanks to three silicone rings that prevent e-liquid from entering the pod.  And, the mesh structure means smooth flavor and faster vapor production.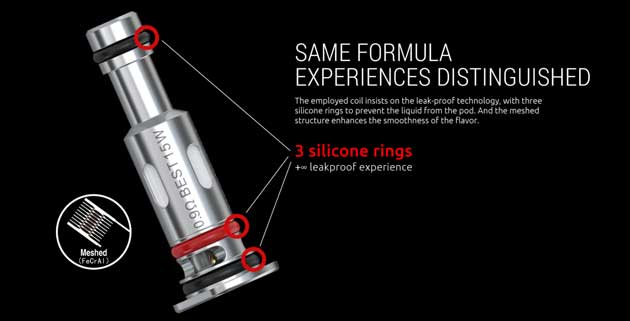 Features & Specifications
Dimensions: 106.5 x 29 x 12.5mm
Weight: 599g
Zinc alloy chassis
Portable & compact
Ergonomic
Electroplated finishes
Color options: fluid black grey, fluid 7-color, silver black alloy, silver red alloy, green blue alloy, 7-color alloy, black alloy
0.69″ display screen
Adjustable airflow control
1100mAh internal battery
USB-C charging port
90-minute charge time
Puff-activated or button firing
Multiple protections

Overtime
Low voltage
Overcharge
Over-discharge
Short circuit
Atomizer detection

Power Range: 5W-25W
Standby Current: <500A
Input Voltage: 3.3V-4.2V
Output Voltage: 1.5V-4.0V
Resistance Range: 0.662-2.502
Charging Voltage: 5V+0.2V
Charging Current: Max 0.98A
Over-charging Voltage: 4.3V+0.05V
Over-charging Current: 1.75AŁ0.6A
Over-discharging Voltage: 2.4V+0.05V
2.6ml pod capacity
Easy side filling system
Coils

3 silicone rings to prevent leakage
Meshed structure to enhance smooth flavor
LP1 Meshed 0.90Ω MTL Coil (Included)
LP1 Meshed 0.89Ω Coil (Optional)
LP1 DC 0.80Ω MTL Coil (Optional)
LP1 Meshed 1.20Ω Coil (Optional)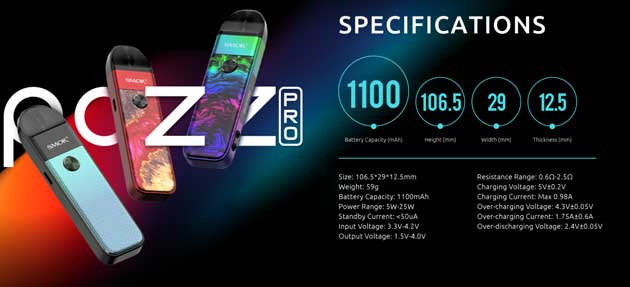 In The Box 
With the purchase of the kit, you'll receive the Pozz Pro device, a Pozz Pro pod, two LP1 meshed 0.9Ω coils, a USB-C cable, and a manual.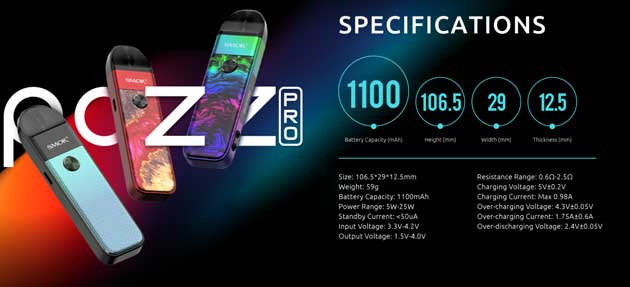 Similar Products
Total Views Today: 1 Total Views: 1,943