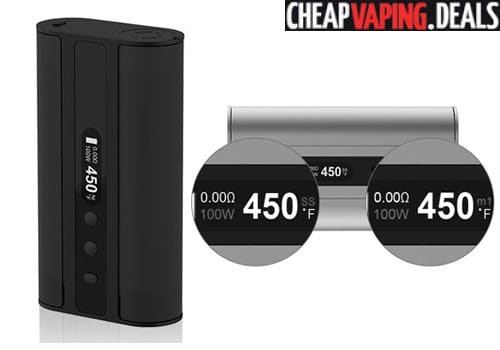 An amazing deal was just published for an original Eleaf iStick TC100W  Box Mod which is now a 120W device via firmware upgrade.
Update: This Item Is Out Of Stock Everywhere – Check  Newer Eleaf Istick Devices Deals Below
Overview
The brand new Eleaf iStick TC100W is a smart and capable box mod with the latest in temperature control technology.  It features easy battery replacement, firmware upgrades, big power and several firing modes.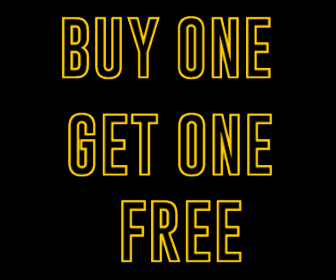 The mod has a sleek look and ergonomic design.  It has a unique & concealed fire button to make it easier to hold, to give it a more modern impression and to prevent accidental firing.
The iStick TC100W has a maximum power output of 100W and can control temperature in the range of 200℉ to 600℉.   The lowest atomizer resistance is 0.05Ω, making it compatible with just about every tank, atty or build.   The device features several modes including power mode, bypass mode, temperature control modes (all coil types) and 3 memory modes in which the TCR values can be entered to work optimally with your favorite atomizer.  This mod is amazingly versatile!
With this device, swapping batteries has never been easier.  The mod is powered by two 18650 batteries which are individually stored on each side of the device behind two easily removed magnetic battery doors.  The battery panels are available in different colors to give the device a personalized look. The device can also run off just one battery, in which case the highest ouput power is 75W instead of 100W.   The  18650 cells can be charged via the micro USB port at the bottom or by using the included 1A power adapter.   However, it is recommended to use an external charger.  The USB port also doubles as a firmware upgrade port to keep up with future technologies or to resolve any unexpected software issues.
The iStick TC100W should be able to connect to virtually any atomizer as it features a stainless steel 510 connector with a spring loaded center pin.  Most atomizers should sit flush on this unit!
Overall, the Eleaf iStick TC100W looks like an amazing device.  With plenty of power, several modes, low atomizer resistance capability and  amazing versatility, this device belongs in any mod collection.  And, at this price point, purchasing one is a no-brainer.
Features
Dimensions: 52mm x 94mm x 23mm
Constructed from stainless steel and aluminum
Hidden fire button
Several modes: VW, Bypass, TC-Ni, TC-Ti, TC-SS, TCR-M1, TCR-M2, TCR-M3
Latest temperature control technology
Power output range: 1W to 100W
Power/bypass mode resistance range: 0.1Ω to 3.5Ω
Temperature control range: 200℉ to 600℉ or 100℃ to 315℃
Temperature control resistance range: 0.05Ω to 1.5Ω
Powered by two 18650 batteries in parallel
Works up to 75W output with single battery
Easy battery swap
Two magnetic battery doors
USB charging
Battery panels are swappable for custom look
Stainless steel 510 connector
Spring loaded center pin
Firmware upgradable
Video Review
Not available yet
Total Views Today: 1 Total Views: 247