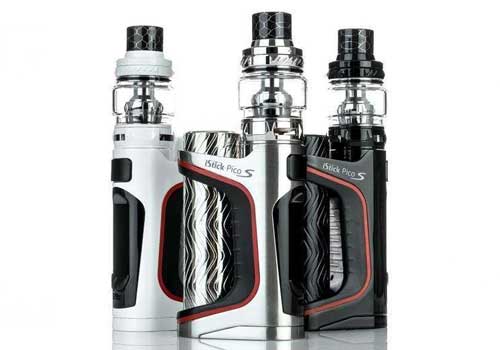 Here are cheap deals for the Eleaf iStick Pico S Box Mod.
Update: This Item Is Out Of Stock Everywhere – Check  Similar Pico Device Deals Below or Other Eleaf iStick Kits.
Video
Overview
The Eleaf iStick Pico S mod features 100 watts of power, lightning fast firing, 21700/18650 battery compatibility, a 7 color LED, a bare battery tube with beautiful texture and tiny dimensions for portability. Design-wise, the mod measures 52.5mm x 28.5mm x 81mm to be easily transported and weighs 143g without a battery installed. Available in black, dazzling, red, silver, blue and white, the appearance utilizes a sports theme that looks meticulous in part due to a battery tube that is laid bare and has a beautiful corroded texture. Also integrated into the mod, you will find five LED lights that can be customized to display green, red, blue, cyan, white, yellow or purple or a combination of different colors. On the front control face, you will find the identical display you may have seen on other iStick Pico series mods. The menu is horizontally oriented and features white indicators on a black background including a battery bar, current atomizer resistance, voltage, amperage and current power or temperature in larger font. At the top of the tiny iStick Pico S, there's a wide stainless steel atomizer bezel that will easily handle 26.5mm wide builds or tanks without overhang. Adjacent the 510 connector, there's a screw cap which, when removed, reveals the battery bay that stores the 18650 or 21700 battery that powers the unit (not included). Obviously, the 4000mAh 21700 cell should be the preferred battery with this mod because you'll get extremely long vaping times at the mod's maximum wattage. Recharging the cell is also quick and efficient because of a 2 amp micro USB charging system that will have you back to vaping in no time. The micro USB port also functions as a firmware upgrade interface which means you can simply connect it to your computer to install a new operating system whenever Eleaf has a firmware update.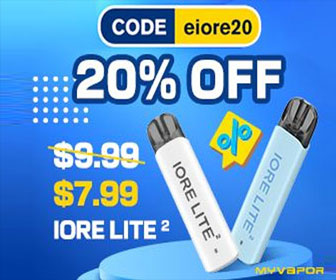 Just as was the case with the entire line of Eleaf iStick Pico Mods, the S does not disappoint on the technical level. One of the real cool technical specs of this device is its almost instantaneous firing response, within just 25 milliseconds. The unit can also also reach 100 watts of power, which is very high for its small form factor. Operating modes include temperature control with all types of heating elements (titanium, stainless steel, nickel), a TCR mode with three memory slots, a power mode and a bypass mode if you want an unregulated vape experience. The highest temperature control capability if the iStick Pico S is 600 degrees Fahrenheit, while the minimum atomizer resistance is 0.05ohm in any of the temperature modes and 0.10ohm in power and bypass mode. To keep everything safe, the Eleaf iStick Pico S Box Mod is built with dual circuit protection on both the hardware and software level to prevent unsafe problems from overcharging, over-current and over-discharging. And, there's also reverse polarity protection to ensure there's no hazard if the battery is inserted the wrong way into the battery bay.
iStick Pico S Features & Specifications
Measurements: 52.5mm x 28.5mm x 81mm
Weight: 142.7
Ergonomic and portable
Car themed
Textured bare battery bar
Colors: white, blue, silver, red, dazzling, black
Small, portable, ergonomic 100W box mod
LED lights

7 colors
Customize to purple, yellow, white, cyan, blue, red, green

0.91″ OLED display

Horizontal menu
White font

510 threaded connection bezel

Compatible with 26.5mm tanks or builds
Spring-loaded pin with gold plating

Uses a single 21700 & 18650 batteries

Extended vaping times
Screw cap for easy battery access
2A fast micro USB charging system

Firmware upgrades via the micro USB port
Output modes: VW/Bypass/TC-Ni/ TC-Ti/TC-SS/TCR
Fast firing response
Power output range: 1W to 100W
Temperature control output range: 100? to 315? or 200? to 600?
Power mode resistance range: 0.1? to 3.5?
TC mode resistance range: 0.05? to 1.5?
Dual circuit protection

Prevent overcharging
Prevent over-current
Prevent over-discharging

Reverse polarity protection
Pictures
Total Views Today: 1 Total Views: 960