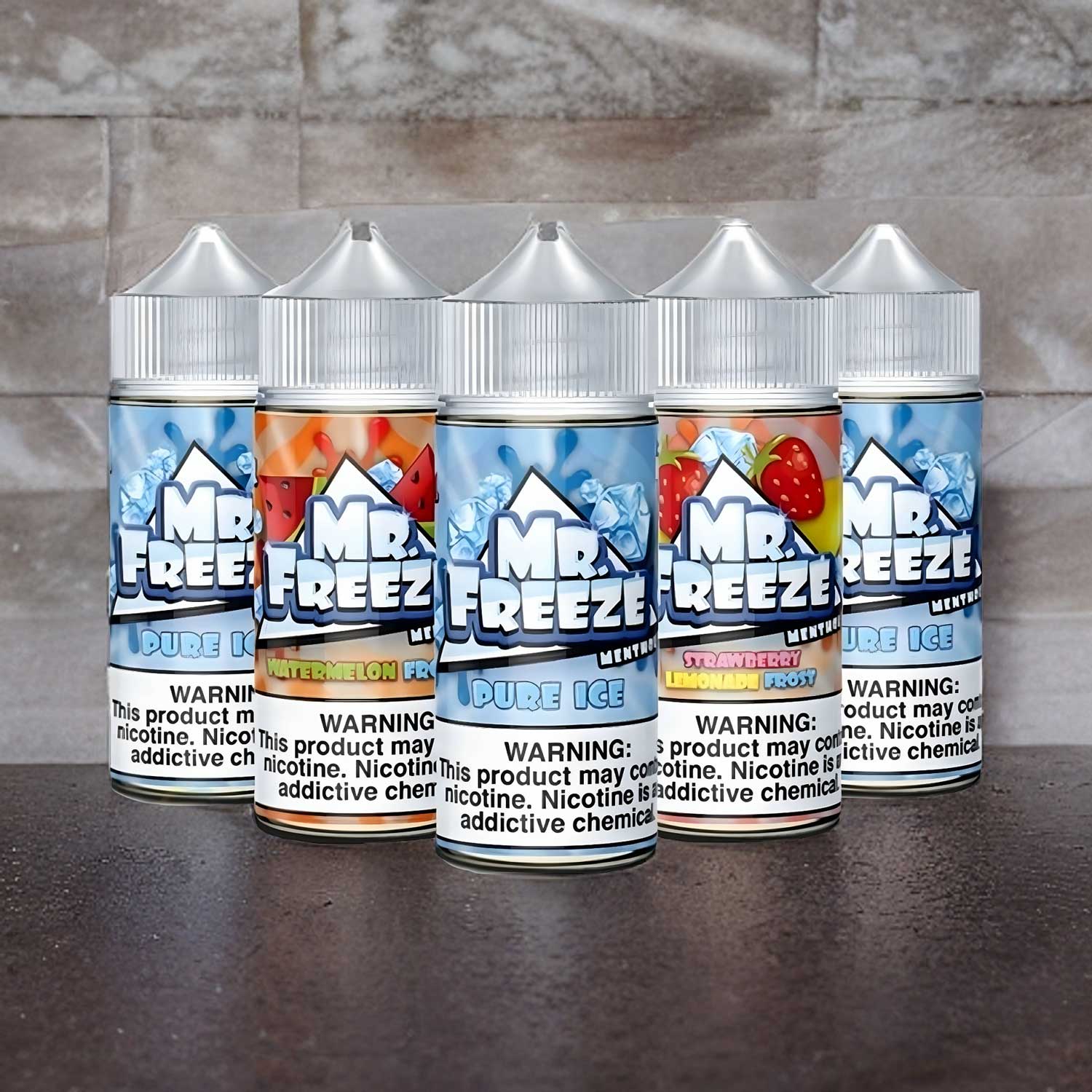 Check out this exclusive coupon for Mr. Freeze Vape Juices.  Available flavors: Original, Iced Cappuccino Mojito, Iced Gummy Bear,  Strawberry & Watermelon, and more. With 0mg, 3mg, and 6mg nicotine options, this juice has a 70-30 VG/PG ratio and arrives in large squeeze bottles.  Don't miss this blowout deal before the flavors sell out!
Flavors
Original: Handpicked strawberries, tangy oranges, deliciously sweet pineapple, ripe kiwis, and smooth menthol.
Iced Cappuccino Mojito: It's like coffee in the morning with a menthol cigarette.
Iced Gummy Bear: Delicious, sugary fruit-flavored gummy bears with a menthol finish.
Strawberry & Watermelon:  Classic sweet strawberry and watermelon-flavored taffy candy with a smooth menthol finish.
Strawberry Lemonade: Strawberry and lemonade for the perfect summer vape
Strawberry Lemonade Frost: A fusion of lemonade, strawberry, and menthol.
Watermelon Frost: Watermelon that is topped off with icy menthol.
Pure Ice Menthol: An ice-cold vape with peppermint and mint.
Apple Frost: An ice-cold apple juice.
Peach Frost: Chilled peaches with a hint of menthol.
Banana Frost: Strawberry, banana fused with menthol.
Berry Frost: A fusion of blueberry, blackberry, strawberry & menthol.
Grape Frost: Red grapes and menthol for a frozen delight.
Features
100mL Chubby Gorilla Squeeze Bottles
Nicotine Options: 0mg, 3mg, 6mg
VG/PG: 70/30
Total Views Today: 2 Total Views: 3,177