Here are cheap deals to buy the Freemax Marvos X Kit or Marvos X Box Mod at a low price.  The mod features colorful LEDs that will light up a room, a portable design, 100 watts of output, single 18650 battery support, and a USB-C charging port.  The kit includes a 5mL juice capacity pod, a top-filling method, two sub-ohm mesh coils, and changeable airflow.
Freemax Marvos X Box Mod
What catches the eye about the new Marvos X Mod are the fantastic lights that Freemax claims result in full-spectrum vaping.  These colorful LEDs light up the mod's back and front and can be set to unicolor or multicolor.  And the effects can be changed to the following settings: alternate, always-on, circle, drop, flash, gather, rise, spread, tetris, or waterfall animations.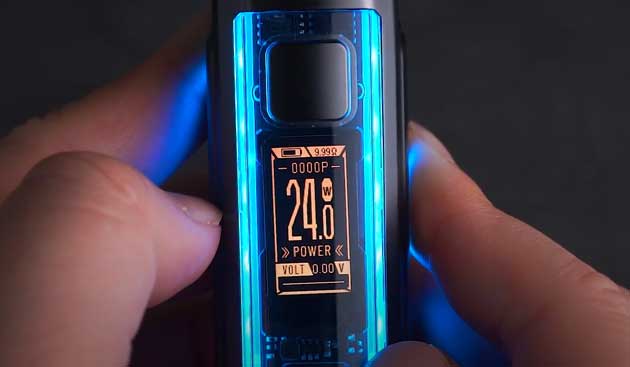 Other aspects of the design that stand out are the modern elements that perfectly combine with a vintage appearance.  There are 6 color options, each one having one of three prints:  God of War inspired by Mars, Horse based upon the God of the sea Neptune, or Eagle derived from the King of the Gods Jupiter.
On the control face, find a 0.96-inch OLED display screen with full-color UI for crystal-clear viewing of the vertically oriented vape data: battery charge level, puff counts, resistance, wattage, mode, and more. Best of all, change the color theme to 5 different colors.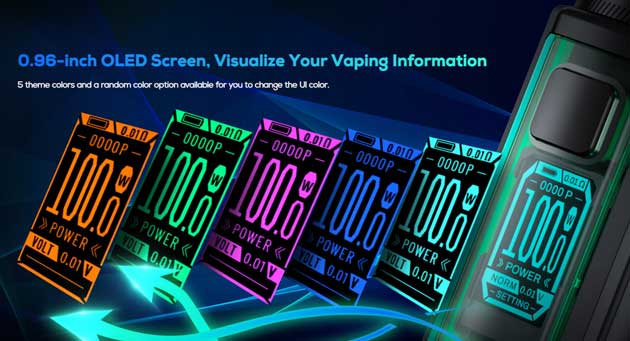 And this mod may operate in four modes: power, smart, VPC, and bypass, making it ideal for both beginners and vape veterans.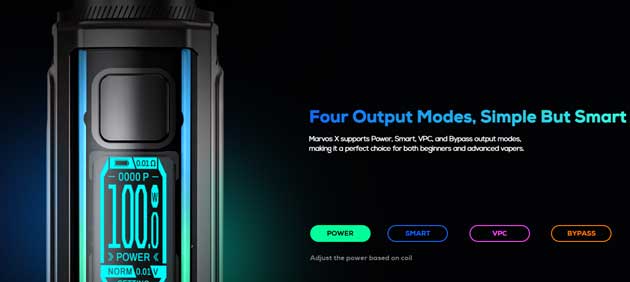 Operated by a single 18650 battery, power tops out at 100 watts, and recharging is a breeze thanks to a Type-C USB interface that functions with a rapid 2 amp current.  Retrieving the battery is also painless as the grip, held in place with powerful magnets, is removable.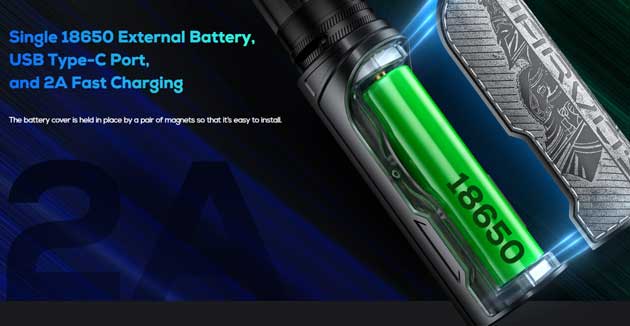 And, for safety, the smart FM Chip 2.0 has a good deal of integrated protections: reverse battery, overheat, low voltage, short circuit, over time, overload, overcharge, and over-discharge.

Freemax Marvos X Kit
The Marvos X Kit includes a Marvos CRC Pod with 5mL e-juice capability and an easy top-fill design that involves lifting and sliding the top cap to expose a juice port.  There are also 2 other compatible pods, but these are not included: the 4.5mL Marvos DTL Pod and the 4mL Marvos Glass DTL Pod.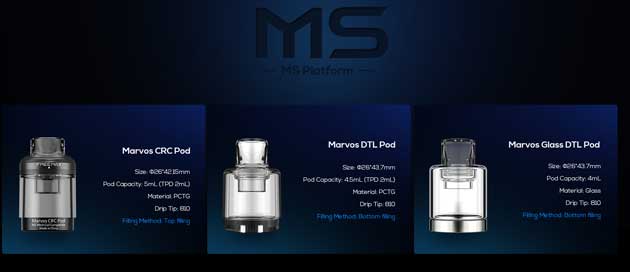 Each pod is held in place with sturdy magnets yet is easily removed or installed.  Very easy and convenient.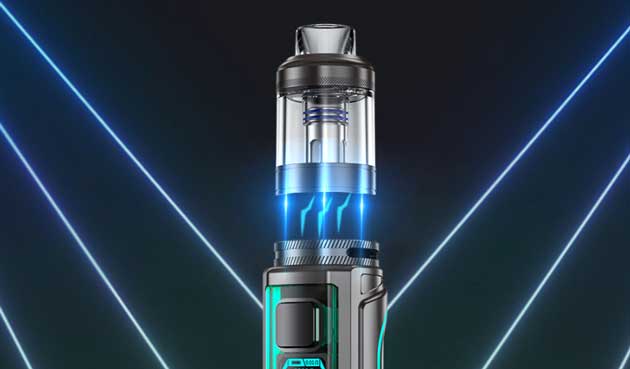 Two coils are included in the package.  Pre-installed is the 0.15 MS-D mesh coil, which functions in the range of 60 to 80 watts, but is best at 75 watts. Or, use the lower-power MS-D 0.25ohm mesh coil with a range of 30 to 50 watts, but it is recommended to be fired at 45 watts.

Both of these coil heads utilize Freemax's FM Coiltech5.0 with a 50% vapor and flavor production improvement.  This is thanks to an innovative parallel mesh structure, military-grade stainless steel mesh, and a new type of tea fiber cotton.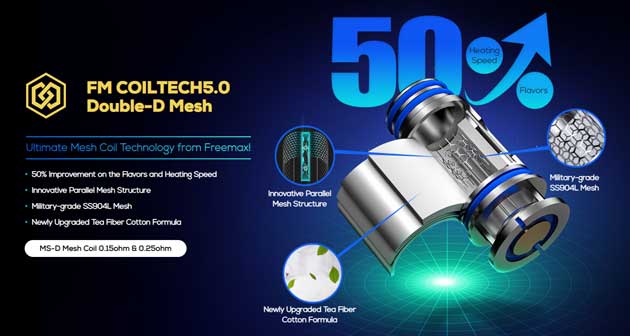 Features & Specifications
Design

Dimensions: 33mm x 31mm x 137mm
Color options: green, brown, navy blue, black, light blue, grey
Full-spectrum LED lighting

9  colors
Change animations

Alternate
Always-on
Circle
Drop
Flash
Gather
Rise
Spread
Tetris
Waterfall

OLED display screen

5 theme color settings
Vertically oriented interface

Sliding switch to lock/unlock the device

 Modes

Power (Normal, Sport, ECO)
VPC
Bypass

Safety protections

Overcharge
Over-discharge
Short circuit
Low voltage
Overtime
Open circuit
Overload
Overheat

Battery

Compatible with a single 18650 cell
2A USB-C charging system
Magnetic battery grip

 Chipset

Output voltage: 0.7-4.2V
Input voltage: 3.3-4.2V
Output wattage: 5-100W
Resistance range: 0.1-3.0Ω

Pod

5mL capacity
Easy side-fill system
Dual adjustable air slots

FM Coiltech5.0 Coils

50% flavor improvement
50% heating speed upgrade
Parallel mesh structure
Military-grade SS904L mesh design
Upgraded tea fiber cotton formula
Pre-installed: MS-D Mesh Coil 0.15Ω

Output power: 40W-60W
Best at 50W

Included: MS-D Mesh Coil 0.25Ω

Output power: 30W-40W
Best at 35W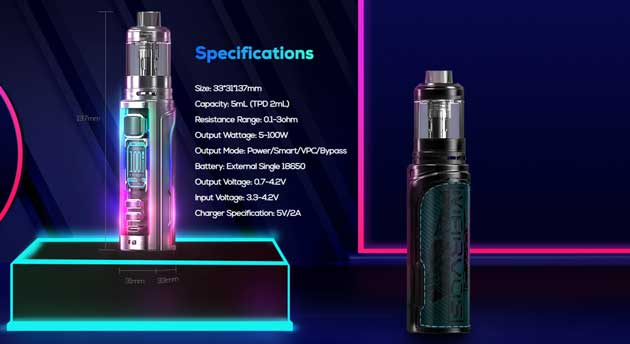 Package
Freemax Marvos X Mod
Freemax Marvos CRC Pod
0.15Ω MS-D Mesh Coil (Pre-Installed)
0.25Ω MS-D Mesh Coil
Type-C Charging Cable
Manual
Warning Card
Warranty Card
Desiccant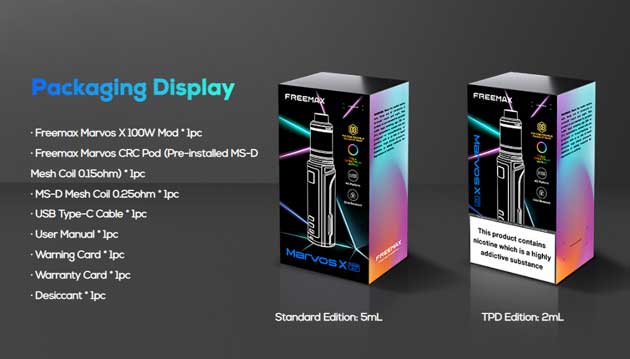 Comparable Products
Total Views Today: 14 Total Views: 6,793