Here are cheap deals for the Geekvape L200 Aegis Legend 2 Box Mod or L200 Aegis Legend 2 Kit. The mod features lighter/smaller construction than its predecessors, a physical lock button, a 1.08-inch full-color display screen, a premium leather grip, a charging port with flip cover, an improved IP68 water resistance rating, improved shock resistance, 200 watts of power, wide-ranging temperature control, an effortless USB port & cover, and dual 18650 batteries support.
Deals
USA Deal: Kit

$40.59

  Use coupon code 30CVD at checkout (exclusive 30% off sitewide – blowout prices & fast USA shipping – one use per account – $250 limit)

Kit

$49.99

(USA Warehouse) |

$46.99

(CN-SZ Worldwide Shipping Warehouse)  Use coupon code L200K at checkout 
Aegis Legend 2 L200 Mod
Compared to its predecessor, the Aegis Legend Mod, the Geekvape L200 Mod is much more portable: 30 percent lighter and 15% smaller.  With 200 watts of power, this may be one of the smallest high-power box mods in the vape marketplace.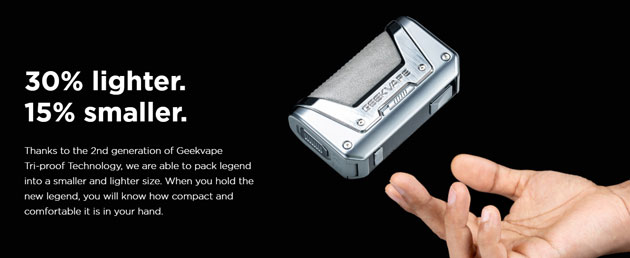 All the other devices in the Aegis series came with an IP67 rating, meaning you can submerge them in water up to a depth of 1.0 meters for 30 minutes.  But Geekvape integrated new Tri-proof technology to give the mod an IP68  rating, giving a manufacturer-specified period of additional time.  And the company also made it more durable so it can take an even higher level of shock from accidental drops or other conditions that may damage any traditional mod.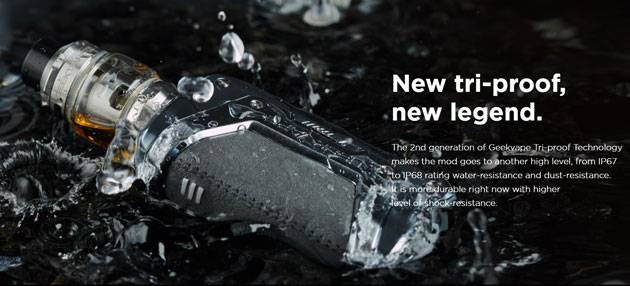 Whether you want to take the Geekvape Aegis Legend 2 to the top of a snowy mountain or take the device out in hot weather, do not fear, as it can withstand temperatures anywhere from -20°C or up to 50 °C.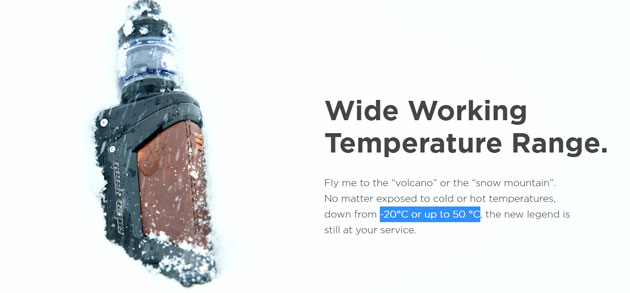 The appearance features beautiful lines on metallic decors with a redefined leather grip to make the mod stunning and ergonomic.  Moreover, a silicone-made bottom base and top cover add to the exquisite appearance.  Purchase the unit in blue, silver, red, grey, rainbow, or black.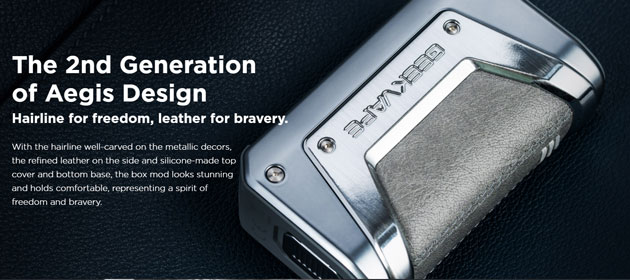 The brand-new A-Lock makes this box mod safer than ever to carry in your pocket or purse.  This is an actual physical sliding lock located near the edge of the grip and display screen.  Simply swipe this slider down to disengage the device altogether and thus prevent accidental firing, which may burn out your atomizer's coil or cause a hazardous condition.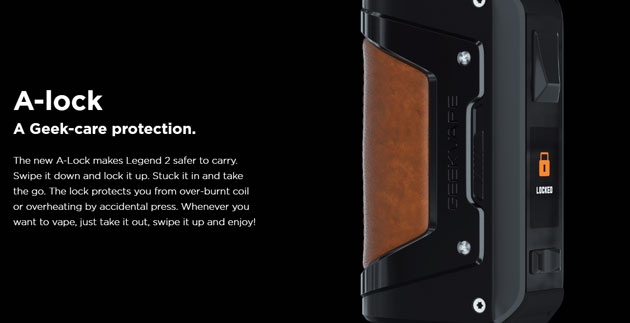 The Aegis Legend 2 L200 also features a new full-color display screen encompassing the entire width of one of its sides.  This makes the user interface extremely easy to read.  And vape data is also organized in a brand new way to make it very easy to see.  On the screen, you will find the current mode, the charge level of the two 18650 batteries that power the device, the current wattage, the atomizer resistance, the current voltage, and a puff counter.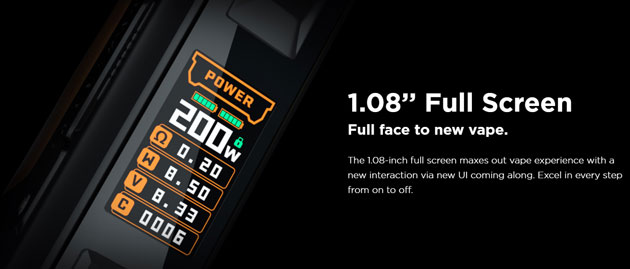 This mod works with dual 18650 batteries installed via a bottom panel.  However, we all know that the previous Aegis Legend had a difficult-to-open waterproof cover on its USB port at the top.  The new charging port's cover looks very easy to work with yet keeps the important water-resistant properties.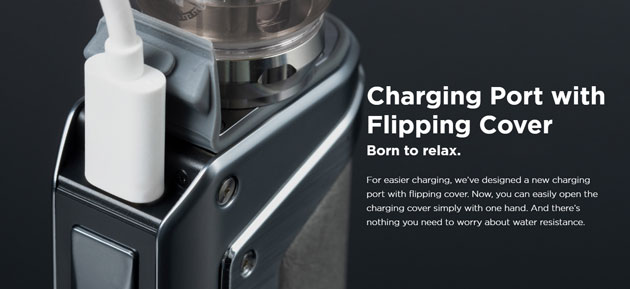 L200 Kit with Geekvape Z Subohm Tank
The kit includes a Geekvape Z Tank.  It features larger top airflow for better performance, and its location will stop leakage altogether.  Moreover, the reservoir refills via a giant filling hole, and the base features better electrical conductivity than any other market atomizers.  This tank will work with the new Z series coils: ZO.15, ZO.2, ZO.25 DC, and Z04.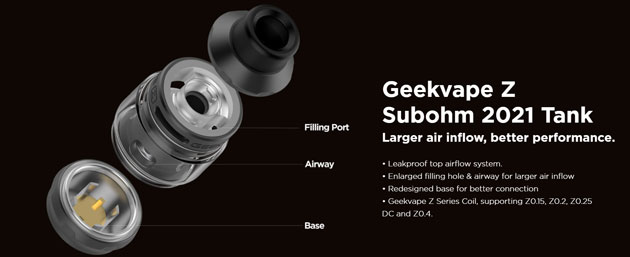 Features & Specifications
Size: TBA
Smaller & lighter
A-Lock to prevent accidental firing
Upgraded leather grip
Beautiful hairline accent lines
Colors: blue, silver, red, grey, rainbow, black
Dustproof

Stops dirt/dust
Clean under faucet

IP68 Waterproof Rating

Immerse in 1m deep water  for 30 minutes

Better shock resistance than previous Aegis Mods
1.08″ TFT  screen

Easy viewing
Vertical menu
Customize colors

Works with dual 18650 batteries

Type-C USB charging port at the top
Improved waterproof USB cover

New AS chipset

Operating temperature: -20℃ to 50℃
Operating modes: TBA
Maximum power: 200W
Resistance range: 0.10Ω to 3.0Ω
Temperature Range: 100℃ to 315℃ or 200℉ to 600℉
Firmware upgradeable
Similar Products
Total Views Today: 1 Total Views: 31,273