Here are cheap deals to purchase the Innokin Coolfire Z80, available as a mod only or Zenith II kit.   This setup features  80 watts of power, lightning-fast 0.003s firing response, variable voltage mode, variable wattage mode, an FØ mode to boost flavor and extend coil life, a 5.5mL Zenith II Tank, precise airflow control, and compatibility with the full line of Z-Coils.
Deals
Coolfire Z80 Mod
The follow-up to the Z50, the Coolfire Z80  features many updates, and that's why it is known as a fourth-generation vaping device.  When you turn the device on, the primary setting is a new FØ mode that sends electrical input in two directions as it hits the coil to ensure a precise and efficient vape experience.  This results in longer coil life and an immense boost in flavor production.  But, if you prefer a more traditional setting, there are variable voltage and variable wattage modes.  Change the settings through a full-color display screen with indicators such as current mode, battery charge level, and coil resistance.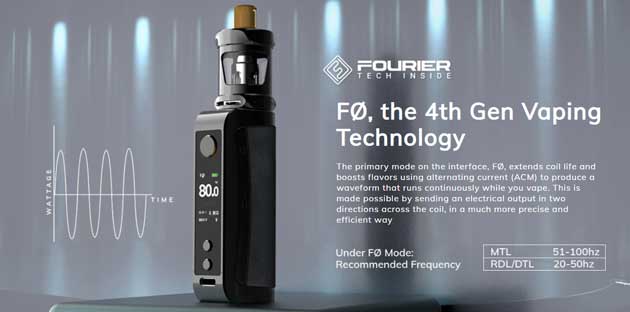 Another setting that you may see on one of the sub-menus is the refresh function, which improves wicking to revitalize flavors when activated.  Refresh will operate the mod at 40% of your wattage setting with an alternating current to draw more vape juice into the tank's coil.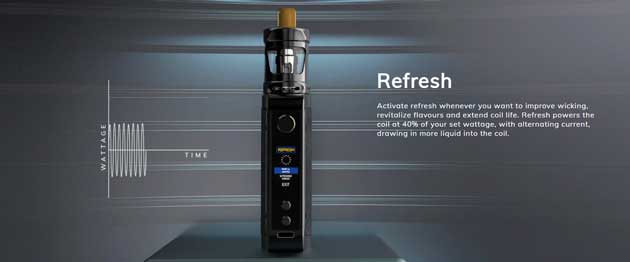 For power, the Coolfire Z80 utilizes a single 18650 battery that can be recharged via a USB-C port underneath the screen and adjustment buttons.  But, if you wish to use an external charger, the battery bay is easily accessible via a screw cap at the bottom.  A plethora of safety protections further ensures your vape experience is always secure.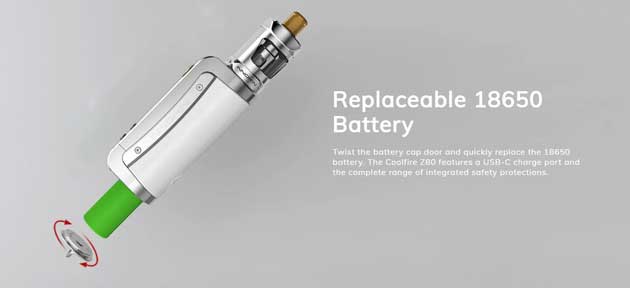 And, thanks to the latest and updated chipboard, the mod fires ultra-fast, within just 0.003s, with a power of up to 80 watts.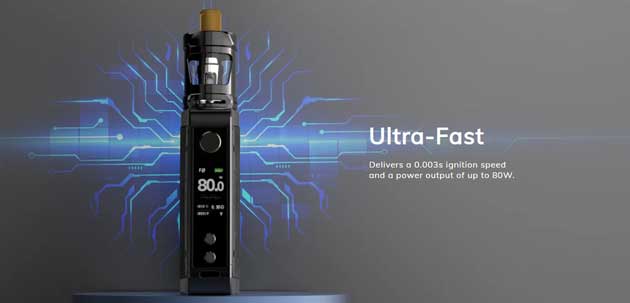 Design-wise, this kit also does not disappoint.  Available in ash grey, cloudy grey, leather black, or leather white, each color has a unique texture similar to suede and leather. This makes the setup soft in hand and also portable.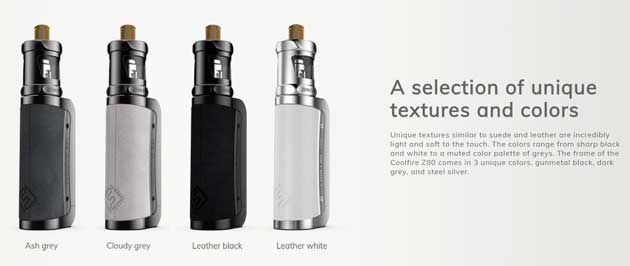 Coolfire Z80 Kit With Zenith II Tank
If you get the Coolfire Z80 kit, you will also receive the Zenith 2 Tank, a brand new atomizer that performs better than ever.  Choose from a tight, smooth MTL puff to a restricted DTL  draw. This is possible thanks to precise airflow control that perfectly combines the coils.  And the atomizer also features an upgraded cap with an effortless refill system to top off the 5.5mL juice reservoir.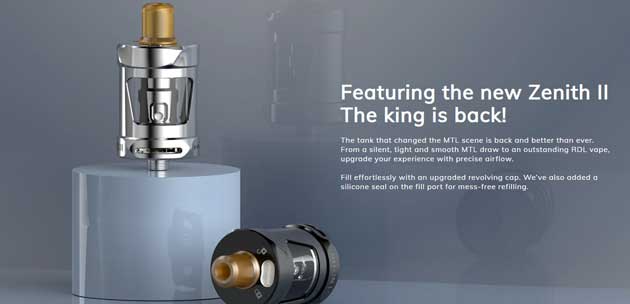 The tank in the kit is compatible with all the Z-coils available in the vape marketplace.  Infamous for producing huge vapor and quality flavors, the Z-Coils in the box are the 0.8ohm MTL coil and 0.3ohm RDL coil with purchase.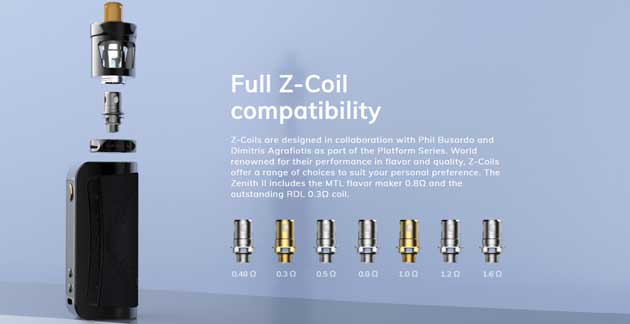 Features & Specifications
Mod dimensions: 83.55 x 38.3mm x 27.6mm
Kit dimensions: 131.75 x 38.3mm x 27.6mm
Tank dimensions: 27.5mm x 51.7mm
Color options: Leather White, Cloudy Grey, Leather Black, Ash Grey
Light
Small
Unique, ergonomic textures
0.003s firing speed
Refresh mode to revitalize flavors & coil longevity
Uses an external 18650 battery
USB_C charging system
510 threaded connection
Wattage range: 6W to 80W
Voltage Range: 1W to 7.5V
Overpuff protection: 3 to 18s
5.5mL juice capacity
Precise airflow control
MTL to RDL air setting
Easy sliding top-fill method
Works with the full line of Z-Coils
Similar Products
Total Views Today: 4 Total Views: 1,925