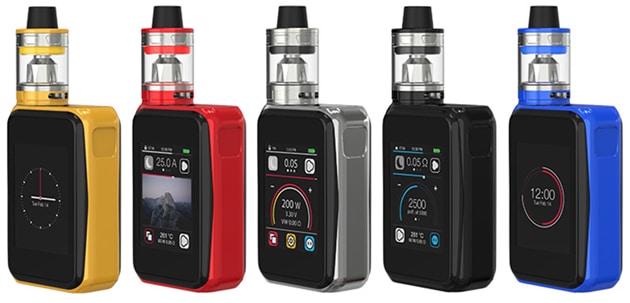 Here's a discount for the Joyetech Cuboid Pro Box Kit.  It features a large full-color touch screen TFT display, customizable backgrounds, 200 watts of power, a full temperature control suite including TCR, low 0.05ohm atomizer resistance, dual 18650 batteries, and fast 2 amp charging.
Update: This Item Is Out Of Stock Everywhere – Check  Similar 200W Box Mod and Kit Promotions Below
Review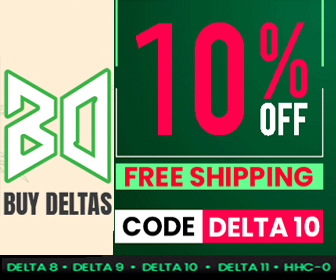 Overview
The Cuboid Pro is the latest box mod from Joyetech and looks to be amazing.  It features a large 2.4-inch TFT responsive color screen, changeable wallpaper, a customizable screen saver, a pedometer, 200 watts of power, temperature modes, TCR,  preheat modes, fast charging, and can be used as a power bank.
At first glance, the Cuboid Pro looks an awful lot like the Smok G-Priv with modern rounded corners in a compact — almost square — form factor with a large screen on the front. The mod's colors are versatile with yellow, red, silver, black, and blue options.  The dimensions of the device come in 56.0mm x 30.0mm x 85.0mm so it is rather wide, but not tall.  At the top, you will find an exquisite 510 connector that is spring-loaded for perfect atomizer installs and can handle connection pins up to 5.5mm in length and atomizers with diameters of up to 25mm.
There are two firing buttons located on opposite sides of the unit.  One is a conventional fire button,  while the other one is built with Taptec technology — the same is the Cuboid Tap —  which is a pressure-sensitive system. By applying pressure in a particular sequence, you may perform functions such as adjusting settings, turning the mod on/off, setting values, firing, and much more. To turn on the Taptec system, simply turn on the TAP option on the vapor hub menu.
The center of this box mod is the 2.4-inch touch screen that encompasses almost the entire front of the Cuboid Pro Box Mod. The display is state-of-the-art on both the hardware and software levels, has a resolution of 320 x 420 dpi, and features an easy menu that is convenient to operate.  When touching the display, the mod is said to respond well and its menu system is very similar to smartphones.  The home screen shows icons, as well as vape data, all organized for easy access. Changing modes is as easy as tapping the cloud icon or clicking +/- icons to adjust temperature or wattage.  The background on the Cuboid Pro can also be customized to your liking by uploading up to 100 photos and choosing your favorite wallpaper.  The device also supports screensavers that can be set to the photos you have added or can be a digital or analog clock.
The box mod also has a built-in pedometer that will keep track of the number of steps as well as your distance traveled. And, it will count your puffs taken or limit the puffs according to your settings.
Dual 18650 batteries are utilized by the Cuboid Pro. They can be accessed at the bottom via a hinged battery door that flips open. On-board charging technology via the USB port occurs at a quick 2 amps of current for topping off the cells as fast as possible. Or you can put the box mod in reverse charging mode in case your phone or tablet needs an emergency charge.
On the technical level, this device is quite capable with 200 watts of maximum output, temperature control up to 600 Fahrenheit, low atomizer resistance down to 0.05ohm, and a number of preheating settings. Available modes include power mode, triple temperature modes (titanium, nickel, stainless steel), and three memory slots in which you can set TCR values for your particular coil. A number of safety protections — reverse battery protection, dual circuit protection, over-charging protection, and over-discharging protection — ensure the Cuboid Pro is always reliable and safe.
Features & Specs
Dimensions: 56.0mm x 30.0mm x 85.0mm
Colors: blue, yellow, silver, red, black
Compatible with 4.0mm to 5.5mm deep/25mm diameter atomizers
Conventional fire button
Fire button with TAPTEC technology
2.4-inch full-color touch screen TFT display
Resolution: 320 x 240 dpi
Responsive/easy menu system with icons and vape data
Customize background wallpaper
Upload up to 100 pictures
Screen saver: analog clock, digital clock, or photos
Pedometer: keep track of steps/distance
Puff counter: keep track of puffs and/or limit puffs
Operating modes: Power/Temp (Ni, Ti, SS316)/TCR (M1/M2/M3)/Power bank mode
Power output range: 1W to 200W
Power mode resistance range:  0.10Ω to 3.50Ω
TC resistance range:  0.05Ω to 1.50Ω
Temperature control range: 100°C to 315°C or 200°F to 600°F
Maximum output current: 50A
Maximum output voltage: 9V
Utilizes dual high rate 18650 cells
2A micro USB charging
Hinged bottom battery door
Use as a power bank
Micro USB firmware upgrades
Reverse polarity protection
Over-charging protection
Over-discharging protection
Dual circuit protection
Firmware upgrades
Gallery
Total Views Today: 1 Total Views: 860