Here are cheap deals for the Smok G-Priv 4 Box Mod or Smok G-Priv 4 Kit. The box mod features 230 watts of power, dual 18650 batteries, a USB-C charging system, variable wattage mode, temperature modes, four memory slots, a full-color touchscreen, a large fire key, and multiple protections.  The kit includes the TFV18 Mini tank with a 6.5mL juice capacity, a top-fill method, triple adjustable airflow slots, and meshed coils.
Deals
G-Priv 4 Mod
The Smok G-Priv 4 is the newest box mod in the long line of G-Priv devices, such as the G-Priv 3 and G-Priv 2.  As with the previous devices, this new setup features a 2.0-inch touchscreen, so selecting modes, adjusting the theme, and changing the settings is effortless.  And, vape data is organized efficiently to make reading data on the go.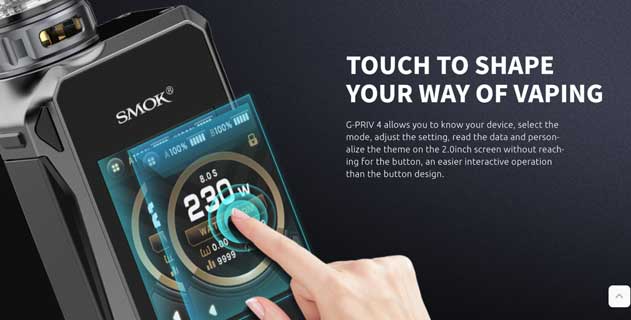 Another new benefit of the G-Priv 4 is the ergonomic leather handle that is ergonomic in the hand while producing a textured elegance that will turn heads.  This grip has four color options: grey, beige, white, brown, and black.
As with all G-Priv kits, the G-Priv 4 works with dual 18650 batteries accessible through a bottom flip cap.  If the batteries need to be topped off, a 2 amp quick charging port on the control face makes recharging them in no time convenient.  A cable is included in the box.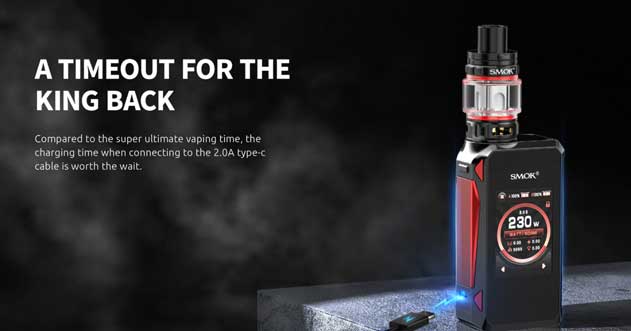 Inside the mod is the latest IQ-M chipset that permits up to 230 watts of power in many modes, including temperature control.  This chipboard balances performance with stability and permits the device to fire instantly within 0.001s. And there are many safety features such as 8-second cutoff, intelligent atomizer recognition, overheat protection, short circuit protection, low battery warning, power self-adaptive control, over-discharge protection, and reverse battery connection protection.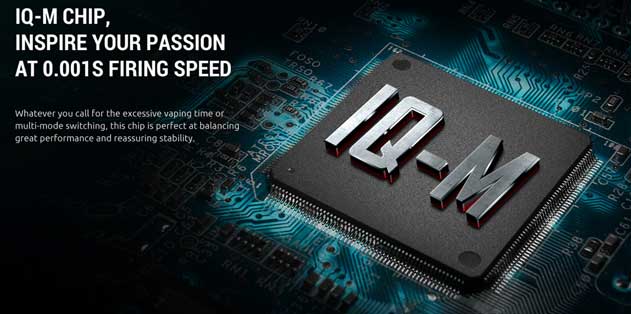 For versatility, the Smok G-Priv 4 Mod can operate in either variable wattage (VW) mode or temperature control (TC) mode compatible with stainless steel, nickel, and titanium atomizer heads.  Output tops at 230 watts in both modes, and you can save up to 4 custom settings for convenience.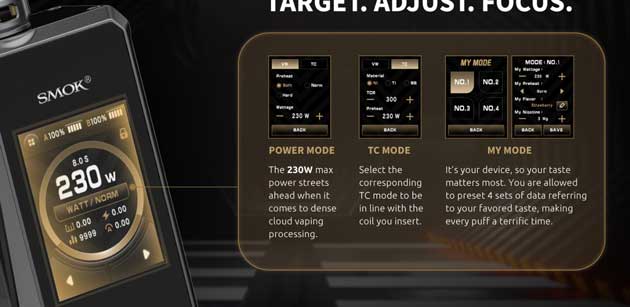 G-Priv 4 Kit
The Smok G-Priv Kit comes with the TFV18 Mini Tank with a 6.5mL juice capacity and an effortless top refill system that involves pressing a button on the top cap so it swivels open. And bottom-to-top airflow is adjustable thanks to 3 large air intake slots at the bottom that are adjustable to any preference.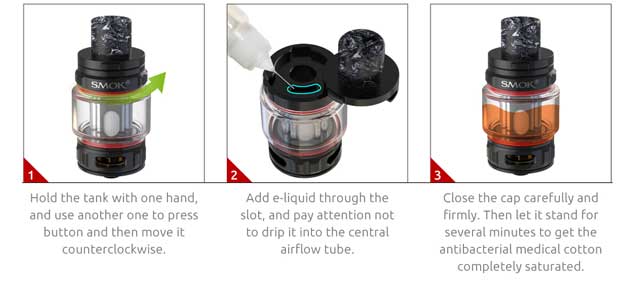 Meshed coils are included with purchase, known throughout the vape industry for spreading heat over a wider area to enhance flavor and vapor production. Preinstalled in the G-Priv 4 Kit is the V18 Mini Meshed 0.33ohm coil with an operating range of 80 to 140 watts, but it is best at 100 to 110 watts.  Or, install the included V18  Mini Dual Meshed 0.15ohm coil with an 80 to 110-watt range and a recommended mod setting of 90 watts.  There is also an optional V18 Mini Meshed 0.2ohm coil, which must be purchased separately.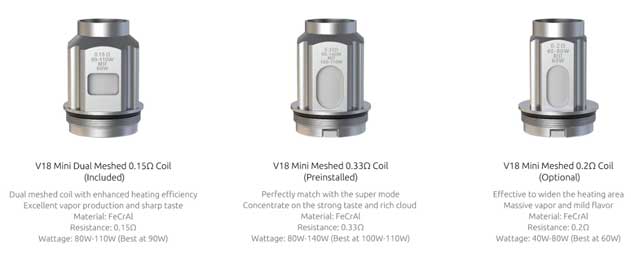 Features & Specifications
G-Priv 4 Mod
Design

Dimensions: 90mm x 50.8mm x 29mm
Weight: 167.4g
Ergonomic leather grip
Color options: grey, beige white, brown, black
Large lateral firing key

2″ full-color TFT touchscreen

Adjust settings
Select mode
Change theme
Vertically-oriented UI

Batteries

Utilizes dual 18650 cells (not included)
USB-C charging port

Charging voltage: 5V+0.2V
Charging current: Max 2.0A

IQ-M Chipset

Operating modes
0.001s firing speed
Stable performance
Multiple protections

Reverse battery connection
Battery over-discharge protection
Power self-adaptive control
Low battery warning
Short circuit protection
Overheat protection
Intelligent atomizer detection
8-second cutoff

Power range: 5W-230W (VW) | 10W-230W (TC)
Standby current: <400uA
Max output current: <50uA (if resistance is below 0.1Ω)
Resistance range: 0.10Ω-2.50Ω (VW) | 0.05Ω-2.0Ω (TC)
Temperature control range: 100°C -315°C | 200°F- 600°F
G-Priv 4 Kit
Includes Mod & TFV18 Mini Tank
Kit measurements: 149mm x 50.8mm x 29mm
6.5mL juice capacity

Top-fill method
Childproof lock button

Triple bottom-to-top airflow

Adjustable
Massive vapor production
DTL-style puffs

5 copper braces for excellent conductivity
Coils

Pre-installed: Smok V18 Mini Mesh 0.33Ω Coil

Power range: 80W-140W
Best at 100W-110W
Strong taste
Rich clouds

Included: Smok V18 Mini Mesh 0.33Ω Coil

Power range: 80W-110W
Best at 90W
Sharp taste
Huge vapor

Optional: Smok V18 Mini Mesh 0.20Ω Coil

Power range: 40W-80W
Best at 60W
Massive vapor
Mild flavor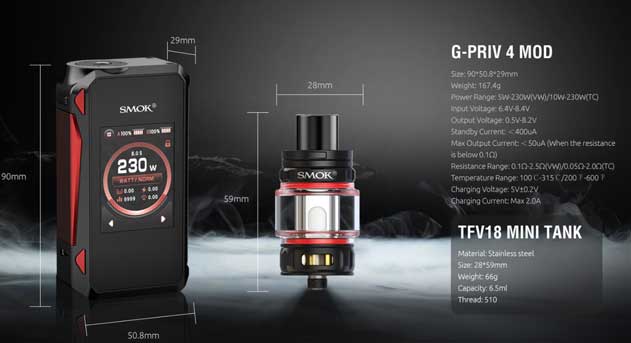 In The Package (Kit)
Smok G-Priv 4 Mod
Smok TFV18 Mini Tank
SmokV18 Mini Mesh 0.33Ω Coil
Smok V18 Mini Dual Meshed 0.15Ω Coil
Extra Glass Tube
Type-C Cable
Manual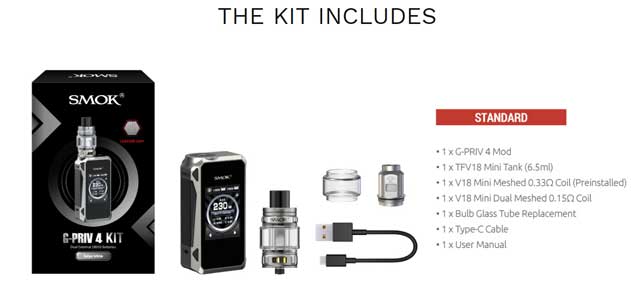 Similar Products
Total Views Today: 1 Total Views: 14,577